Festival de Yoga Sivananda: La unidad del Ser
Clases de yoga, conferencias sobre filosofía y melodías de sabiduría oriental con música en vivo. Del 22 al 26 mayo en el Centro de Yoga Sivananda de Madrid. Cinco días con un programa muy variado y muy especial que expandirá nuestros recursos internos y nos llenará el espíritu con las mejores bendiciones del yoga.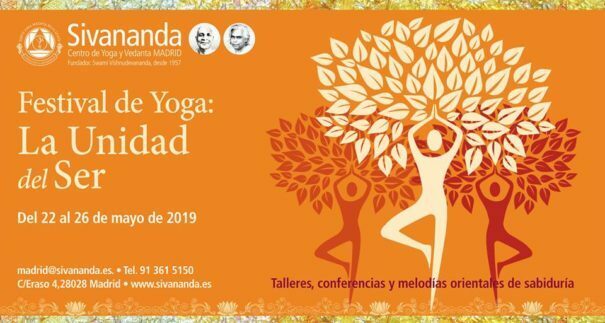 Será un fin de semana muy especial, con un concierto de Melodías de Sabiduría el sábado y dos conferencias con mucho contenido profundo y transformador.
–Sábado 25 de mayo
A las 15:30h: Conferencia con Swami Durgananda, Yoga Acharya en Europa y discípula directa de Swami Vishnudevananda: "Expande tus recursos internos"
A las 19:00-21h: Concierto especial de Nada Yoga
Recitaciones musicales para expandir la mente y abrir el corazón.
Con música en vivo: canto, armonio, bansurí y tablas.
And with the guest of honour Sri Venugopal Goswami, de Vrindavan, norte de la India
Sri Venugopal Goswami proviene de una tradición familiar de 500 años con un único e inimitable estilo presentando el mensaje de la escritura clásica Srimad Bhagavatam. Con historias, filosofía, poesía y recitaciones musicales para expandir la mente y abrir el corazón.
–Domingo 26 de mayo
A las 15:30h: Conferencia Swami Sivadasananda, Yoga Acharya y discípulo directo de Swami Vishnudevananda: "La experiencia de la meditación"
–Y el programa completo…
Miércoles 22 de mayo:
17:30h Conferencia: El triángulo de la vida, con Lakshmi

18:30h Clase de yoga: Secuencias dinámicas de asanas, con Swami Sivadasananda

20:30h Enseñanzas de sabiduría con Sri Venugopal Goswami "El néctar del Satsang"
Jueves 23 de mayo:
17:30h Conferencia: Buenos hábitos de salud, con Swami Santoshananda

18:30h Clase de yoga: Asanas para la alineación de los hombros y el cuello, con Swami Dayananda

20:30h Enseñanzas de sabiduría con Sri Venugopal Goswami «Perlas de sabiduría"
Viernes 24 de mayo:
17:30h Conferencia: Yoga y energía vital, con Gopala

18:30h Clase de asanas: Asana y expansión en el aliento, con Swami Sivadasananda

20:30h Enseñanzas de sabiduría con Sri Venugopal Goswami: «Requisitos para la paz interior"
Sábado 25 de mayo:
12:00h Clase de asanas: El dinamismo sutil postura-respiración-relax, con Swami Santoshananda

12:00h Taller de profesores: Sirsasana: Cómo entrar, corregir y alinear la postura, con Swami Sivadasananda

14:00 h vegetarian food

15:30h Conferencia con Swami Durgananda: Expande tus recursos internos

17:00h Clase de yoga: Visualizaciones en el asana, con Swami Sivadasananda y Gopala (2 niveles)

19:00h Concierto de Nada Yoga con Sri Venugopal Goswami, con música en vivo
Domingo 26 de mayo:
12:00h Clase de yoga: Movimiento consciente y auto observación en las posturas de pie, con Swami Dayananda

14:00 h vegetarian food

15:30h Conferencia: La experiencia de la meditación, con Swami Sivadasananda

17:00h Clase de asanas: La experiencia meditativa en el asana, con Gopala

19:00h Melodías de sabiduría con Sri Venugopal Goswami «La unidad del Ser"
Where: Centro de Yoga Sivananda Madrid C/ Eraso 4, bajo
https://www.sivananda.es/eventos/festival-de-yoga-la-unidad-del-ser/
Contact: T +34 91 361 51 50 / Móvil/WhatsApp: +34 654 38 99 70 / madrid@sivananda.net