Libros/ Hinduismo para la vida moderna, de Naren Herrero
Naren Smith shows us that this phenomenon we call Hinduism
es una válida concepción de lo divino y del mundo que ofrece una multiplicidad de caminos para que cada ser humano (sin necesidad de tener sangre india) realice su potencial espiritual, sin excluir la satisfacción material. Edita: Kairós. PVP: 20€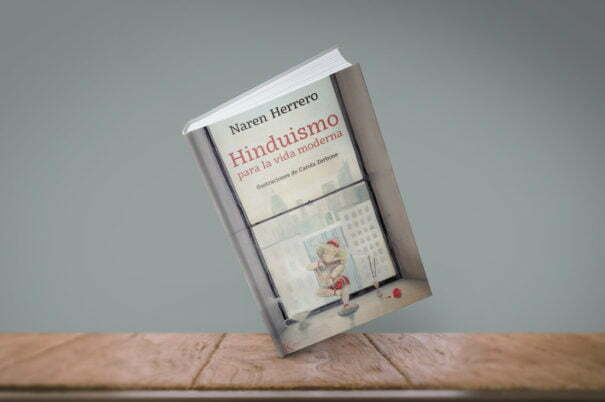 El hinduismo es la tradición espiritual viva más antigua del mundo, y la sutil presencia de muchos de sus conceptos, técnicas y saberes en la vida moderna está mucho más extendida de lo que se piensa. Aun así, en Occidente la cosmovisión hindú suele ser malentendida, cuando no directamente ignorada, y no deja de ser paradójico que ese desconocimiento nos impida ver que, en la renovada espiritualidad laica moderna, afloran muchos rasgos esenciales de la tradición hindú.
Naren Herrero, nacido y criado en Occidente pero educado en el marco de la filosofía espiritual de la India, se podría considerar un «hindú occidental». Con inusual amenidad nos expone verdades filosóficas elevadas (la no violencia, el papel del maestro, la aceptación de la muerte o la sacralidad de la lengua sánscrita), prácticas religiosas (festivales, mantras, rituales, alimentación) y profundiza en la simbología tradicional (el politeísmo, la diosa, la esvástica, las vacas sagradas, la numerología). Y sobre todo transmite, en palabras cotidianas y asequibles, pautas para aplicar las enseñanzas atemporales del hinduismo en nuestra vida moderna, con el objetivo de vivirla más plenamente.
The author
Naren Herrero es periodista y escritor especializado en yoga, cultura, filosofía y espiritualidad de la India. Es profesor de hatha yoga, formador de profesores de yoga y dicta cursos de historia, filosofía y mitología del Yoga en España, México y Reino Unido. Es autor del libro Kumbha Mela and the excellent blog Son of neighbor.