Cellomano, music for the soul from Bali
The magical music of this cellist, Cellomano, induces a meditative state that deepens the Yoga practice creating the ideal atmosphere to it. On 29 and 30 June he arrived in Madrid from Bali to offer us a beautiful recital-concierto and join a yoga workshop for Satkara Yoga Studio. Writes Rachel Sanz.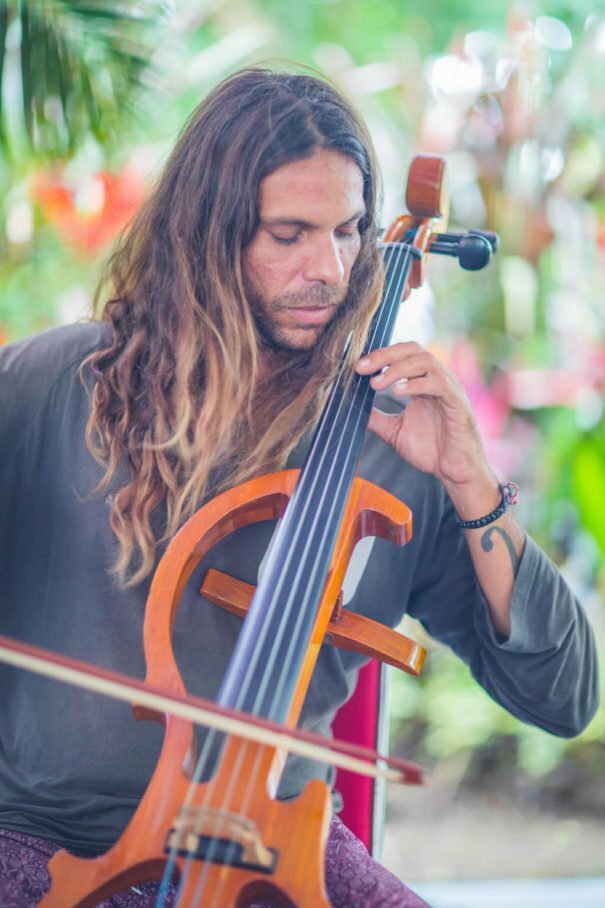 La primera vez que escuché a este increíble cellista, Cellomano, It was in a kind of Yin Yoga in the beautiful island of Bali. La sensibilidad y belleza de sus melodías conmovieron mi alma de tal forma que supe mi vida no sería la misma después de aquella experiencia.
Me encanta la música, pero nunca antes un músico o un instrumento habían tocado mi alma de esa manera. Si cierro los ojos todavía se me eriza la piel al recordarlo. Tras escucharle más veces en recitales, conciertos y clases de yoga, puedo dar fe de que con su personal e inconfundible estilo no deja indiferente a nadie. Sus manos no solo tocan con suavidad las cuerdas del cello sino también el corazón de quien le escucha.
Who is Cellomano
Behind Cellomano is Algimiro Cesarino, He began his musical studies at age 7 in the Conservatorio Juan Manuel Olivares in Caracas (Venezuela). He continued his education at the Conservatorio Simón Bolívar and was a founding member of the Orquesta Sinfónica de Nueva Esparta. He has performed widely at the international level, studying at the Musikschule der Stadt Linz in Austria and by participating in concert with the Camerata Salzburg in Spain, among others.
Algimiro resides for several years on the island of Bali, concretamente en Ubud, una pequeña localidad cuna de artesanos, famosa por su exuberante naturaleza, campos de arroz y sus monumentales templos. En estas tierras ha estudiado música tradicional de Indonesia (gamelan) y, desde aquí, combina su entrenamiento de música académica con su propio estilo, utilizando herramientas modernas que le permiten crear polyphonic melodies de una belleza incomparable.
Si algo aún le hace todavía más particular es su estilo de vida y su pasión por la naturaleza y el océano, del cual se nutre e inspira constantemente. Oceanógrafo de profesión, músico por pasión y surfista desde muy niño, no sorprende que Bali se haya convertido su residencia habitual, lugar que le permite desarrollar sus dos pasiones, la música y el surf.
Bali and its community of artists
Para quien no lo sepa, Bali cuenta con una extraordinaria diversidad de influencias donde reside una hermosa comunidad de artistas lo que la convierte en un nutritivo terreno para crear. No es de extrañar que la exuberante belleza natural de la isla sea fuente de inspiración para todo artista.
Es uno de esos lugares mágicos en el mundo donde la vibración es tan alta que te envuelve desde el momento en que llegas y no te abandona nunca, y ha permitido a Algimiro expresarse y colaborar con otros músicos increíbles. Cabe recalcar que los indonesios son extremadamente talentosos y una constante fuente de inspiración: bailarines, pintores, músicos, artistas, poetas, escultores que aprenden por cuenta propia desarrollando sus propias técnicas e innovando todo el tiempo.
En las últimas décadas, el Yoga ha tenido una gran expansión en la isla, y con ello han surgido diferentes actividades que combinan la espiritualidad con terapias de sanación cuerpo-mente como Sound Healings o Sound Journeys, donde la música es parte fundamental convirtiéndose en una herramienta muy poderosa para profundizar en la práctica.
Cellomano has collaborated with various teachers of different yoga styles, including Carlos Romero, Meghan Currie, Tina Nance o Nik Robson and Yoga schools as Yogabarn (Bali), Radiantly Alive (Bali), The practice (Bali) DESA Seni (Bali) Satkara yoga (Madrid). Likewise, he has participated in festivals such as Bali Spirit Fest, Barcelona Yoga Conference, IRIS (Hong Kong), etc.
The project and stage name "Cellomano" was born and grew up in Bali. All its parts are instrumental, were born from nothing, in special moments of your life and represent nature, emotions, sensations, feelings and disagreements.
A sample of their music
Algimiro has a solo album, Cellomano – That Tree, and numerous collaborations with many musicians, Yogis and healers.
In this link you can hear:
https://cellomano.bandcamp.com/album/that-tree

El 29 y 30 de junio We will have the luck to have him again in Spain and enjoy your music in the form of Recital-Concierto y como acompañamiento durante un taller de Yoga. Ambas convocatorias coincidirán con la presentación del próximo Showroom of Kamala Bazar in Satkara Yoga Studio (Madrid).

Más Información: Satkara Yoga Studio. (Raquel Sanz) T +34 620 870 238 / info@satkarayogastudio.com