Cinema/ "Mantra. Sounds into silence"
This film is an inner journey and, at the same time, a world movement. mantra. Sounds into silence shows how effective harmonious sounds can be in our noisy world of uninterrupted communication. In Madrid: Sunday 5 May at 19:30h in cinema Círculo de Bellas Artes, with the presence of the director Georgia Wyss.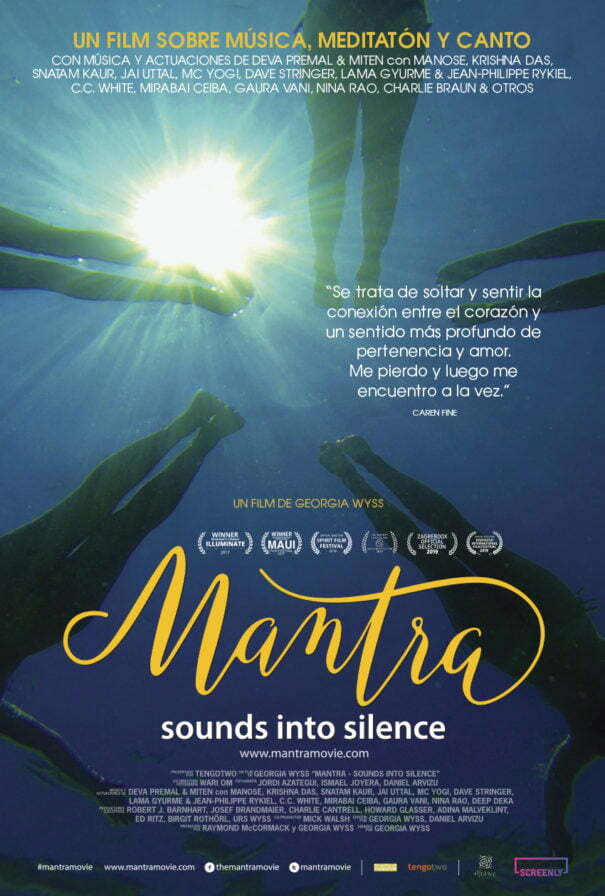 In search of community and connection, thousands of people around the world are turning to an ancient kind of human gathering: community singing. One of the forms of this phenomenon, the so-called 'Kirtan', implica cantar mantras. Originada en la India, esta forma tradicional de canto se utilizó por primera vez en Occidente como fondo musical para las clases de yoga. Pero su poder es tal que ahora se ha extendido a un público mucho más amplio, hasta el punto de haber conseguido nominaciones a los premios Grammy algunas de sus estrellas como Deva Premal & Miten, Krishna Das, Snatam Kaur, Jai Uttal and Dave Stringer.
En conciertos y festivales, así como en la vida cotidiana, y en lugares inusuales como la prisión de San Quintín, cerca de San Francisco… Mantra. Sounds into silenc sample community singing can derrumbar los muros entre las personas y ayudarlas a encontrarse. Todo contado a través de imágenes deslumbrantes y música cautivadora.
It is a film without verbiage of esoteric and full of enthusiasm and passion for life led by Georgia Wyss.
It was thus
When Georgia Wyss discovered the universe of mantras in 2004 the first ideas of how to make the film began to arrive, recognizing the importance of practicing this tool in terms of healing, something that could benefit the lives of many, as this is how it checked.
In 2012, it led to a meeting with Deva Premal and Mitten on his first visit to Barcelona. They loved the idea of the project and wanted to contribute so the first images were shot with them in 2013. Earlier this year the same opportunities came with Krishna Das and Snatam Kaur in Barcelona followed by "Peace Festival" in Paris with a concert of Lama Gyurme next to Jean Philippe Rykiel. The project Mantra Sounds into Silence Officially he was born and was going through his first steps. From here we continued the exploration of Kirtan's current movement in the east and west, with the valuable contribution of the film's creative team (especially the co-director and director of photography Wari Om).
–Premiere in Barcelona: Saturday 11 May: 19h, and Wednesday 15 May at 20h in Filmoteca de Catalunya. Salvador Seguí's Placa, 1-9.
-Opening in Madrid: Friday 24th, Saturday 25th and Sunday 26th May: 19:30hr. Calle Alcalá, 42.
In both cases, with the presence of the director and kirtan (singers of mantras) live after the film.
More Spanish venues and cities will be released soon: Seville, Malaga, Huelva, Euskadi, Valencia, Galicia, Ibiza... Ask us for your programming.
More information: https://www.mantramovie.com