Cine/ "Mantra. Sounds into silence"
Este film es un viaje interior y, al mismo tiempo, un movimiento mundial.
Mantra. Sounds into silence
muestra cuán efectivos pueden ser los sonidos armoniosos en nuestro mundo ruidoso de comunicación ininterrumpida. Premiêre en Madrid: domingo 5 mayo a las 19:30h en cine Círculo de Bellas Artes, con la presencia de la directora
Georgia Wyss.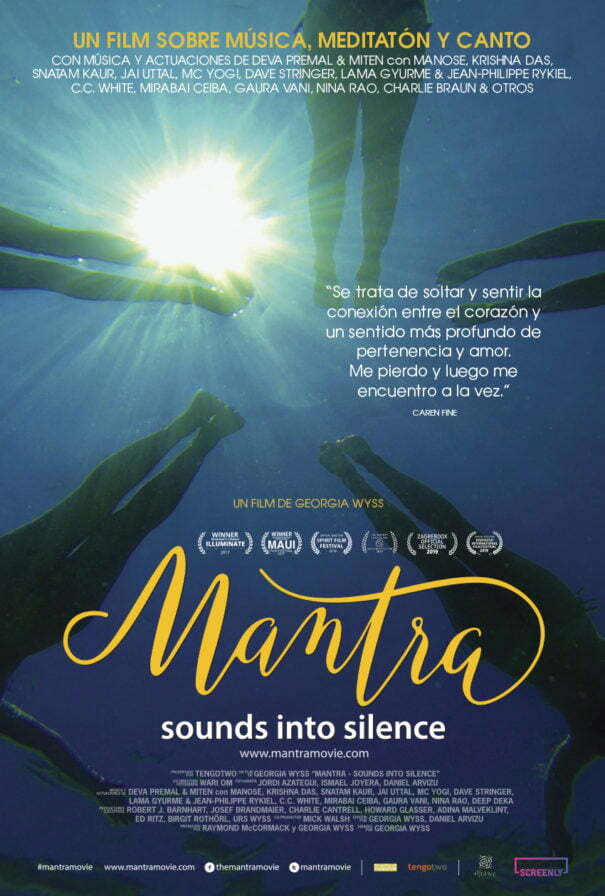 En busca de comunidad y conexión, miles de personas en todo el mundo están recurriendo a un antiguo tipo de reunión humana: el canto comunitario. Una de las formas de este fenómeno, el llamado 'Kirtan', implica cantar mantras. Originada en la India, esta forma tradicional de canto se utilizó por primera vez en Occidente como fondo musical para las clases de yoga. Pero su poder es tal que ahora se ha extendido a un público mucho más amplio, hasta el punto de haber conseguido nominaciones a los premios Grammy algunas de sus estrellas como Deva Premal & Miten, Krishna Das, Snatam Kaur, Jai Uttal and Dave Stringer.
En conciertos y festivales, así como en la vida cotidiana, y en lugares inusuales como la prisión de San Quintín, cerca de San Francisco… Mantra. Sounds into silenc sample community singing can derrumbar los muros entre las personas y ayudarlas a encontrarse. Todo contado a través de imágenes deslumbrantes y música cautivadora.
It is a film without verbiage of esoteric and full of enthusiasm and passion for life dirigida por Georgia Wyss.
It was thus
Cuando Georgia Wyss descubrió el universo de los mantras en 2004 empezaron a llegar las primeras ideas de cómo hacer la película, reconociendo la importancia de la práctica de esta herramienta en términos de sanación, algo que podía beneficiar la vida de muchos, como así se ha comprobado.
En 2012, propició un encuentro con Deva Premal and Mitten en su primera visita a Barcelona. Les encantó la idea del proyecto y quisieron contribuir por lo que las primeras imágenes rodadas fueron con ellos en 2013. Este mismo año llegaron las mismas oportunidades con Krishna Das and Snatam Kaur in Barcelona followed by "Peace Festival" in Paris with a concert of Lama Gyurme next to Jean Philippe Rykiel. The project Mantra Sounds into Silence oficialmente había nacido y estaba recorriendo sus primeros pasos. Desde aquí se continuó la exploración del movimiento actual de Kirtan en el este y oeste, con la valiosa aportación del equipo creativo de la película (especialmente el codirector y director de fotografía Wari Om).
–Estreno en Barcelona: sábado 11 mayo: 19h, y miércoles 15 de mayo a las 20h en Filmoteca de Catalunya. Plaça de Salvador Seguí, 1-9.
-Estreno en Madrid: viernes 24, sábado 25 y domingo 26 de mayo: 19:30h. calle Alcalá, 42.
En ambos casos, con presencia de la directora y con Kirtan (cantantes de mantras) en directo posterior al film.
Próximamente se estrenará más salas y ciudades españolas: Sevilla, Málaga, Huelva, Euskadi, Valencia, Galicia, Ibiza… Pregúntanos para su programación.
More information: https://www.mantramovie.com