Ayurveda to live better every day
To celebrate the launch of the book

Ayurveda práctico,
te ofrecemos las claves en las que se apoya esta "ciencia de la vida", tomadas de esta obra que presenta el Ayurveda de manera clara y didáctica para que todas las personas interesadas puedan tener a mano un manual orientativo.
Es una colaboración de los Centros de Yoga Sivananda Vedanta.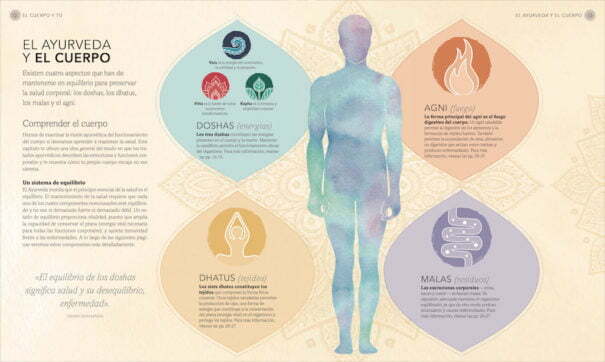 Toma partes iguales de discernimiento y desapego, serenidad y autocontrol,
mézclalas con amor divino y puro,
con servicio altruista y con coraje.
Bátelo con meditación y distribúyelo entre todos.
Esta es la receta maravillosa de Siva para la paz mundial y para la dicha inmortal.
Swami Sivananda
Ayurveda es el más antiguo y famoso sistema védico de medicina natural. Considerada como un complemento del Atharava-veda, la sabiduría del Ayurveda nos enseña que poseemos una constitución específica, que es la que debe guiarnos a la hora de escoger el tipo de alimentación, el ritmo de trabajo y la forma de descansar.
Ayurveda considera que cada individuo es un fenómeno único. El individuo es inseparable del Cosmos. Todo lo que hay en el macrocosmos existe también en el microcosmos. Cada individuo es una manifestación de conciencia cósmica.
Ayurveda está relacionado con la base física de la vida, concentrándose en su armonía para inducir las de la mente y el espíritu.
El yoga regula el cuerpo y la mente para permitirles armonizar con el espíritu partiendo de que, para estar realmente sano, el cuerpo físico ha de estar en equilibrio con la naturaleza, la mente individual en armonía con la mente colectiva y el alma en unión con el Alma Universal.
Que todo el mundo sea feliz.
Que todo el mundo esté sano.
Que todo el mundo sea puro.
Que nunca falte armonía.
Este es el mensaje de Ayurveda.
In the preface to the book
El Yoga y el Ayurveda son ciencias hermanas que enseñan cómo vivir de forma natural y conseguir una salud física, mental y espiritual radiante.
Los tratados ayurvédicos y yóguicos forman parte de una de las tradiciones espirituales y curativas más importantes del mundo y describen la ética y las prácticas que ayudan a mantener una vida saludable. Estos escritos tratan temas tales como la dieta y el ejercicio, así como el uso de la respiración, los sentidos, las emociones y la mente.
Su enfoque de la meditación proporciona una guía detallada sobre cómo alcanzar un estado de paz y armonía —un equilibrio entre el corazón y la mente— que permite acceder al potencial más profundo de la conciencia humana.
Practical Ayurveda conveys the vision of Swami Sivananda (1887–1963), un renombrado médico y maestro de yoga que escribió más de 200 libros sobre todos los aspectos del Yoga y el Ayurveda.
It was Swami Vishnudevananda (1927–1993), un eminente discípulo de Swami Sivananda, quien, enviado por su maestro, trajo la práctica del yoga desde la India al mundo occidental.
After establishing different Sivananda Yoga Vedanta centers en Estados Unidos y Europa, Swami Vishnudevananda fundó el Sivananda Yoga Dhanwantari Ashram, un centro de formación único en Kerala, en el sur de la India, en el que se combinan la práctica del Yoga y el Ayurveda.
The Ayurvedic daily routine allows you to developr a healthier lifestyle de forma gradual. Asimismo, las culinary suggestions propuestas en el presente libro resultan favorables tanto para la constitución individual de cada uno como para la práctica del yoga y la meditación.
El Ayurveda incrementa el prana (energía vital) a través de la alimentación, las hierbas medicinales, los aceites y los minerales, mientras que la práctica de yoga y meditación te enseña a estabilizarlo de una forma más directa por medio de posturas, ejercicios de respiración, relajación profunda y meditación.
We hope that Practical Ayurveda te ayude a sanarte y a manifestar tu máximo potencial corporal, mental y espiritual.
Swami Durgananda, Swami Kailasananda y Swami Sivadasananda

El libro está publicado originalmente por Dorling Kindersley y la edición castellana corresponde a Gaia Ediciones. Esta es su estructura:

El ayurveda y las cuatro metas de la vida / El cuerpo y tú / El estilo de vida ayurvédico / Mantener una buena salud / Alimentos, dieta y recetas / El yoga: asanas, pranayama y relajación / El Pensamiento positivo y la meditación / La consulta ayurvédica / Remedios caseros para dolencias comunes / Glosario / Índice temático
Information provided by the Sivananda Vedanta international Yoga Center
www.sivananda.es
www.sivanandagranada.es
https://yogasitarammungia1.wixsite.com/sivananda
https://yogasivanandabarcelona.wordpress.com/
On Facebook centro.yoga.sivananda.madrid
On Twitter @yoga_sivananda
Instagram sivanandamadrid