48 años de verdadero yoga en Shadak
El pasado 15 de enero se cumplieron 48 años desde la inauguración de Shadak por Almudena Hauríe y por mí. Desde aquellas remotas fechas siempre hemos sido rigurosamente fieles en Shadak a los auténticos hatha-yoga (yoga psicofisiológico) y radja-yoga (yoga psicomental).
Escribe Ramiro Calle (foto Antonio García Martínez).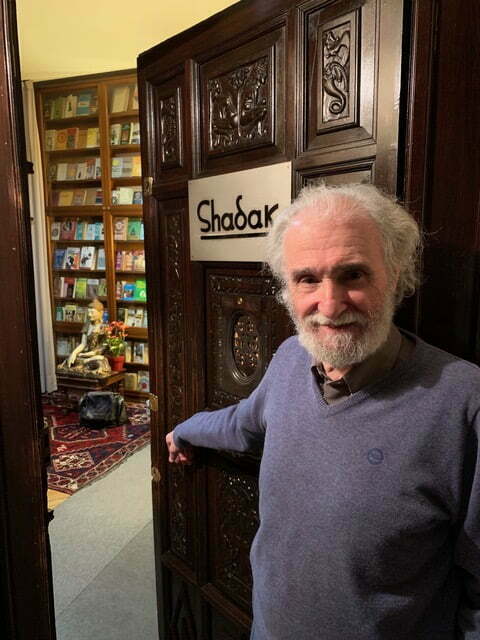 They have more than passed by our Center half a million people de todas la edades, creencias y países. Todavía todos los días impartimos clases de cinco de la tarde a diez de la noche, dando yo personalmente dos clases diarias de meditación y una de hatha-yoga, asistido para otras clases por un equipo de tres magníficas profesoras: Silvia, Adoración y Luisa.
Shadak sigue conservando un sabor realmente entrañable y que destacan todos los alumnos, que son considerados nuestros amigos espirituales. Durante casi medio siglo, día a día, me he desplazado hasta Shadak, donde conservo una de mis bibliotecas. Es mi hogar espiritual y mi "punto de quietud" exterior aun estando en pleno corazón de esta cada vez más inhóspita ciudad. Incluso muchos domingos paso horas en Shadak atendiendo practicantes que vienen de fuera, ordenando libros, tomando notas o haciendo yo mismo la práctica. Tantos años han discurrido que hay gente que llega a Shadak y pregunta: "¿Sigue viviendo el profesor Calle?" o "¿Continúa impartiendo clases?".
Era una mañana, meses años antes de la fecha indicada, cuando mi madre, Almudena, mis hermanos Miguel Angel and Pedro Luis y yo llegamos a Ayala 10- 1º derecha, a examinar el piso que se nos alquilaba, en una calle, entonces, sumamente tranquila. Debido a la generosidad de mi padre, que siempre apoyó mi proyecto, aun dudando que pudiera salir adelante, pude alquilar el piso y llevar a cabo mi hermano Miguel Ángel la correspondiente decoración.
Beginning of much work and no little misunderstanding
Durante un tiempo considerable, Almudena Haurie y yo impartimos un gran número de horas de clase al día, prácticamente de la mañana a la noche. Almudena, por fortuna, era una hatha-yoguini de extraordinarias capacidades, que más adelante se convirtió en una gran meditadora y una extraordinaria traductora de obras orientalistas, del inglés al castellano, figurando entre la veintena traducidas, las de Nanayaponika Thera. Solo unos años después fuimos asistidos también por la estupenda profesora de hatha-yoga Nieves Maria poultry and the Secretariat Manuela Macías. Fueron años muy intensos de trabajo, y a veces teniendo que luchar, sin perder la motivación y el entusiasmo, contra la incomprensión, la ignorancia o incluso el más cerrado dogmatismo religioso.
A mis 75 años, ya superados, continúo en la difusión y enseñanza del yoga y de las técnicas orientales de autorrealización con la misma ilusión que hace ya casi medio siglo, y alentado por poner en manos de los demás el gran regalo que yo recibí en su día.