FisiomYoga 1/ Corbata interna I, estiramiento de la cadena miofascial anterior profunda
Abrimos esta sección, FisiomYoga, que une la práctica de yoga con la fisioterapia y la osteopatía. En esta primera entrega veremos cómo realizar un ásana especialmente adaptada para mantener la columna erguida y bien alineada.
Escriben Or Haleluiya y Alex Monasterio.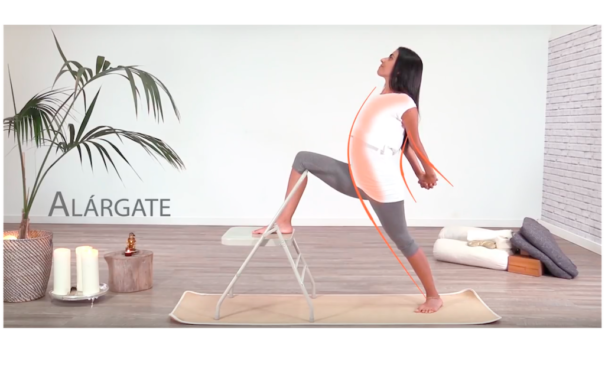 It is essential to keep the column upright and aligned estirar y liberar la cadena miofascial anterior profunda. ¡La corbata interna hace precisamente esto! En FisiomYoga el concepto corbata interna hace referencia a la cadena miofascial anterior profunda que incluye en el tronco el psoas, el diafragma y diferentes tejidos intratorácicos.
It is highly important to stretch this muscle chain porque la mayoría de nuestra sociedad lleva una vida sedentaria con la columna flexionada y con pocos estímulos de estiramientos y liberación miofascial.
Te proponemos este ejercicio para estirar la parte superior de esta cadena y liberar tensiones acumuladas que pueden afectar negativamente la postura diaria y con ello la alineación articular que con el tiempo puede llevar a lesiones fácilmente evitables. Así pues, es una postura apta para mejorar la hidratación discal y por lo tanto recomendada para aquellos que tienen discopatías, hipercifosis y rectificación lumbar.
1. Prepárate: Coloca una silla justo delante tuyo y preferiblemente apoyada en la pared para que no se deslice.
2. Sostente: Sostén tu pie derecho sobre el asiento y siente su apoyo. Confía en él. Confía en tu cuerpo. En ningún momento te tienes que empujar. Da un paso con la pierna izquierda hacia atrás para que la extensión de cadera permita el estiramiento de la psoas-ilíaco.
3. Alárgate: Alarga la columna, no pienses en ir hacia atrás sino hacia arriba, tanto que tu corazón esté mirando hacia el cielo. Entrelaza las manos por detrás de la espalda y mantenlas lo más lejos y arriba que puedas. Notarás el estiramiento mayormente en la parte frontal de la cadera, la pared abdominal y los pectorales. ¡Disfrútala!
4. Respira: Para intensificar el estiramiento del psoas-ilíaco, exhala profundamente.
FisiomYoga es una disciplina destinada a coordinar el yoga con el mundo sanitario en el que, además de obtener mayores beneficios físicos para el practicante, potencia los dos sectores.