Libérate del estrés con yoga: 5 posturas que puedes hacer desde tu escritorio
¿Podrías adivinar que estoy haciendo mientras escribo este artículo? Así es, estoy sentada en mi escritorio. Y aunque traté de llevarme el portátil a la bicicleta estática, pero no me funcionó bien. Así que pensé mejor en estas posturas de yoga, ¡y te las recomiendo para liberarte de las tensiones!
Escribe Cris Puscas.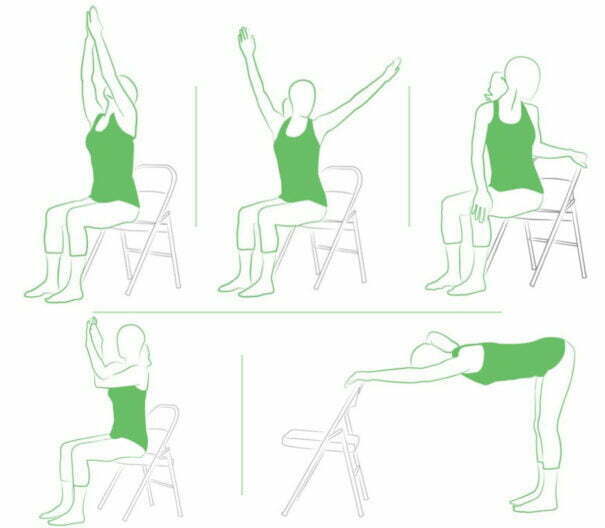 Llevas sentado en tu escritorio medio día y finalmente te das cuenta del dolorcito de espalda que lleva un tiempo molestándote. Ah, también tu cuello se siente tensionado. Y además tienes un calambre. Sí, así es como las personas con trabajo de mesa viven (también algunos freelancers). Eres tú, el ordenador y el teléfono todo el día juntitos.
Ya todos sabemos lo malo que es estar sentados todo el día, pero ¿sabías que concederte solo unos minutos y hacer unas simples yoga poses puede ayudarte inmensamente? Claro, es más fácil decirlo que hacerlo. La mayoría de la gente pasamos el día sentados y es difícil incluir un poco de movimiento en nuestras rutinas.
So ¿te gustaría aprender unas poses de yoga para reducir el estrés? La rutina que te ofrezco es muy fácil de hacer, solo necesitas una silla (si la tuya tiene ruedas ¡solo asegúralas!).
Sun salutations
Sí, sí puedes hacer una versión modificada del Saludo al Sol sentado. Estas posturas son para fortalecer la espalda y el abdomen.
Sit with your feet on the floor and your back straight
Inhale and raise your arms above your head
The palms together
Exhale as you lower the arms and tours to your left
It takes your right arm to your left knee and your left arm to the back of the Chair
Inhale and repeat to the right side

Continúa la secuencia por 8- 10 repeticiones
Position of the Eagle
Esta postura ayuda a abrir la parte alta de la espalda, hombros, codos y muñecas.
Siéntate con los pies abiertos a la altura de la cadera, firmes sobre el piso

Keep your back straight
Raise your arms to shoulder height
Wrap your left arm under your right arm

Cruza tus antebrazos y junta las palmas; si no puedes juntar las palmas, haz la versión modificada: junta el dorso de tus manos

Levanta tus codos hacia el techo, relajando los hombros

Mantén esta posición por 5-8 respiraciones

Repite cruzando el brazo opuesto.
Dog looking down
Esta pose es perfecta para trabajar la parte posterior del cuerpo. Estira la espalda, hombros, cuello y piernas.
Stand from the front to the back of your Chair

Coloca tus manos en el respaldo, a la altura de los hombros

Walk backwards until your chest is parallel to the ground
Lengthen your abdomen and lift the ribs
Lifting the hips upwards away from the shoulders

Dobla las rodillas para estirar aún más; después estíralas de nuevo

Mantén esta posición por 8-10 respiraciones
Position of the goddess
Esta postura es muy buena para trabajar la parte posterior del cuerpo. Abre las caderas mientras fortalece los glúteos y las piernas.
Siéntate en la orilla de la silla, con las caderas en el medio

Open legs sideways
Your palms together

Mantén la posición por 10 respiraciones

Para hacer el movimiento más retador, intenta levantarte de la silla algunos centímetros y mantener la posición
Attitude scale
Esta pose es buena para el abdomen. Trabaja el abdomen y ayuda a tener una mejor postura y mejor salud para tu espalda.
Sit at the edge of the Chair
Put your arms to the sides of your hips
It uses the abdomen and raises the hips so that your feet are raised floor
He returned to sit

Repite 3-5 veces
Cris Puscas. Cris is a writer for BookYogaRetreats.com. Escribe blogs de viajes y estilos de vida y apasionada sobre los viajes de bajo presupuesto.