CD / peace of the Castle exquisite and sensitive music on his new album "Three"
Spanish composer and pianist Peace of Castle presents their new album entitled"

Tres: Lo mejor de Paz del Castillo
" en el que revisa lo más destacado de sus discos anteriores, agregando temas nuevos para crear una exquisita colección de música para los sentidos, el corazón y el alma.
Writes Paul Rego.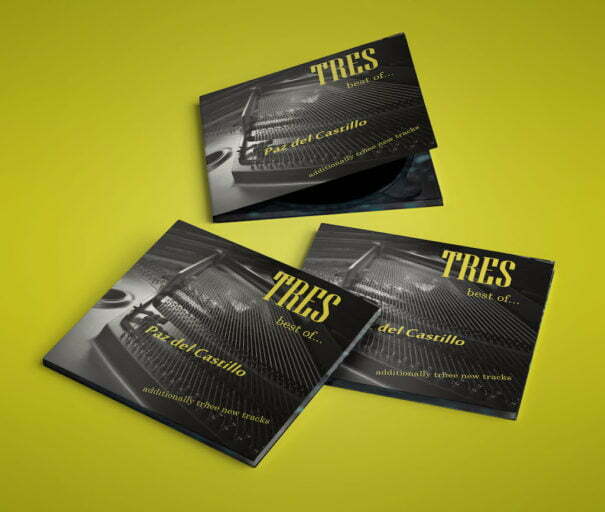 Peace of Castle, de sólida formación académica dentro de la música clásica, consigue expresar impresiones, sensaciones y emociones a través de sus composiciones con una gran fidelidad, ya que luego de bucear en lo profundo de su ser tiene las herramientas y la capacidad para crear hermosas piezas musicales que representan perfectamente esas vibraciones del alma.
"Listen to the songs of"Three", igual que ocurre en sus anteriores trabajos "Now", "Moods for Piano"and"Eleven Drops", es recibir esas frecuencias sonoras creadas con el piano, cuya estética creada a partir de una combinación de sonidos muy cuidados, emociona e inspira. Castle le escribe a la música que ama, a la naturaleza, familia, amigos, seres queridos, perros y otros animales, crecimiento, emociones, la playa y el océano, ríos, visiones históricas y lugares lejanos y cercanos.
Peace of Castle recupera en este disco algunos temas de gran valor artístico permitiendo al público acceder a ellos en formato desde las nuevas tecnologías. Las nuevas piezas, "There was once a maiden", "Waltz for the Good People"and"I know me", son una bocanada de aire fresco que nos permite conocer su punto de vista y el filtro emocional que ella pone acerca de una visión contemporánea del mundo.
According to Castle, la primera obra nueva, "Once upon a time a maiden", es "una obra inspirada en una historia medieval sobre una doncella en un pequeño pueblo que se convierte en un guerrero que lucha contra las injusticias cometidas contra su pueblo por ladrones, invasores y señores feudales que cobraban impuestos injustos. Ella lleva a su gente a la victoria hasta lograr la tranquilidad. Es una historia que me imaginaba y podía verme con una armadura y una espada"
Another novelty is"Waltz for the Good People", que según cuenta of the Castle"es un tributo a la bondad de las personas de todo el mundo, un llamado a la simplicidad y claridad de los buenos sentimientos y los buenos instintos de la humanidad. Todos los días hay personas buenas que se ayudan y se aman, y yo creo en ese espíritu".
The last recent piece is"I know me", un trabajo con varias secciones que revela las diferentes partes de su vida. "Esta es una pieza muy sincera que narra los sentimientos más profundos de mi vida, mucho de lo que sé de mí mismo"."
En toda Europa, Castle ha ganado numerosos premios prestigiosos, se ha presentado en importantes salas de conciertos y ha estudiado en las mejores escuelas de música. Aunque principalmente es un artista solista en el piano, la artista nacida en Madrid y criada en Valladolid, ocasionalmente toca como parte de un dúo, trío u orquesta de cámara. En dúo con violín, ha realizado conciertos clásicos con música de Bach, Chaconne, Mozart, Beethoven, Kreisler, Granados y Prokofiev.
Peace of Castle, que se ha convertido en uno de los pianistas solistas más importantes de España, dice: "My album"Tres: Lo mejor de Paz del Castillo" es un resumen de mi vida, un autorretrato como pinceladas sobre un lienzo blanco que completa una pintura que retrata la paz del castillo"."
"Tres: Lo mejor de Pas del Castillo"is available for download OnLine
Paul Rego. Crítico musical. Profesor de Yoga.