Valencia Winter Yoga and Music Festival
Nace Valencia Winter Yoga and Music Festival (VWYMF), una celebración que quiere compartir propuestas para una vida mejor, recogiendo el espíritu del Ruzafa Showroom, festival de yoga y crecimiento interior. Apúntalelo para no faltar a la cita los días 7, 8 y 9 de diciembre en Valencia.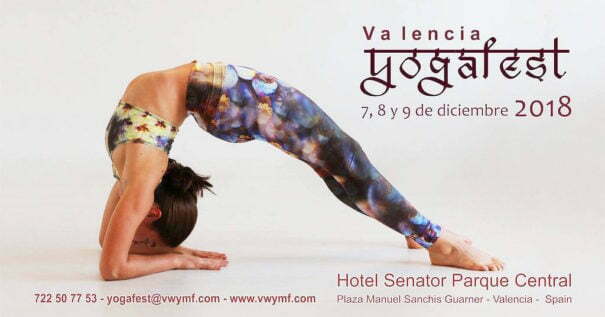 Tras la finalización de la cuarta edición del Ruzafa Showroom, los organizadores vieron que el espacio, sencillamente, se había quedado pequeño. Así que, por una evolución y crecimiento naturales, surgió Valencia Winter Yoga and Music Festival, que este año celebra, con un nuevo nombre, ya su cuarta edición.
La misma filosofía, personas comprometidas, compartiendo desinteresadamente propuestas y estilos de vida para el crecimiento… pero con más medios y mayor capacidad de proyección. Un espacio único de apertura, intercambio y aprendizaje.
Serán unos días llenos de clases, charlas, talleres, consultas y conciertos. Con múltiples propuestas para expandir la consciencia y experimentar formas de crecer y de ser feliz. Con un gran espacio para que podamos compartir, como todos los años, bien cómodos y disfrutando de la experiencia.
Porque sabemos que el cambio es siempre una opción personal, y sólo se puede llevar a cabo aquí y ahora. Y sabemos que la sociedad sólo cambia cuando cambian las personas que la componen. Vivimos una gran época, grandes desafíos que nos ofrecen grandes oportunidades de crecimiento. Así que Valencia Winter and Yoga Festival es una celebración del cambio, donde nos alimentamos unos a otros con nuestra presencia y nuestras propuestas. Construimos juntos; el protagonista eres tú, somos nosotros.
Actividades en el programa
• Ashtanga yoga
• Class of Vedic astrology
• Class of hatha yoga inspired by Bowspring
• Yoga Nidra class

• Clase las 12 posturas básicas, aprende a respirar el movimiento

• Class on energy bodies and reincarnation

• Clase Yoga de Patanjali, los 8 pasos

• Concert Sat Atma Kaur
• Concert Amares
• Concert song of the goddess

• Concierto de Farmagia, medicina para el alma

• Family constellations

• Danza del Cuerpo Azul

• Dru Yoga
• Hatha Yoga Sadhana
• Kriya Yoga Sadhana
• Kundalini Yoga Sadhana
• Master class of Hatha Yoga in Rishikesh
• Meditation Advaita
• Meditation with bowls
• Conference "Yoga and spirituality"

• Ponencia, Los 5 Puntos Básicos del Yoga, según Vishnudevananda

• Breathing shamanic
• Breathing Holotrópica
• Shakti Dance
• Sivananda Yoga Karana
• DreamCatcher workshop for children
• Workshop of overtone singing
• Inverting workshop
• Workshop of meditation with music for children
• Pranayama workshop
• Workshop Psychobioenergetics "the true limits are in your head"
• Theoretical-practical workshop on the Bowspring method
• Therapy Senamaeste
• Yoga adapted to the functional diversity
• Yoga with Chakras
• Yoga of synthesis
• Sweet Tibetan yoga of healing Ne-jang
• Integral yoga
• Eye yoga
• Restorative yoga
• Yogic Dance
• Kirtan Sivananda
• Yoga Satyananda Saraswati
Provisional list of speakers and teachers
• José María Martínez (Constelaciones Familiares)

• Emilia Nácher (Yoga Mudras)

• Julio Beltrán ASPAYM (Yoga Inclusivo)

• Chris Vleeschouwers (Yoga Restaurativo)

• Hari Dasa (KrishnaKali Yoga Ashram)

• Nandi (Taller de Invertidas)

• Madhuri Dasi (KrishnaKali Yoga Ashram)

• Vishnu (Centro Internacional de Yoga Sivananda Vedanta de Madrid)

• Lenka (Bowspring)

• Shânkara (Jnana Yoga y meditación)

• Jana (Ashtanga Yoga)

• Nityananda (Kriya Yoga)

• Chetna Devani Yogacharya

• Neesha (Masaje Ayurvédico)

• Sat Atma Kaur (Bhangra)

• Berto Alós (Yoga Ocular)

• Kamakshi (Hatha Yoga)
Músicos
• Sat Atma Kaur (Bhangra)

• Yashira (Mantras y cantos sagrados)

• Amares – Música

• Shakti (Concierto)
Check our schedules HERE
You can contact with the YogaFest a través de los siguientes medios:

Information: yogafest@vwymf.com / Información (Inglés): international@vwymf.com

Inputs: T 722 50 77 53 Elisabeth / It organizes: www.valenciaconsciente.com

Where: Hotel Senator Parque Central Valencia, Plaza Manuel Sanchis Guarner – 46006 Valencia