Libros/ Yoga para mi bienestar, de Xuan-Lan
Pocas profesoras de yoga son tan populares en las redes como Xuan-Lan. Pero ella es una auténtica yoguini, moderna y muy trabajadora, que ha creado una plataforma de yoga online modélica desde el respeto por el yoga tradicional. Ahora publica su segundo libro. Edita: Grijalbo. PVP: 19€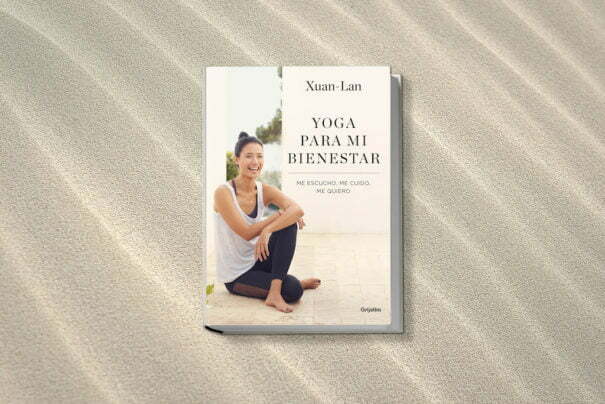 Xuan-Lan, author of My yoga journal, propone un camino holístico, fácil y práctico que te ayudará a definir los elementos que necesitas para lograr el bienestar e integrarlos poco a poco en tu día a día, sin necesidad de revolucionar tu vida.
En su nuevo libro, Yoga para mi bienestar, Xuan-Lan comparte consejos de vida saludable, basados en su amplia trayectoria como experta en yoga y bienestar. De su mano descubrirás los beneficios de la práctica del yoga a través de la meditación, la respiración y las posturas específicas para mejorar aspectos concretos como la autoestima o el sueño. También conocerás los principios de una filosofía milenaria que te proporcionará las pautas para una vida plena y equilibrada.
Además, la autora aboga por la meditación y el Mindfulness aplicados a la vida cotidiana para potenciar la serenidad, e incluye una selección de playlists con las canciones favoritas de la autora, seleccionadas para ser escuchados en distintos estados de ánimo que, junto con recetas deliciosas y saludables, te ayudarán a alcanzar el equilibrio perfecto entre cuerpo, mente y espíritu.
The author
Profunda experta en todos los estilos de yoga, sin embargo el objetivo de Xuan-Lan es llevar el yoga a todos los niveles y estilos. Su canal Youtube así lo demuestra, y de forma excelente. Es una yoguni muy mediática y moderna, pero muy experta y trabajadora.
You can see his work at the event February Fitness International Meeting.