The experience of meditation
En la meditación puedes observar tus propios pensamientos y dirigirlos hacia un estado de calma. Los obstáculos internos y externos desaparecen. Alcanzar ese patrón de pensamiento hacia el sosiego te aporta una nueva sensación de libertad.
Esta es una colaboración del Centro Sivananda.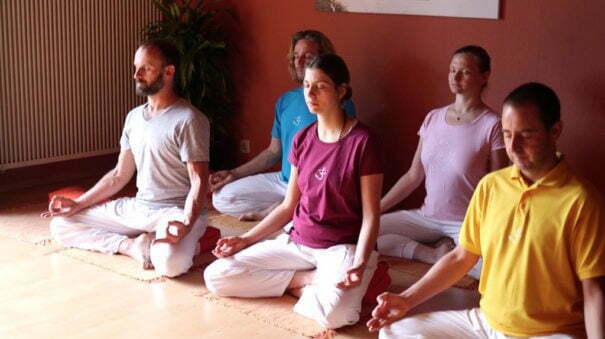 También te ayudará a desarrollar una nueva conciencia en el día a día:
conciencia al observar,
al hablar,
al comer,
by offering
y al caminar.
Valores positivos
Cuando aparecen en tu mente la ira o el miedo tratamos siempre de justificarlos interiormente.
Conectamos ese estado mental con una causa.
Entonces las emociones negativas parece que son algo objetivo.
Si te enfocas en los valores positivos conectas con una fuerza interior que no tiene causa y que existe por sí misma.
La valentía es más poderosa que el miedo, la paz es más poderosa que la ira. Lo positivo es más poderoso que lo negativo.
Views
Trata de mirar fijamente una flor o la llama de una vela.
Una y otra vez tus ojos desviarán la atención a otra parte.
Trae de nuevo la mirada una y otra vez al objeto de concentración.
Después de unos minutos continúa la práctica con los ojos cerrados.
La llama o la flor se visualizan ahora mentalmente.
Es un proceso de renovar constantemente la imagen mental.
Esta práctica te ayudará a desarrollar la concentración.
Con el tiempo también desarrollarás la creatividad y la habilidad para visualizar las situaciones desde una nueva perspectiva.
Sensaciones del cuerpo
Los asanas, el pranayama y la relajación ayudan a profundizar en nuestra percepción del cuerpo.
Son una buena preparación para la meditación.
Una postura de meditación firme y estable te ayuda a conectar con tu propio centro.
La respiración se vuelve cada vez más sutil y te conecta con el momento presente.
In the here and now todas las tensiones mentales desaparecen.
Meditation and breathing
Los ejercicios de pranayama equilibran tu sistema nervioso y te ayudan a desarrollar la fuerza de voluntad. Existen límites naturales para el control de la respiración y para la fuerza de voluntad.
La meditación en la respiración pone atención en el fluir natural, constante y relajado del aliento.
En la respiración puedes experimentar el poder de la naturaleza: cada respiración tiene su origen en esa fuerza universal:
la exhalación sigue a la inhalación y la inhalación sigue a la exhalación.
Meditation on the sound
Un mantra es un sonido universal con un significado universal.
El canto de mantras te ayuda a crear espacio mental.
Después de un tiempo puedes continuar con la repetición mental del mantra.
Todos los pensamientos se absorben en la vibración única del mantra.
Y lo que queda después es la experiencia del silencio.
The course "The experience of meditation" se ofrecerá los miércoles a las 19:00 horas del 14 de noviembre al 19 de diciembre. Seis clases de 90 minutos, en el Centro de Yoga Sivananda de Madrid.

www.sivananda.es T 913615150
On Facebook centro.yoga.sivananda.madrid
En Twitter @yoga_sivananda
Instagram sivanandamadrid