First Conference of accessible Yoga in Europe
The first Accessible Yoga in Europe Conference will be held in Rheinsberg, Berlin area, from 19 to 21 October 2018. A very special occasion to learn how to bring the benefits of yoga really all people. Writes Laura Piquer.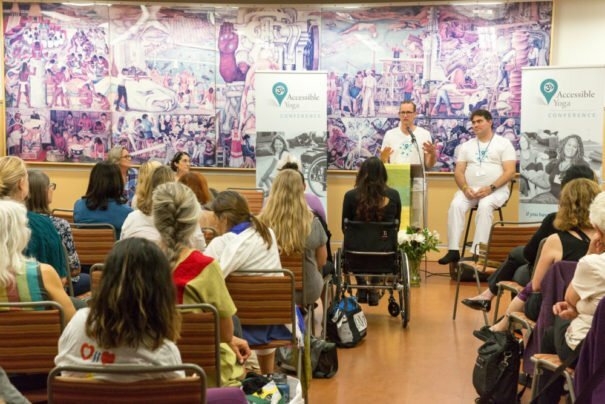 The Accesive Yoga Conference Europe 2018 It represents an opportunity for all teachers, practitioners and followers of Yoga to experiment, learn, reflect and share issues related to the way that yoga can be accessible and support the needs of those who normally do not attend regular classes due to physical problems, mental or social limitations and personal conditions.
The Conference is organized by volunteers of Accessible Yoga, an international organization dedicated to support a culture of diversity in yoga, where the body fitness is not a requirement for the practice of yoga, and the ancient teachings can be available to everyone, under any condition, and retrieve its meaning as tool for empowerment.
Jivana Heyman, "Accessible Yoga founder, describes it thus:"We all need to manage stress with relaxation and tranquility that yoga brings. If you have a mind and a body, it is that you can do yoga."
Accessible Yoga conferences are held twice a year. The EU, Conference following successful events in Toronto, New York, San Francisco and Santa Barbara (California), be held in full access an hour from Berlin. It will be structured around three concurrent sessions of conferences, and guided practices mainly in English, with selected sessions translated into German, Italian and sign language.
The opening will consist of a Special Conference of Matthew Sanford, one of the leaders in the world of accessible Yoga, which will be virtually connected with the Conference. Many prestigious European masters have been invited, and will offer a variety of workshops, conferences, panel discussions on many aspects and experiences ranging from the accessibility of the yogaterapia to the problems of social justice.
The list of participants includes to Liz Oppedijk with a Chair yoga class; Jivana Heyman with a Conference on accessible Yoga revolution in the world; a workshop on the essence of yoga adaptation directed by Mind Body Connection; and a talk about the concept of "Yoga, service and community conscious" in charge of Lara Land. Also a Conference of Nalanie Challaram on Raja Yoga as a tool to heal minds and life.
Laura Piquer directs the Association of yoga for people with functional diversity in Valencia "Arunai, yoga and functional diversity")www.arunaiyoga.com).