Primera Conferencia de Yoga Accesible en Europa
La primera conferencia Accessible Yoga en Europa se celebrará en Rheinsberg, área de Berlín, del 19 al 21 de octubre de 2018. Una ocasión muy especial para aprender a llevar los beneficios del yoga realmente a todas las personas.
Escribe Laura Piquer.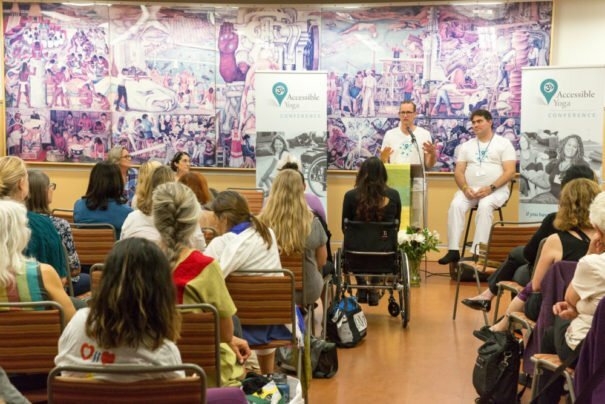 The Accesive Yoga Conference Europa 2018 representa la oportunidad para todos los profesores, practicantes y seguidores de Yoga para experimentar, aprender, reflexionar y compartir temas relacionados con la forma en que el yoga puede ser accesible y apoyar the needs of those who normally do not attend regular classes debido a problemas físicos, limitaciones mentales o sociales y condiciones personales.
The Conference is organized by volunteers of Accessible Yoga, una organización internacional dedicada a apoyar una cultura diversa en el yoga, donde la aptitud del cuerpo no es un requisito para la práctica de yoga, y las antiguas enseñanzas pueden estar disponibles para todos, bajo cualquier condición, y recuperar su significado como herramienta para el empoderamiento.
Jivana Heyman, el fundador de Accessible Yoga, lo describe así: "Todos necesitamos controlar el estrés con la relajación y tranquilidad que trae el yoga. Si tienes un cuerpo y una mente, es que puedes hacer yoga."
Las Conferencias de Yoga Accesible se llevan a cabo dos veces al año. La Conferencia Europea, que sigue los eventos exitosos en Toronto, Nueva York, San Francisco y Santa Bárbara (California), se llevará a cabo en un hotel de acceso completo a una hora de Berlín. Estará estructurado en torno a tres sesiones simultáneas de prácticas guiadas y conferencias, principalmente en inglés, con sesiones seleccionadas traducidas al alemán, italiano y lengua de signos.
The opening will consist of a Special Conference of Matthew Sanford, uno de los líderes en el mundo del Yoga accesible, que estará conectado virtualmente con la Conferencia. Muchos maestros prestigiosos europeos han sido invitados, y ofrecerán una variedad de talleres, conferencias, experiencias y paneles de discusión sobre muchos aspectos que van desde la accesibilidad de la yogaterapia a los problemas de justicia social.
The list of participants includes to Liz Oppedijk con una clase en silla yoga; Jivana Heyman con una conferencia sobre la revolución de Yoga Accesible en el mundo; un taller sobre la esencia de la adaptación de yoga dirigida por Mind Body Connection; y una charla sobre el concepto de "Yoga, servicio y comunidad consciente" a cargo de Lara Land. Also a Conference of Nalanie Challaram sobre Raja Yoga como herramienta para sanar mentes y vida.
Laura Piquer dirige la asociación de yoga adaptado para personas con diversidad funcional en Valencia "Arunai, yoga y diversidad funcional" (www.arunaiyoga.com).