Presentación del libro 'El gato yogui y el bosque que meditaba', de Violeta Arribas
Violeta Arribas y YogaenRed os invitamos a asistir a la presentación del último libro de la primera,
El gato yogui y el bosque que meditaba,
un vibrante relato de aventuras para chicos y chicas que contiene muchos mensajes necesarios sobre ecología, preservación de la naturaleza y los valores que el yoga promueve. El proximo sábado 29 de septiembre a las 18:30 en Ecocentro de Madrid. ¡Os esperamos!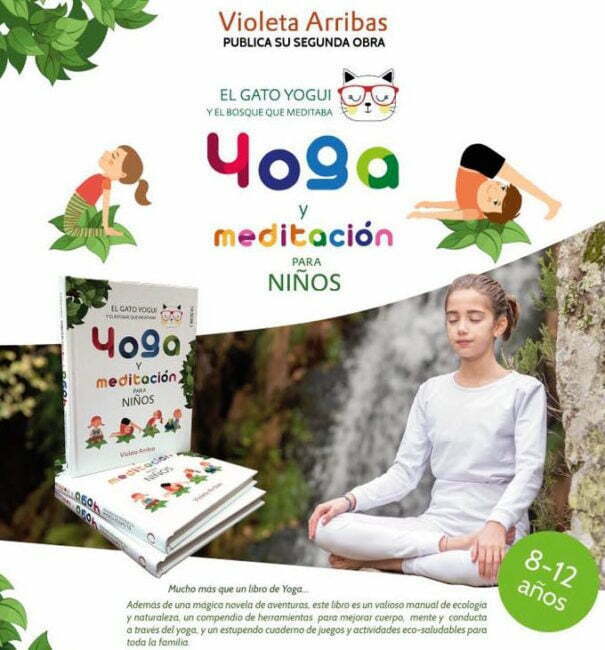 The cat Yogi and the forest that meditated es una novela de aventuras para preadolescentes que nos atrevemos a calificar de necesaria. Combina una atractiva historia llena de enigmas con la consciencia medioambiental y todas las técnicas de desarrollo y mejoramiento integral que el yoga y la meditación nos ofrecen. Es, pues, un manual práctico para que los jóvenes aprendan a afrontar la ansiedad, la ira, el egoísmo, la baja autoestima, la tristeza… investigando su origen. Pero también es una trepidante aventura llena de datos sobre la naturaleza, los animales, los bosques y cómo estamos ligados indisolublemente a ellos. Aprendizaje e inspiración sobre el amor, la mente y la madre tierra.
Si queréis conocer todos los secretos de esta obra, os esperamos ese día con mucha ilusión. Violeta Arribas estará acompañada por su editora, Eva Margarita García de Oberón/Anaya, y la codirectora de la revista YogaenRed Pepa Castro Lopez, quien os hablará de esa "educación olvidada" que tanta falta hace a nuestros pequeños. Por cierto, sería bonito que acudieran algunos chavales que ya lo han leído, con algunas preguntas que hacer al respecto, para la parte final creo que muy divertida.
Lee más sobre el libro HERE
The author
Violet Arribas es gran apasionada y conocedora de la naturaleza y del Yoga, a cuyo estudio ha dedicado los últimos 12 años.Ha escrito el libro íntegramente en su cabaña del bosque de la sierra de Gredos y ha seleccionado personalmente los enclaves naturales para las fotografías de yoga y dirigido las sesiones fotográficas, también ha escogido las imágenes de los animales, todo ello con la intención de trasladar a los chavales mediante el impacto visual de cada instantánea, el amor que ella siente cuando se encuentra inmersa en la naturaleza y la belleza y significado de la misma.
Violet is a teacher of Yoga and meditation and Director of Padmasana Center. Montañera, viajera incansable, gran amante de la naturaleza, los animales y los lobos, es también autora del libro Yoga y Ayurveda, de la ansiedad a la salud integral, de Alianza Editorial,
Dónde conseguir el libro. En Amazón, Casa del Libro y demás librerías, además de en su centro de Yoga.
Para contactar con la autora o el centro: www.padmasanacenter.com C/ Mar de Omán, 34 28033 Madrid. Tfno de atención público 91 3822733. info@padmasanacenter.com