Santa Santosha: meditar en la alegría
Superar el sufrimiento mediante la sabiduría es la esencia de las darshanas o escuelas filosóficas de la India antigua. Sin embargo, cuando el Buda conoció a Mahakassapa le aconsejó la meditación sobre el cuerpo en la alegría o contento (santosha, en sánscrito), con la energía física serenamente alta y la mente clara.
Joaquín G. Weil writes.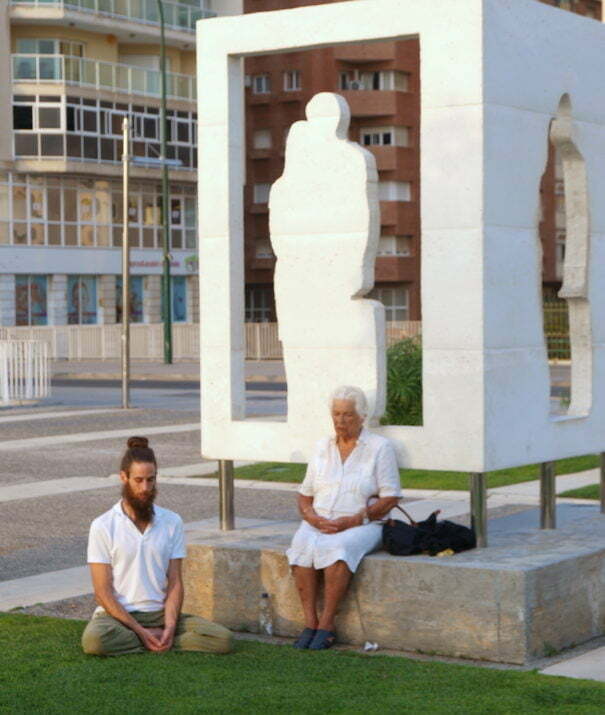 Una vez me encontré una antigua alumna por la calle. Me dijo: "Joaquín, ya no voy a tus clases de yoga porque me siento muy bien". Le respondí con sinceridad que me alegraba por ella. Igual ocurre con la meditación, y con la vida espiritual –por así llamarla–, y con el desarrollo personal a través de los diversos modos y técnicas de los que afortunadamente disponemos hoy en día. Generalmente las personas se internan en ellos y perseveran y vuelven cuando, por así decirlo, "le ven las orejas al lobo".
La enfermedad y la muerte (habría que añadir también la vejez) de familiares, amigos y compañeros de trabajo suele ser la motivación de la búsqueda del alma, la reflexión profunda, la contemplación de la vida, no en sus pequeños detalles, sino concebida como un todo.
Hay personas que cursan vidas de notable (y sorprendente) continuidad o estabilidad, en las que los pocos contratiempos que suceden se atribuyen a pequeños errores o faltas de suerte. De repente un día sobreviene algún percance drástico o serio, o "las balas comienzan a caer cerca", y la persona empieza a cuestionarse las grandes líneas de su existencia, aquellos presupuestos donde había asentado todo lo que daba por cierto y sobrentendido.
También estas sociedades humanas nuestras, donde el mercado, la economía, el compra-vende y la oferta y la demanda impregnan todo como una ideología, hacen incluso de los grandes marcos filosóficos y espirituales una especie de píldoras que las personas puedan consumir para poder perseverar aproximadamente en las mismas creencias y preconceptos de siempre.
The approach is our
Ya lo dijo el propio Buda: the starting point of the inquiry and the search is usually the misfortune y determinadas emociones aparejadas a la misma que no quiero aquí ni mencionar.
Por otra parte, he observado en los otros y en mí que los momentos de apertura, confianza, contento y ánimo suelen estar unidos a una buena y tranquila energía psicofísica. Con el tiempo se aprende que no son los infortunios o el severo marco samsárico de la existencia lo que causa desdicha, sino que es nuestra actitud, nuestra energía ante los mismos. Y algo básico: el enfoque. En los momentos de desdicha la mente está acuciada para emprender su búsqueda, si bien, son estados, en sí mismos, de embotamiento psicofísico.
For this reason es importante meditar en los momentos de tranquila alegría o contento (santosha, en sánscrito), cuando la energía física es serenamente alta y la mente está clara. Como aconsejara el Buda, es un momento idóneo para el enfoque de la atención en el fluir de figuras mentales, ideas, emociones y sentimientos.
La alegría es real. La desdicha es ilusoria. Por eso, es torpe y bruto enfocar los motivos de desdicha, pues al enfocarlos se genera su consecuencia emocional. Sin negar lo negativo, valga la reiteración, la actitud de sabiduría es perseverar en el enfoque hacia lo positivo, la claridad mental, el contento, el buen sentimiento, la confianza, la apertura, el ánimo para emprender nuevos proyectos, la fuerza y la tenacidad en las tareas, el gusto por el trato humano y por el goce de las cosas sencillas de esta vida. Los fenómenos mentales y los sucesos surgen en nuestra mente y en nuestros días más allá de nuestro poder. Lo que sí podemos hacer es enfocar y alimentar sólo aquellos que son para bien.
Santa Santosha. Santa Felicidad. Meditar en la alegría, la plenitud y el contento.
Joaquin G Weil is coordinator of YogaSala Malaga http://yogasala.blogspot.com/ and the training course of the IAYoga https://iayoga.org/blog/2018/07/31/proximo-curso-formativoiayoga-danilo-hernandez-enrique-moya-joaquin-g-weil-temario-oficial-junta-de-andalucia/