Vegetarian recipes / white almond Gazpacho
Es una receta de la tradición culinaria de Andalucía: ajoblanco. Como todas las recetas tradicionales la adaptamos, el ajo lo sustituimos por jengibre y en el lugar del vinagre ponemos jugo de limón.
Write, share, and kitchen Gauri, Professor of vegetarian cuisine of the Sivananda Centre of Madrid and the affiliated Centre Sivananda Vedanta of Granada.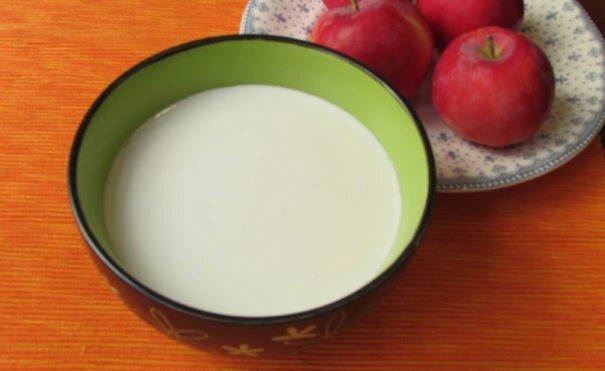 Es un plato refrescante y contundente por las almendras, y en días de mucho calor puede convertirse en un plato único. En Córdoba se toma con una guarnición de manzanas ácidas y uvas pasa. ¡Un excelente contraste de sabores!
Ingredientes: 2-4 personas
60 g de almendras crudas sin piel

50 g de pan del día anterior

3 cucharadas soperas de aceite de oliva virgen extra

1 trocito de raíz de jengibre sin piel

2 cucharadas de jugo de limón

½ litre of water

1 manzana ácida
Preparation:
Poner las almendras en remojo mínimo 4 horas, mejor toda la noche.

En el vaso de la batidora ponemos las almendras, el pan previamente remojado, el jengibre, la sal, el aceite y el limón. Batir todo hasta conseguir una pasta de una consistencia parecida a la mayonesa. A continuación añadir el agua poco a poco hasta que se mezcle bien.

Enfriar y servir acompañado con una guarnición de manzana ácida cortada en trocitos.
Leles Gauri es profesora formada en la Escuela de Yoga Sivananda Vedanta y da clases en el centro Yoga Sivananda Vedanta Granada-afiliado.
T 660-288-571.

She is creator of the blog We eat to live.