' Yoga to improve your life ' 6: positions for arms of steel
Are you aware of the importance that have arms for most of the asanas? Today we offer this 6th video of the excellent collection produced by conscious Television in collaboration with YogaenRed: "Positions for arms of steel", with Carla Sánchez.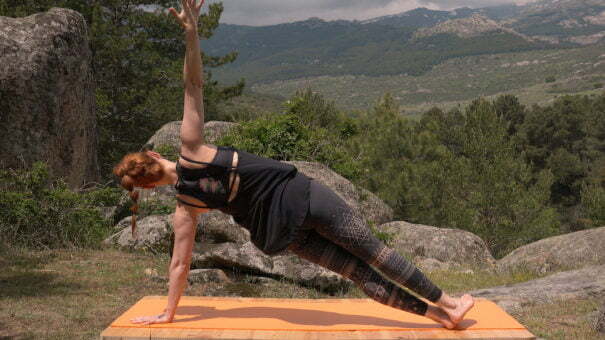 In this month of July get another more video for free! You have to have the previous five, which are: "Yoga to clean and revitalize the body", "Asanas to strengthen your ABS" , "It awakens your legs" "It activates your metabolism and gains flexibility" and "The best postures for your back". And today we will give you the 6th meeting of Yoga applied to specifically improve an important aspect of our well-being:
Positions for a few arms of steel
Today Carla Sanchez us to teach to strengthen arms, which gives us access to more complex positions that require strength and balance. Through this sequence, Carla invites us to gain strength and resistance in this area of the body that will give us greater confidence in ourselves to run numerous asanas which perhaps seemed to us to be impossible, also harmonizing our image staff and our practice.
Conscious TV-quality
Conscious TV It is the largest platform online videos of yoga, meditation, mindfulness, healthy eating and personal development in the world, in Spanish. Its contents are available from any device (computer, tablet, Smartphone, Smart TV) and now also from your mobile App Conscious TV, (available for) Android e iOS).
For YogaenRed It is a real privilege to have worked with Conscious TV in this production to be able to give to our readers. We do it very satisfied of their quality, both as soon as it is up to the teachings of the Professor Carla Sanchez as the Super filming and conscious Television production equipment
About Carla Sanchez
She attended her first yoga class ten years. Since little was educated in fundamentals as the conscience in the food, comprehensive health care, meditation and attention to what we are... These were his first gifts.
She studied classical dance during childhood and adolescence; He later trained as an actress. At that time it revealed that yoga would be your tool for growth and healing, both for me and for other people. Currently exerts both professions: "acting is my body, is communicate my mind and yoga is my soul, what connects me to everything, because being aware of every step I take and every moment is a way of life".
Carla attaches great importance to training and has spent years practicing and studying different styles of yoga. It was formed in Hatha in the international school of Yoga, Vinyasa Flow in New York with Evolation and Yoga for pregnant women in both schools.
It currently has two major projects, Secret Yoga Club in Spain, in-person workshops once a month in secret locations; and Project Yoga in Greece, an initiative of a humanitarian nature in which is Coordinator and lecturer teaching daily classes and training Syrian refugees and others affected in the conflict.
10 videos in the collection "Yoga to improve your life"
-June:
Yoga to clean and revitalize the body.
Asanas to strengthen your ABS.
Yoga routine for shaping your legs.
It activates your metabolism and gains flexibility.
-July:
The positions that most benefit your back.
Postures of yoga for arms of steel.
-August:
Power yoga anti-aging.
Restorative yoga mind and body.
-September:
Yoga routine for free yourself from stress.
Express session of yoga to sleep like a baby.