Clarifies your doubts: tantra is the yoga of sex?
In this section, Javier Ruiz Calderón offers answers to our questions from a perspective of critical and up-to-date yogic tradition. Are invited to write to Javier info@yogaenred.com making your doubts or uncertainties.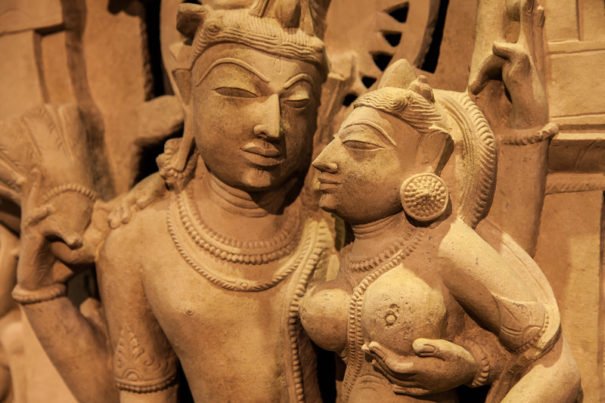 Pregunta: ¿El tantra es el yoga del sexo?
Answer: No. El tantra es una corriente ritual y espiritual que se extendió por la India a partir del siglo V EC. Su filosofía nos invita a no contraponer la materia al espíritu sino a verlos como las dos caras de la misma moneda. Una de las versiones más conocidas afirma que Shiva, la Trascendencia espiritual, no es diferente de Shakti, la Energía material que se manifiesta como todo este universo.
En consecuencia, los yogas tántricos aprovechan para la práctica todos los recursos materiales que se hallan a nuestra disposición sin desdeñar ninguno, por «antiespiritual» que pudiera parecer: el cuerpo físico, las energías sutiles, la imaginación, el deseo… Porque dicen que para levantarse del suelo (el apego a la materia) hay que apoyarse en él (en la materia).
Hay alguna corriente tántrica que incluso recurre a prácticas «antinómicas», es decir, contrarias a las normas de conducta tradicionales: no comer carne, no beber alcohol, no tener relaciones sexuales fuera del matrimonio, etc. La transgresión de las normas en un contexto ritualizado, bajo la dirección de un/a maestr@ competente y realizada por aspirantes avanzados, que ya tengan suficiente control sobre sus propios deseos, libera energías muy poderosas que, bien canalizadas, pueden ser muy eficaces en el camino de la libertad interior.
El tantra ha influido en todas las tradiciones indias (hinduismo, budismo, jainismo y sikhismo) y está muy presente —por ejemplo— tanto en el hatha yoga como en el budismo tibetano o los Hare Krishna.
Desde hace unas décadas se han hecho muy populares distintas formas modernas de tantra o «neotantra» que, inspiradas en algunas ideas y prácticas del tantra tradicional, las han adaptado a la mentalidad occidental actual dando lugar a propuestas más «liberales» que las tradicionales y que a menudo se centran en el cultivo de una forma más sensible y contemplativa de practicar la sexualidad. Este «yoga del sexo», aunque suele tener poco que ver con el tantra tradicional, puede ser beneficioso para quien lo practique; pero —como sucede en todos los yogas— hay que tener cuidado de no caer en las manos de algunos supuestos «maestros tántricos» que abusan sexualmente de sus alumnas con la excusa de despertarles la energía espiritual.
Javier Ruiz Calderón (Shankara) es doctor en filosofía especializado en filosofías y religiones de la India. Lleva cuarenta años estudiando y practicando yoga, vedanta y meditación. Enseña esas disciplinas, así como hinduismo, sánscrito y canto védico, y ha publicado cinco libros y decenas de artículos sobre estos temas.

Próximos cursos en Madrid: «Iniciación a la meditación IAM, de Amma». 15 de septiembre (www.amma-spain.org). «Introducción al pensamiento de la India: hinduismo, budismo y otras corrientes». Septiembre-diciembre (www.casaasia.es/cursos). «Historia y filosofía del yoga». Octubre – junio (www.ashtangaciudadjardin.es/cursos). «Estudio de las escrituras del yoga y el vedānta II: Las upaniṣad». Desde octubre (www.ashtanga-yoga-alcobendas.es).