Vegetarian recipes / snacks, lentils and barley cous-cous
Nos encanta la cocina del Oriente mediterráneo: Turquía, Libano, Grecia… Hay en su cocina tradicional recetas vegetarianas realmente exquisitas. Esta es una receta turca (mercimek koftesi) y se sirve antes de la comida principal para abrir boca.
Escribe, comparte y cocina Gauri, profesora de Cocina Vegetariana del Centro Sivananda de Madrid y del centro afiliado Sivananda Vedanta de Granada.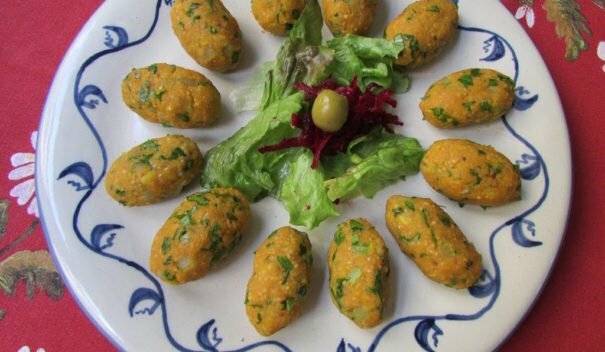 Es el equivalente a nuestras tapas (meze). La hemos adaptado a nuestra cocina yóguica. Se puede comer con una buena ensalada o acompañada de yogur.
Ingredientes (18 piezas):
75 g de mung dhal (lentejas partidas)

75 g de cous-cous de cebada (precocido)

2 cucharadas de Aove

1 stick of celery chopped
¼ teaspoon turmeric

1 cucharadita de jengibre rallado

1 teaspoon of ground cumin

1 cucharadita de curry

1guindilla seca majada

2 cucharadas de tomate frito o fresco triturado

2 cucharadas colmadas de perejil picado
Preparation:
Lavar las lentejas y ponerlas a hervir con tres veces su volumen de agua y ¼ cucharadita de cúrcuma, hasta que estén tiernas y se hayan quedado prácticamente sin agua. Unos 20 minutos.

Añadir el cous-cous, y esperar que se enfríen, dando tiempo a que el cous-cous absorba completamente el agua.

Poner el aceite en la sartén y sofreír la mitad del apio con la guindilla y el jengibre, unos 5 minutos. Añadir las especias, el comino y el curry y sofreír ½ minuto más.

Mezclar todos los ingredientes en un bol: las lentejas con el cous cous, el sofrito con las especias, el resto de apio, el tomate y el perejil picado. Sazonar al gusto.

Dejar reposar la mezcla al menos una hora y a continuación formar los bocaditos con la mano en forma de croquetas.

Servir a temperatura ambiente.
Leles Gauri It is formed in the Yoga Sivananda Vedanta school teacher and teaches at the Center Yoga Sivananda Vedanta Granada-afiliado.

T 660-288-571.

She is creator of the blog We eat to live.