In October, the Yoga Congress II Madrid 2018
A new edition the Madrid Yoga Congress will be held on 20 and 21 October. It will be an exciting weekend with two simultaneous rooms of workshops and classes of Yoga teachers who came from various parts of Spain. From YogaenRed we congratulate Victor de Miguel, promoter of the event, and FEDA Madrid, for their efforts in bringing together this super staff of teachers.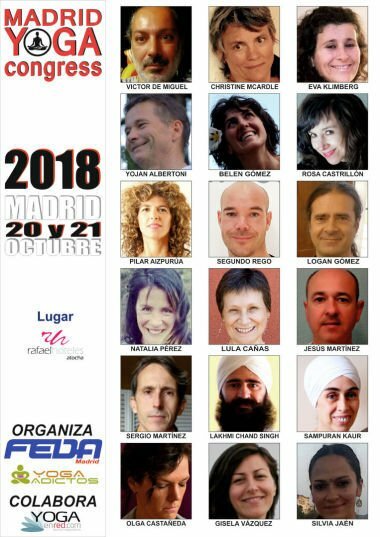 The II Madrid Yoga Congress It will take place next to the Atocha station, in Rafael hotels. You can now sign in www.madridyogacongress.com The first 80 entries will have a special price of 60 euros.
These are teachers who will participate:
-Ramón Clares, which will provide the workshop "all yoga fit in an asana".
-Sampuran Kaur It will offer a workshop of "Naad, Yoga, the art of healing sound".
-Eva Klimberg It will be the person responsible for closing the II Madrid Yoga Congress with "Purusha to Pakriti" workshop.
-Olga Castaneda He will give his workshop "Mindfulness and training movement aware".
-Gisela Vazquez It will be with a workshop of "Yoga and Asana, a tattoo in the soul".
-Lakhmi Chand Singh It will offer a Kundalini Yoga Workshop: "Tune in to prosperity".
-Pilar Aizpurua Izaguirre It will offer a workshop of Hatha Yoga: "our body is the House of God"
-Bethlehem Prema and Yojan Albertoni they will be taught a workshop of Hatha Yoga: "Series of love".
-Christine McArdle It will give us a Bowspring workshop.
-Nani Montero (Kali Devi) offer us an Integral Yoga Workshop: "the awakening of the Shakti-Kali".
-Second Rego (Trapa Dorje) will give a workshop of Tibetan Yoga.
-Another great teacher, Lula grayIt will offer a workshop of meditation Nyasa.
-Silvia Jaén Diaz you lead a workshop on "Meditation on the Asana".
-Jesus Martinez Bernabe It will also be a workshop of "Yogarom, the art of uniting Hatha Yoga and aromatherapy".
-Sergio Martinez Pose, accomplished teacher, will give a workshop of traditional Hatha Yoga: "The art of the Retroflections".
-Rosa Castrillon (Aruna Surya) It will offer its "YogAruna" workshop.
-Logan Gomez Chauvet It will produce a theoretical-practical workshop on the Bherava Tantra Vijnana: "objective wake up"
-The Michael Victor.
Contact:

Feda Madrid. C/ Pensamiento 27, Esc. Izq. 3º-3ª Ctro. Negocios. Madrid

info@madridyogacongress.com / T 91 448 69 39 and 697 177 116