Vegetarian recipes / Aubergine with chickpea stew
Esta es una receta muy, muy mediterránea, tanto por los ingredientes como por el equilibrio entre ellos. Proporción perfecta entre legumbres (proteínas) y verduras (alimentos reguladores).
Write, share, and kitchen Gauri, Professor of vegetarian cuisine of the Sivananda Centre of Madrid and the affiliated Centre Sivananda Vedanta of Granada.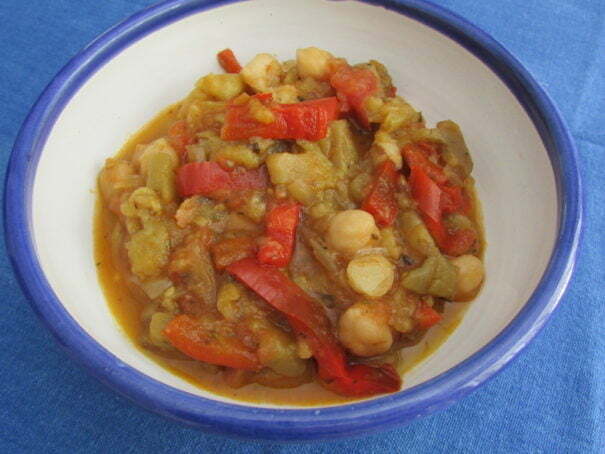 La hemos adaptado a la cocina del yoga. ¡Es realmente exquisita!
Ingredientes: (2-4 personas)
1 taza de garbanzos ya cocidos (100 g en seco)

8 cucharadas de aceite de oliva

2 medium eggplants

1 pimiento rojo a tiras

2 ramas de apio cortada en trozos pequeños

1 trozo de 5 cm de jengibre fresco rallado

3 tomates maduros pelados y picados

1 cucharadita de orégano

1 cucharadita de tomillo

1 cucharadita de semillas de cilantro (tostadas y molidas)

½ teaspoon ground red pepper
Salt and freshly ground pepper
Preparation:
Pelar y cortar las berenjenas a lo largo y por la mitad. Poner cuatro cucharadas de aceite de oliva en una sartén y asar las berenjenas hasta que queden blandas, unos 20 minutos.

En la cacerola donde vayamos a hacer el guiso poner el resto del aceite y saltear el jengibre, el apio y el pimiento. Sofreír hasta que se ablande. Añadir las especias y las hierbas y mezclar ½ minuto más. Poner seguidamente el tomate y dejar que se cocine hasta que se haga una salsita.

Añadir las berenjenas y los garbanzos y la sal, mezclar bien. Cocinar a fuego lento durante 20 minutos aproximadamente. Antes de servir añadir pimienta recién molida.
Leles Gauri It is formed in the Yoga Sivananda Vedanta school teacher and teaches at the Center Yoga Sivananda Vedanta Granada-afiliado.

T 660-288-571.

She is creator of the blog We eat to live.