Today, the second 'Yoga to improve your life' video
To continue with our tribute to Yoga, whose international day is celebrated on June 21, We will reward you with the second video This beautiful collection produced by Conscious TV in collaboration with YogaenRed. Today, "Asanas to strengthen your ABS", with Carla Sánchez.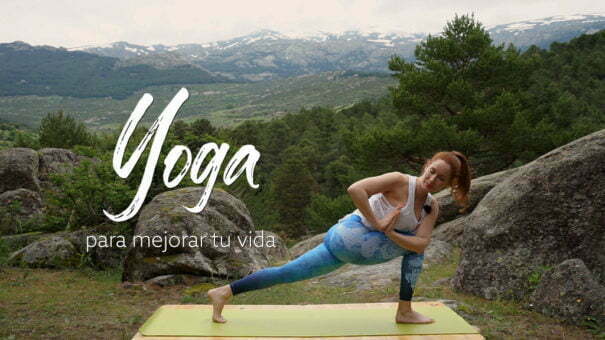 Did you like the first video of this collection? It We launched last week: Yoga to clean and revitalize the body. Today released the second video This collection of Yoga applied to obtain these concrete improvements that all and all we wish to increase our quality of life.
It is a production of Conscious TV in collaboration with YogaenRed, and proud much to be able to offer the 10 videos that comprise during all the weeks of June and two weeks in July, August and September.
The videos are made by Professor Carla Sanchez, actress and yogini of vocation. Specializing in Hatha and Vinyasa Yoga, it takes more than ten years in continuous training and teaches this discipline currently focused on yoga classes online, events of great assistance, actions of brand, thematic workshops and international removals.
Today's practice is focused on strengthening the area abdominal or core. So Carla Sánchez explains it:
Abdomen strong, solid self-esteem
In Western culture is related to have toned ABS with an aesthetic concern, however and perhaps without knowing it, those who pay attention to that area of the body and keep it deal are much more than a group of muscle strengthening that you look on the beach.
In my classes I hear say constantly: "activates the abdomen". It was of the first things I learned, to develop awareness of the center of my anatomy and the role that plays on the control and the alignment of all asana.
-In the physical:
La pared abdominal es mucho más de lo que percibimos, son músculos conectados profundamente con los flexores de caderas y el entramado lumbar, todos ellos juegan un papel crucial en cualquier postura.
Abdominal activation in the practice of yoga seeks to create first a wall of protection the spine and internal organs. A soft belly tends to distention and organs to dilate.
Working the abdominal wall provides stability. Perceived very clearly in asanas balance, but the task is the same in all the positions, also helping to create presence and connection with the Earth; Tadasana and its simple complexity shows us in detail that pattern.
If the abdominal Center is strong spreads the muscular effort without overloading the back, something that is then reflected in the positions that we adopt in everyday life, as for example, sit with your back straight this way or get tired quickly.
Along a practical connection with the abdomen occurs at all times, but you can also make a more specific job exploring asanas as Navasana, Chaturanga Dandasana o Kakasana to strengthen it further.
It is essential to understand that keeping the abdominal muscles work isometrically (sustained contraction) does not hold your breath. It is essential to learn how to prolong this activation in coexistence with a broad and fluid, breath in addition to other movements.
If you like doing sport, any abdominal routine that you carry out in parallel, it will benefit your yoga and vice versa.
-At the subtle level:
A yoga teacher told me one day: "look at people who have a strong abdomen; without exception, all of them have a high self-esteem".
Two fingers above the navel is located the Chakra Manipura, energy point that governs the abdominal wall and that is represented in yellow color. This abundance of confidence isn't because look handsome, which of course helps, is the subtle result of strengthen Manipura physically. Also known as Solar Plexus o City of jewelsThis point concentrates power transformer fire that gives us impetus to realize the goals.
A powerful sense of self and the self confidence are intrinsic to Manipura qualities when in balance. "I can" It is the powerful statement that accompanies him and helps create a strong positive vibration in our decisions into actions.
If you want to investigate more fisico-energetico work of Manipura, I invite you to be with me the second express class in the collection "Yoga to improve your life", dedicated to the abdominal area and awakening the powerful energy of the Solar plexus. You can!
Here's your second video, enjoy it: "Asanas to strengthen your ABS"

Conscious TV-quality
Conscious TV It is the largest platform online videos of yoga, meditation, mindfulness, healthy eating and personal development in the world, in Spanish. Its contents are available from any device (computer, tablet, Smartphone, Smart TV) and now also from your mobile App Conscious TV, (available for) Android e iOS).
For YogaenRed It is a real privilege to have worked with Conscious TV in this production to be able to give to our readers. We do it very satisfied of their quality, both as soon as it is up to the teachings of the Professor Carla Sanchez as the Super filming and conscious Television production equipment
About Carla Sanchez
She attended her first yoga class ten years. Since little was educated in fundamentals as the conscience in the food, comprehensive health care, meditation and attention to what we are... These were his first gifts.
She studied classical dance during childhood and adolescence; He later trained as an actress. At that time it revealed that yoga would be your tool for growth and healing, both for me and for other people. Currently exerts both professions: "acting is my body, is communicate my mind and yoga is my soul, what connects me to everything, because being aware of every step I take and every moment is a way of life".
Carla attaches great importance to training and has spent years practicing and studying different styles of yoga. It was formed in Hatha in the international school of Yoga, Vinyasa Flow in New York with Evolation and Yoga for pregnant women in both schools.
It currently has two major projects, Secret Yoga Club in Spain, in-person workshops once a month in secret locations; and Project Yoga in Greece, an initiative of a humanitarian nature in which is Coordinator and lecturer teaching daily classes and training Syrian refugees and others affected in the conflict.
10 videos in the collection "Yoga to improve your life"
-June:
Yoga to clean and revitalize the body.
Asanas to strengthen your ABS.
Yoga routine for shaping your legs.
It activates your metabolism and gains flexibility.
-July:
The positions that most benefit your back.
Postures of yoga for arms of steel.
-August:
Power yoga anti-aging.
Restorative yoga mind and body.
-September:
Yoga routine for free yourself from stress.
Express session of yoga to sleep like a baby.