Master of deepening in the Yoga 'Sadhana synthesis'
Se ha convocado un nuevo curso de estudios avanzados en la teoría y práctica del Yoga 'Sadhana Síntesis', dirigido por Danilo Hernández, que durará de noviembre de 2018 a junio de 2020. El próximo 23 de junio habrá una reunión informativa en Bindu Escuela de Yoga de Chamartín, a las 12:00 h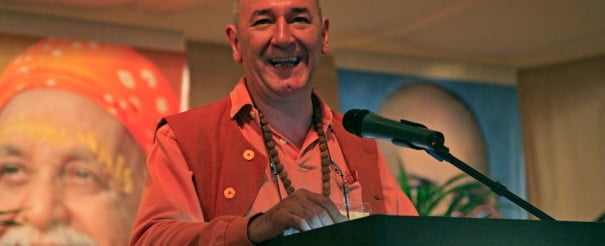 Swami Digambar (Danilo Hernandez) is director of the Bindu Yoga school and author of the book Keys of Yoga. Esta será la 13ª promoción de este curso de profundización en el Yoga, uno de los más acreditados del país.
The course includes two cycles con una duración aproximada de dos años (noviembre 2018 a junio 2020). Está dirigido especialmente a profesores de Yoga, aspirantes a profesores y practicantes interesados en profundizar en su conocimiento y experiencia del Yoga. Para acceder a este curso es necessary condition have practiced Yoga at least three years y tener conocimiento y práctica suficiente de asanas, pranayama y meditación. Son candidatos idóneos las personas que estén dispuestas a realizar su práctica personal (sadhana) de un modo regular y sistemático. La inconstancia es incompatible con la dinámica de este programa.
El curso constará de dos clases mensuales de dos horas de duración que se realizarán los sábados por la mañana de 11:30h. a 13:30 h, de octubre a junio. Will also include a retiro intensivo de cinco días que se celebrará durante el mes de septiembre de 2019.
Overview of the program 'Sadhana synthesis'
"Sadhana Síntesis" es un master en Yoga, a theoretical and practical course which has as its centerpiece the training in the Kundalini Yoga classic Kundalini Yoga classic Kriya Yoga (tradición Satyananda Yoga). Ambos sistemas constituyen la continuación y culminación del Hatha Yoga.
Other materials to be developed are:
Yoga philosophy.
Psychology of Yoga.
The philosophical schools of India.
Main paths of Yoga, (theory and practice).
Main schools of Hatha Yoga.
Theory and practice of the meditation on the main traditions of the world.
Etc
What is Kriya Yoga?
Let us remember what the great Yogi wrote Paramahansa Satyananda: "In this era of complexities, the" Kriya Yoga is one of the most powerful systems to awaken the spiritual potential of the human being: the Kundalini. There are many techniques that can be used for this purpose, and each has its own place, but the practices of Kriya Yoga are superior by far; they are more systematic and accessible to the man of our time. Kriya Yoga performed the most important need of mankind, awakening Kundalini in a soft and natural".
Kundalini Yoga:
"Oh, llama eterna que has encendido mi ser y te has mantenido en la base de mi cuerpo para calentar mi existencia. Oh, llama que palpitas esperando la mano del conocimiento que la dirija segura como un torrente desde abajo hacia arriba, encendiendo a su paso los centros donde duermen mis tesoros. Oh, llama viva, vida de la vida que a tu paso enciendes y haces vibrar todo cuanto duerme latente y sereno, hasta transmutarlo en el oro de la sabiduría. Oh, llama que deseas llegar a fundirte con la flor que se abre en la cabeza cuando tú la tocas y, a través de ella exhalas el perfume de la eternidad en el jardín del mundo."(Cayetano Brook)
Where classes will be held:
Bindu. Escuela de Yoga Chamartín. c/Pérez Ayuso 11. 28002 Madrid
Telef.: 91 413 82 38 – www.yogabindu.net
E-mail: escuela@yogabindu.net
Don't miss the briefing

To enroll in the course, it is necessary to attend a briefing: sábado 23 de junio a las 12:00h.
You have to confirm attendance.

More information here