Mirabai Ceiba in concert
La música como lenguaje universal entre corazones. En su gira europea, Mirabai Ceiba llega a España para hacer un recorrido por toda su discografía y presentar algunos temas inéditos de su próximo disco. En Madrid, Alicante y Barcelona.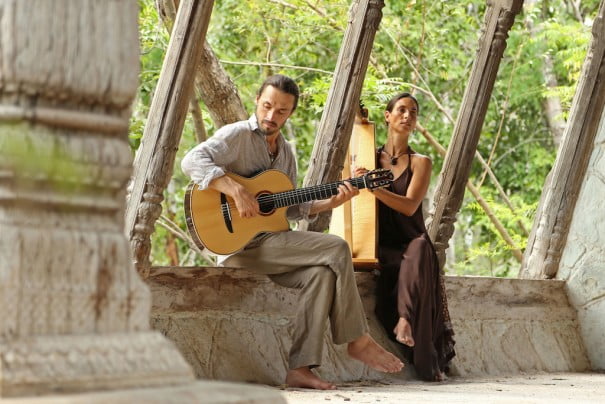 En España actuarán en Madrid (8 de mayo), Alicante (10 de mayo) y Barcelona (12 de mayo).
Markus Sieber (voz y guitarra) y Angelika Baumbach (voz, arpa y piano) conforman Mirabai Ceiba. Ellos son ejemplo y clara demostración práctica de que la música es el lenguaje universal entre corazones.
Asistir a un concierto de Mirabai Ceiba es adentrarse en un viaje interior en donde la música es el vehículo que transporta la vibración que penetra en cada una de nuestras células. Si no has tenido la oportunidad de vivir en directo uno de sus conciertos, no dudes en hacerlo. Si ya lo has hecho, seguro que repetirás, porque
Mirabai Ceiba offer with their music a corriente palpable de amor, una corriente relajante a la vez que sagrada y sanadora.
El repertorio que ofrecerán en esta nueva gira incluirá temas de toda su discografía: Ojos como estrellas (2016), Sevati (2015), Sacred Love meditations (2013) y sus grandes éxitos de los premiados álbumes Between the Shores of the Souls (2012), Awakened Earth (2011), A Hundred Blessings (2010), Ocean (2008) and Flowers (2004) en una noche de música cargada de magia y canciones que conectan con nuestros corazones y nuestras almas.
Desde su primer álbum Flowers en 2004 Mirabai Ceiba ha grabado un total de 14 discos, recibiendo numerosos reconocimientos y premios. Ocean, nominado al Mejor Álbum Vocal de 2008 por New Age Reporter , A hundred Blessings , nombrado por la revista LA Yoga entre los mejores álbumes de 2010. Awakened Earth en 2011 alcanzó las listas internacionales de superventas, Between the Shores of Our Souls, fue seleccionado para los Best Top 10 New Age Music Albums por New Age Music World y ganó el ZMR Award como Mejor Álbum Vocal de 2012. Su álbum de 2015, Sevati, alcanzó el nº 1 en 13 países en las listas de iTunes World Music.
Las entradas están disponibles, para compra anticipada desde 20€ en las siguientes plataformas de venta por internet:
● http://www.entradas.com
● http://www.ticketmaster.es
● https://www.ticketea.com
● https://www.atrapalo.com
● http://www.summummusic.com
More information:
● http://www.mirabaiceiba.com
● https://www.facebook.com/mirabaiceibamadrid2018/
About Mirabai Ceiba
La historia personal del dúo Mirabai Ceiba es una historia ligada por el destino años atrás, en verano, en las calles de Edimburgo durante la celebración de su famoso festival internacional de las artes. La música y el amor hicieron que un actor alemán de series de televisión en busca de impulso a su carrera y una cantante y compositora mexicana de turismo por el mundo se encontraran en una de aquellas calles de la capital escocesa para formar este dúo artístico a la par que una familia. Dos personas de dos continentes distintos. América, Angelika Baumbach, cantante, arpista y teclista, nació en Tucson, Arizona, de madre mexicana y curiosamente padre alemán. Europa, Markus Sieber, guitarrista y cantante en la actualidad, nacido en la Alemania Oriental. Una unión y una fusión cultural, artística y espiritual consolidada por una corriente de unión superior universal que es el Yoga.
Ambos se formaron como profesores de Kundalini Yoga, en Nuevo México donde se establecieron por un tiempo, directamente por Yogi Bhajan, el maestro que difundió y popularizó esta disciplina ancestral en nuestro mundo occidental. Por este motivo su devocional música universal siempre combina con sutil inspiración, dulzura y belleza, mantras en Gurmukhi de la tradición de Kundalini Yoga, y tanto en español como en inglés, canciones tradicionales de las distintas culturas americanas así como poemas musicados de distintos autores de las filosofías espirituales orientales (sufismo, islam, budismo, zen, sijismo… ), principalmente Rumi y Khalil Gibrán, but also Kabir, Thich Nhat Hanh, Guru Nanak and Yogi Bhajan.
Sus delicados sonidos de arpa, piano, y la mezcla de guitarra con voces amorosamente entrelazadas describen la música de Mirabai Ceiba. Sus conciertos son celebraciones para la paz y el amor que encarnan en la música como lenguaje universal que une a todos los pueblos, culturas y tradiciones del mundo.
Ambos estarán con nosotros en España a partir del próximo 8 de mayo de 2018, acompañados por Bogdan Djukic al violín y por Miguel Hirosi a la percusión, contando con Tina Malia y Gonzalo Paniagua como artistas invitados.
Un concierto con Mirabai Ceiba es un momento único, una experiencia musical elevadora, purificadora, inspiradora y totalmente poderosa.