Meditate like a bird that the flight
Las estrellas desaparecen porque la noche se disuelve en la luz de la mañana. El pájaro canta al alba para certificar el nuevo día y celebrar a los cuatro vientos la libertad que le dan sus alas. Canta el pájaro y canta el alma, aunque a menudo no escuchemos su letra ni su melodía.
Escribe Julián Peragón (Arjuna).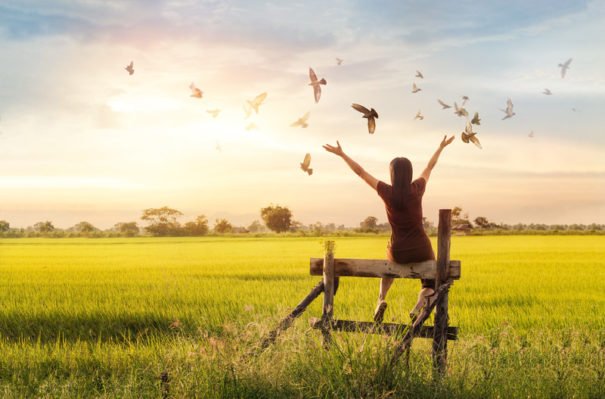 El pájaro que alza sus alas a punto de iniciar el vuelo es el símbolo de que hay algo en nosotros que sobrevuela por encima de los intereses y trifulcas cotidianas, y ese algo, como decíamos, es nuestra alma.
Cuando cantamos, oramos o recitamos, nos alineamos con el canto del alma, y con ella celebramos la vida como don, y a su lado invocamos al espíritu del cual recibe su luz. ¿Qué es la meditación sino un canto en silencio, una oración sin palabras, una invocación sin ademanes?
En esta etapa salimos de la oscuridad del sufrimiento para abrirnos a la luz de la conciencia. Si además utilizamos palabras, oraciones o plegarias, serán como vehículos de una apertura sincera a la inteligencia profunda que nos sostiene, y si repetimos o cantamos mantras o cantos devocionales, hacemos, como el pájaro, una llamada a las alturas del alma para volar en la infinitud de lo que somos.
Una vez ha despertado el corazón, no queda otra que canturrear la felicidad que sentimos, invocar para que se manifieste el espíritu o adorar lo que está oculto en la raíz de la vida.
Julian Peragón Arjuna, Trainer of teachers, directs the school Yoga synthesis en Barcelona. Es autor del libro Meditation synthesis (Ed. Acanto).

His latest book is The synthesis of Yoga. The 8 steps of the practice. Acanthus publishing.