Becomes the 9th Festival of Mantras 2018
Llega la novena edición del festival de música transcendental "Mantras", que este año se celebrará en Madrid del 21 al 24 de junio en Teatro Fernán Gómez, Centro Cultural de la Villa. Una nueva ocasión para contemplar remotas tradiciones musicales, vibraciones desconocidas, bailes que llevan al trance y fusiones inesperadas.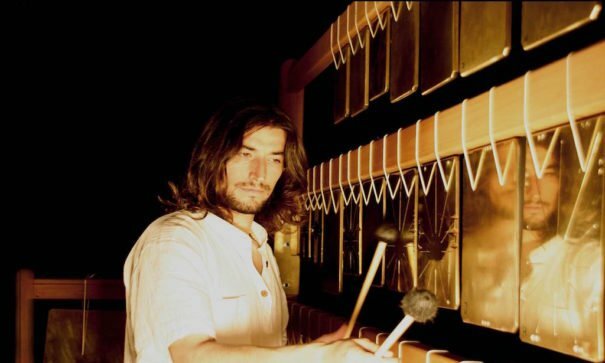 En la foto, Marc Pulido con sus bilas
Un festival único en nuestro país que no deja a nadie indiferente. Estará organizado, como en ediciones anteriores, por la Fundación Ananta, entidad sin ánimo de lucro que destinará los beneficios que obtenga a sus programas solidarios. Y contaremos como en años anteriores con la colaboración del Área de las Artes del Ayuntamiento de Madrid.
The program
-Jueves 21 de junio a las 21 horas: Solsticio de verano con Mark Pulido
Os invitamos a recibir juntos el equinoccio de verano, a sintonizarnos con las frecuencias que conectan con el origen de nuestra alma, limpiar y calmar nuestra mente y emociones, a través del sonido de la Bilas, high frequency vibratory flat campaigns. The properties of this instrument and its sound power allow for very special concerts. The duration of their sound and the wide range of harmonics and frequencies reach large distances, being incomparable with any other existing instrument.
-22 de junio a las 21 horas: Monjes tibetanos Tashi Lhunpo (Tíbet)
Los Monjes tibetanos del Monasterio de Tashi Lhunpo acercan la música y danzas tradicionales de esta cultura, del mundo sagrado del Tíbet, llena de cantos de textos budistas y recitados de mantras, de sonidos de campanas, címbalos, trompetas y tambores. Los Monjes del Monasterio de Tashi Lhunpo llevan varios años realizando exitosas giras presentando su música y danzas por toda Europa. Es una música extremadamente sutil y compleja, indisociable de las tradiciones antiguas de cuyo significado está impregnada.
El Monasterio de Tashi Lhunpo es una de las seis grandes universidades monásticas tibetanas y sede del Panchen Lama, el segundo líder espiritual tibetano, detrás del Dalai Lama.
-Sábado 23 de junio a las 21 horas: Prem Joshua & Band (Alemania/India)
Llega un auténtico pionero de un sonido ecléctico que extrae su esencia de la profundidad de las tradiciones musicales de la India, así como de la innovación de la música occidental contemporánea: el multi-instrumentista y compositor Prem Joshua y su banda internacional, leaders in the world of contemporary Indian music. Inconfundiblemente arraigado en ritmos y ragas indios, su sonido característico abarca una variedad de culturas de todo el mundo. Con 15 álbumes de estudio, apariciones en todo el mundo y honores mundiales, su interpretación oportuna de las tradiciones musicales de Oriente ha sido reconocida una y otra vez.
-Domingo 24 de Junio a las 20 horas: Los Derviches del Nilo Sufí (Egipto)
El domingo tendremos la gran suerte de presenciar la ceremonia de Los Derviches del Nilo Sufí, algo muy difícil de ver incluso viajando a Egipto. Este espectáculo nos lleva al universo único de las ceremonias sufíes egipcias (dhikrs). Aquí se presentan dos grandes tradiciones del Alto Egipto: el Inshad sufí, sublimado por la voz y la presencia del jeque Hamed Ahmad, en la gran tradición de los cantantes sufíes egipcios y la ceremonia de los derviches del pueblo de Al Deir (baile), dirigido por las canciones de encantamiento de los hermanos Ramadan y Ahmed Abdelnabi.
Los sufíes se han visto "marginados" porque se les relaciona en Egipto con las clases populares, con la gente de agricultura, por lo que cuando Egipto deja de ser campesino y se vuelve urbano, no está bien visto en las clases emergentes. Debido a la veneración de los sufíes a figuras que creen divinas, las ramas más extremistas y que se rigen por una interpretación estricta del Islam, como el wahabismo o el yihadismo, acusan de politeístas a sus fieles, y por ello son perseguidos por los extremistas.
Muchas gracias por difundir esta información y por ayudarnos a seguir haciendo posible que un festival de estas características siga celebrándose.
Os esperamos en el Teatro Fernán Gómez – Centro Cultural de la Villa del 21 al 24 de junio.