Meditations of the temples of the India, mudras, and mythology
El Centro de Yoga Sivananda Vedanta os invita a participar en dos meditaciones únicas que tendrán lugar en Madrid del 21 al 22 de abril a las 19.00 horas y en un taller de mudras y mitología el sábado 21 a las 17.00 h. Con un sacerdote de la tradición del sur de India.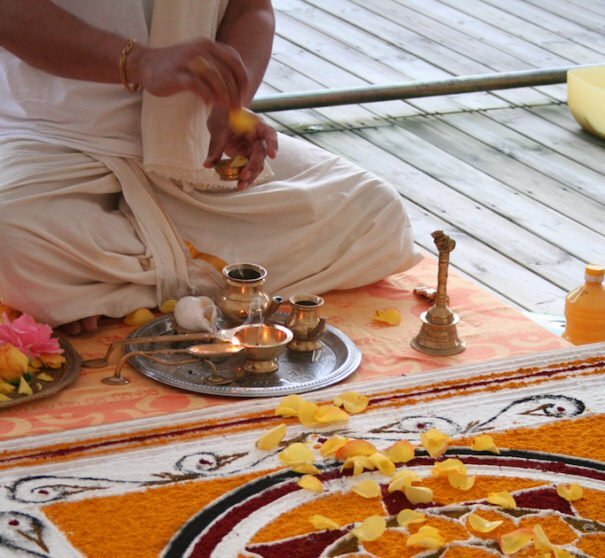 Son una fuente de vibración meditativa. Con sus colores, sonidos, aromas y gestos, las ceremonias tradicionales de los templos (pujas) ayudan a purificar la atmósfera mental y crean una fuerte vibración meditativa.
Un mudra es un gesto, considerado sagrado, hecho generalmente con las manos. Cada mudra posee cualidades específicas que favorecen al propio practicante. Se emplean en la meditación y forman una parte importante de la iconografía de la mitología hinduista.
¿Qué es una Puja?
The Bid It is one of the various modes of bhakti yoga o yoga de la devoción, que incluye también el kirtan o canto de mantras. Es una aproximación devocional a la unión mística. El fin del bhakti yoga, como todos los yogas, es calmar y purificar la mente.
La Puja es una ceremonia de culto, en la que se trata como invitado de honor a una representación visual o concreta de Dios.
Bid forms
*Murthi Puja: Se utiliza una estatua (Murthi) que representa la deidad.
*Yantra Puja: Utiliza un yantra (diseño geométrico) que evoca la deidad.
*Puja mental: No existen imágenes. La energía de la deidad se evoca mediante la repetición de los mantras. Mediante la repetición de cada mantra se representa la forma de la deidad que es adorada en la mente del asistente.
How is a Murthi bid
In the Murthi bid se da la bienvenida al Murthi, se le baña y viste con finas prendas, joyas y guirnaldas.
En primer lugar, el Pujari, la persona que dirige la puja, comienza bañándose y poniéndose ropas limpias y frescas. Uno debe intentar alcanzar cierto estado de pureza mental y física antes de entrar en el templo.
Entonces el altar se limpia y purifica. Se preparan por separado recipientes de leche, miel, agua de rosas y agua para el abhisekam o baño.
También se dejan preparadas flores frescas y alimentos (éstos últimos cubiertos con paños limpios). Es importante que todos los artículos para la puja sean consagrados y usados sólo para este culto.
Se encienden las lámparas de aceite, se quema incienso y se colocan prendas, joyas, etc. cerca del altar.
Durante la ceremonia se ofrecen flores, incienso y alimentos, al mismo tiempo que se le alaba con himnos y mantras.
El devoto intenta exteriorizar su Amor interno hacia el Supremo.
Centro Internacional de Yoga Sivananda Vedanta. Toda la información https://espana.sivananda.eu/