Vegetarian recipes / sautéed spaghetti style oriental
La pasta tiene su origen en Oriente. Marco Polo la llevó a Italia y desde ahí se difundió por el mundo.
Escribe, comparte y cocina Gauri, profesora de Cocina Vegetariana del Centro Sivananda de Madrid y del centro afiliado Sivananda Vedanta de Granada.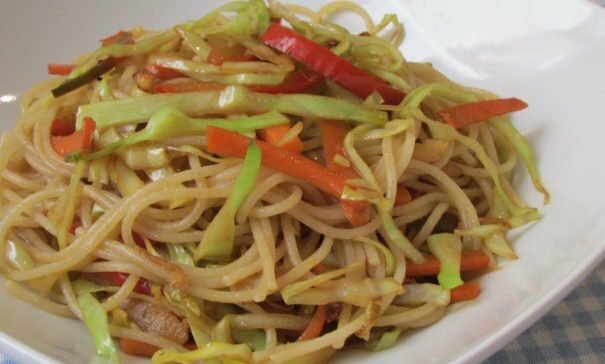 Esta receta es simple, rápida y exquisita. El chile le da fuerza pero puedes prescindir de él. Es muy fácil de digerir porque no lleva salsa, que es uno de los ingredientes que hace que la pasta se ponga pesada.

Ingredients (serves 2):
100-150 g de espaguetis

150 g de col cortada en juliana

1 carrot
½ red pepper

½ nabo morado

1 cucaharada de jengibre fresco rallado

1 chile rojo seco

2 Tablespoons extra virgin olive oil

2 cucharadas de salsa de soja
Preparation:
Preparar las verduras: Lavar y cortar en juliana por separado el pimiento rojo, el nabo, la zanahoria y la col.

Hervir la pasta en abundante agua con sal, según las indicaciones del paquete. Mientras la pasta hierve, se saltean las verduras.

En un wok o en una sartén honda poner dos cucharadas de aceite de oliva,y dorar el chile, el nabo y el pimiento, a fuego medio hasta que estén blandos, un 3 minutos. Añadir la zanahoria, la col y saltear todo junto subiendo el fuego y sin parar de remover unos 5 minutos. Antes de poner la pasta retirar el chile.

Añadir la pasta a la verdura, con las dos cucharadas de salsa de soja y saltear todo junto, un par de minutos más, que se mezclen los sabores.
Leles Gauri It is formed in the Yoga Sivananda Vedanta school teacher and teaches at the Center Yoga Sivananda Vedanta Granada-afiliado. T 660-288-571. She is creator of the blog We eat to live.