Interview with Sandra Carson: "psoas is one of the most fascinating muscles of the human being"
Do you know the important role played by muscle psoas in the practice of yoga? In his first visit to Spain, Sandra Carson shares his deep work on it in a workshop, 21 and April 22: "the psoas and abdominal core Yoga: alignment and awareness". It is an interview of Paloma Dorado for YogaenRed.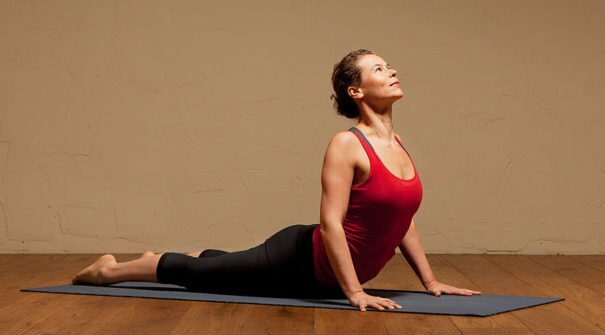 Senior Yoga teacher and certified Anusara®, Sandra Carson He shares his knowledge in formations of yoga teachers and modules of advanced training for teachers internationally for 15 years. His teaching style is rooted in the culture of body awareness and alignment.
Great connoisseur of the physical and subtle Anatomy of the human being, in recent years has specialized in the role of psoas, its effect on the positions and techniques of release of tension stored in this important muscle through yoga.
Sandra teaches the study of yoga online EkhartYoga.com, with more than 800,000 students worldwide.
How you came into contact with the practice of Anusara and that you attracted this kind of yoga?
When I finished my first training in Vinyasa Yoga in the United States, my Professor introduced some elements of Anusara into alignment. At first I resisted. Just wanted to have a fluent practice and not thinking too much in the lineup. But when I started to feel the effects, I was finding safer and more willing to experiment. It was how to find a car manual and see that following the instructions it works! I traveled to England United States to train with John Friend. He impregnates his elegant and beautiful philosophy Anusara method. Instead of focusing on the weaknesses or stiffness of the body, I said: "look at you! Your body and your mind are the best gifts! Do you realize how wonderful that is being alive? "." That approach resonated in me deeply.
During these years of teaching to teachers of yoga, you've specialized in alignment and later psoas. For those who do not know, how would you define this important muscle?
The psoas is one of the most fascinating muscles of the human being. It is a deep muscle that plays a very important role in our body since it acts as a stabilizer between the bottom and the upper part of the body. It is the only muscle that connects the spine with the legs and the flexion of the hips and spine. It is closely related to the freedom of movement to walk, practice yoga or some sports.
The diaphragm is subtle but deeply linked to psoas, so the State of the psoas is also related to the State of our breath. When your psoas is "awake", it instills a sense of stability and relaxation.
Where is the psoas and how it is interconnected at the anatomical level?
In reality the psoas is a set of four muscles; one greater psoas and other minor on both sides of the body. Because of our evolutionary development, from beings that relied on four legs erect beings, the function of the psoas has also changed. The psoas minor muscle is slowly becoming a tendon and may disappear altogether. many people have only one minor psoas or none at all.
The inclusion of the greater psoas is in the lumbar vertebrae. The psoas crosses the pelvis and adheres to the bone of the upper inner thigh at the lesser trochanter.
As the psoas crosses but is not attached to the pelvis, pelvic alignment influence is not so easy to appreciate. But since there are two muscles of the separate psoas, which often have different lengths, can cause inclinations, changes and rotations in the pelvis, and may be involved in causing problems sacroiliac and other disorders pelvic and back, which is they manifest from the pelvis up, sometimes going even to create discomfort in the neck.
How influence us our psoas status?
The psoas is one of the strongest body muscles, and its effect on the internal structure of this is significant. Toning, flexibility and strength of the psoas greatly influences the shape of the pelvis and spine available.
Stiffness or imbalance in the tone of the psoas, as well as physical effects, may also manifest itself in other ways, that often they are ignored. When the psoas is shortened chronically can lead to a number of problems apparently unrelated. Psoas tension can appear in the body as difficulty sitting or relaxing, trouble sleeping or sleep well, digestive problems, fatigue, and more.
And how you get the psoas?
At least two major causes have a determining influence on shrinkage and the amount of tension on the psoas: posture and regular movement and tension or trauma to the body.
The stiffness in the body is mainly due to the rigidity of the myofascial system. In general, it is not the muscle but the connective tissue of the muscle that tightens and makes that "muscle rigid". But in the psoas is different. When the psoas responds to stress, is the same muscle that shrinks. And depending on how you move your psoas, you can improve or worsen the tension!
Tension is frequently related to the type of activity (or inactivity) you wear out. Today we tend to participate in organized activities (sports) that are planned at certain times of the week instead of moving us moderately throughout the day. The lack of diverse movement or the excess of work of certain muscle groups, e.g. of the muscles of the front of the body and not so much on the back, as in many sports such as cycling and mountaineering, may distort the balance in the muscle tone of the body.
Psoas can also be shortened by inactivity. Whenever you make a bending from your hip, your psoas tone decreases. You think your psoas as a piece of rope; When you are straight, the rope is stretched; When you tilt from your hips, relax. Then, when the hips are in flexion, the psoas is shortened. This happens whenever you're sitting! If this position becomes a habit, the muscles and connective tissues are adapted to this form. Recent studies show that people feel, on average, 12 hours a day. Then, when you sit for long periods of time, your psoas is shortened to fit.
Why the tension builds up in this muscle for long periods of time?
Whenever your body senses or experience danger, the body responds to entering a State of the State or autonomic sympathetic nervous system activation. The first muscular response when you walk into the sympathetic state corresponds to your psoas. Psoas shrinks as a reaction to the danger in preparation to flee or fight. Ya que el cuerpo no está hecho para vivir en el estado simpático, cuando pase el peligro y vuelva a sentirse seguro, es muy importante poder liberar la tensión, volver al estado parasimpático de relajación y descanso. Reducir ese estado de activación es importante para la salud física, emocional y mental.
Cuando no podemos o sabemos procesar y liberar el estrés experimentado a través de su cuerpo, la tensión en el psoas permanecerá, ¡incluso si creemos que nos hemos calmado y relajado!
Con frecuencia el cuerpo está lleno de tensión interna y la mente piensa que todo está bien. Esta desconexión entre la cabeza y el cuerpo, tan habitual en la vida moderna, puede durar muchos años. Algunos cuerpos pueden acumular mucha tensión y trauma mientras que otros no pueden. Puedes ver tu psoas como un contenedor; algunas personas tienen un contenedor grande y otras uno más pequeño. Este contenedor, si no se vacía regularmente, se llena de estrés no liberado. No es extraño acumular internamente tensiones no resueltas durante décadas. Algunas incluso pueden remontarse a la primera infancia.
La buena noticia es que su cuerpo está equipado para liberar la tensión en el psoas. Soltar es una función natural del cuerpo. Por tanto cuando el cuerpo experimenta un peligro o interpreta una situación como peligrosa, una vez que el momento de mayor estrés ha pasado, el psoas debe y puede liberar por sí mismo la tensión que contiene.
¿Cómo se libera la tensión del psoas y cuáles son los beneficios?
La clave para permitir que el psoas libere la tensión acumulada es crear un espacio seguro y una actitud de liberación para tu cuerpo. Algunas veces, los músculos del cuerpo se liberarán espontáneamente cuando hay una activación o estiramiento muscular adecuado (por ejemplo, en una clase de yoga).
En algunos casos, un masaje directamente en el músculo psoas puede ser extremadamente doloroso y no ayudar demasiado a resolver la tensión más profundamente almacenada. Algunas personas incluso sienten náuseas o mareos cuando se tocan sus psoas. En mi opinión, la tensión y el trauma del pasado deben ser liberados por el propio cuerpo, en lugar de ser estirados o masajeados fuera del cuerpo. Y cuando ocurre esta liberación de tensión en el psoas, también puede estimular una liberación espontánea de tensión en otras partes del cuerpo.
Esta liberación física de tensión acumulada y/o trauma se procesa por el cerebro también, pudiendo aparecer emociones y fragmentos de recuerdos.
En una de mis clases, una estudiante sintió una liberación profunda y compartió su experiencia. Explicó que tuvo un flashback de ella misma con 11 años. Era el cumpleaños de su hermana; ella escuchó la música y los vítores de la gente. Recordó que había tenido un accidente de bicicleta ese día y había sido golpeada por un automóvil sufriendo una conmoción leva. Pero era el cumpleaños de su hermana, y no había atención ni espacio para sus sentimientos. Ella lo tragó y reprimió su dolor. Todos estos recuerdos volvieron a ella ese día cuando su psoas se liberó. Mi estudiante tenía 52 años.
¿Por qué no dejar el pasado, vivir el momento, aceptar lo que es? En mi experiencia trabajando con personas que liberan sus psoas, no solo se sienten mejor en su cuerpo y reducen el dolor o las molestias en la espalda, pelvis y cuello, sino que mejoran su vida en distintos niveles. Cuando se aprende a conectarse con el psoas y liberar la tensión acumulada, se puede dormir mejor, tener un mejor estado de ánimo, observar los límites naturales más fácilmente, tener más vitalidad y ser capaz de evitar el agotamiento.
¿Porqué es tan importante este músculo en el yoga?
El tipo de alineación del psoas en las posturas de yoga puede ayudar a este músculo o aumentar su acortamiento.
Es vital que los estudiantes de yoga practiquen estiramientos con el psoas alineado mientras activan los músculos de soporte. Especialmente el transverso abdominal y el glúteo medio son claves para un estiramiento adecuado del psoas. Si no se tienen en cuenta, se puede terminar sin querer "colgando desde el psoas" o ignorando el psoas por completo. Esto sucede particularmente en posturas que crean extensión en la cadera y extensión de la columna vertebral como Anjaneyasana (postura de la luna creciente) y otras posturas de flexión hacia atrás. Especialmente las posturas de extensión hacia atrás con apertura de cadera más complejas como Eka Pada Rajakapotasana (postura de la paloma, arqueando la espalda hacia atrás) pueden tener un efecto negativo en el psoas (en el mejor de los casos, no le hacen demasiado bien al cuerpo, en el peor de los casos; pueden dañar el psoas al estirarlo demasiado).
Cuando se aprende a localizar y sentir el psoas y se comprende cómo alinear este importante músculo, puedes comenzar a trabajar con él en lugar de contra él.
Muchos estiramientos de yoga, con la alineación adecuada, pueden ayudar a liberar la tensión en el psoas. Al mismo tiempo, tener un psoas flexible y músculos abdominales activos tiene un efecto asombroso en las posturas de flexión hacia delante y hacia atrás y en las torsiones.
¿Qué intentas transmitir en tu enseñanza y que podemos esperar de un taller con Sandra Carson?
I'd like to convey in each class or workshop that there are several levels of practice. If the person only wants physical yoga, you can have it in one of my classes. There is nothing wrong with practicing to be stronger and more flexible, willing to be more relaxed after class and feeling good about itself. In fact, it's wonderful!
A practice can also be a great opportunity to learn more about you, to deepen, become more aware of who you are, pruning decisions aware about how to express themselves and how to be your own authentic way. On your mat and off your mat.
En los talleres, se profundiza sobre un tema concreto en un ambiente cercano e inspirador para los alumnos, que en muchas ocasiones quieren aprender tanto para ellos mismos, como para enseñar a otros. En el taller que impartiré en Madrid entraremos en contacto con el psoas, aprendiendo a sentirlo y liberarlo. Trabajaremos con la alineación pélvica y el movimiento en yoga desde el "core" (núcleo abdominal). Aprenderemos a alargar el psoas de forma segura y experimentaremos el sorprendente efecto de su estiramiento en las asanas y en el progreso de tu práctica de yoga.
¿A quién recomendarías profundizar en el trabajo sobre el psoas: profesores de yoga, practicantes de yoga o pilates regulares, personas con problemas lumbares?
¡A todos! Muchos problemas en la zona lumbar tienen su origen en un psoas acortado. En los talleres, se aprenderá a alinear y "engranar" el psoas, y también los músculos circundantes en las piernas y el abdomen, lo que dará como resultado un tono más saludable en los músculos de la espalda. De esta manera, la columna vertebral se puede estar más alineada y sostenida, lo que tendrá importantes beneficios en la zona lumbar.
Los estudiantes y profesores de yoga encontrarán una vía para incrementar el progreso de su práctica y evitar lesiones. Teachers can also recommend specific techniques and deepen their knowledge about the alignment, to assist and support students in stretching the psoas, especially to those who spend long hours sitting (unfortunately, the immense most)
A shrunken psoas also influences the quality natural breathing. As you work with the psoas, breathing becomes deeper and more complete. And this, of course, impacts the emotional state, it helps to quiet the mind and improve our meditation.
You will return to Spain in September to make a weeklong yoga retreat at Lanzarote, what we can find in the program?
¡Estoy muy ilusionada con este retiro! Será oportunidad para profundizar en vías de soltar el estrés del cuerpo y hacer un espacio en nuestras agitadas vidas para nosotros y nuestra transformación. Vamos a expandir el cuerpo, el corazón y la mente, de forma que cada uno pueda mirarse a uno mismo desde otra perspectiva.
Para ello nos ayudará la práctica diaria de yoga, tanto en sus aspectos energéticos como relajantes, la profundización en la técnicas de alineación y la liberación del psoas, el movimiento libre e intuitivo, el trabajo sobre la respiración y un interesante programa de "yoga fuera de la esterilla", con ejercicios conscientes que nos permitan a reconectar con qué sentimos y necesitamos.
El contacto con la naturaleza será vital. Tendremos la suerte de poder conectar con los lugares más mágicos de la isla, fuera de los circuitos turísticos y nutrirnos de la belleza, el aire puro, el sol, el mar y la energía de los volcanes.
También ayudaremos al cuerpo a través de una alimentación depurativa y exquisita a la vez (sí, es posible), preparada por una chef experta en nutrición, con verduras directamente recogidas del huerto orgánico del centro y con muy bajo nivel de azúcar e hidratos de carbono. En una semana se ven claramente los beneficios tanto a nivel físico, como de claridad y estabilidad mental.
El taller de Sandra Carson en Madrid

En su primera visita a España, Sandra Carson impartirá un taller sobre el psoas y el núcleo abdominal en el yoga, los días 21 y 22 de Abril, en Ayoga, Madrid.

El taller contará con traducción simultánea al castellano y se podrá contabilizar como como 9 horas de formación con Yoga Alliance (Continuing Education Contact Hours)

More information and reservations: www.shamaretreats.com; info@shamaretreats.com
Descuento en las inscripciones del taller hasta el 13 de abril.

Sandra regresará a España del 30 de septiembre al 7 de octubre para dirigir un retiro de yoga en la naturaleza en Lanzarote organized by Shama Retreats.