Clarifies your doubts: what is the 'yoga with beer'?
In this section, Javier Ruiz Calderón offers answers to our questions from a perspective of critical and up-to-date yogic tradition. Are invited to write to Javier info@yogaenred.com making your doubts or uncertainties.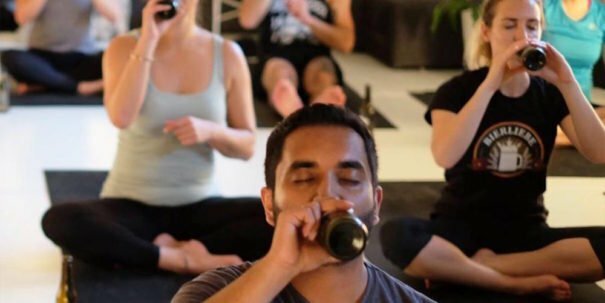 Pregunta: ¿Qué es el «yoga con cerveza»?
Answer: El llamado «Bier Yoga» (en alemán) o «beer yoga» (en inglés) es una forma de yoga nacida en Berlín en 2015 y que se está extendiendo por todo el mundo. A sus creadoras, Jhula y Emily, profesoras de yoga certificadas, les encantaba la cerveza, así que decidieron combinar ambos «amores» y dar a otras personas la posibilidad de hacerlo. Según ellas, la combinación de «la conciencia del yoga» con «el gozo de beber cerveza» puede producir «una experiencia vigorizante» y «un nivel de conciencia más elevado» (www.bieryoga.de).
En una sesión típica de Bier Yoga se realizan los ásanas y vinyasas con una botella de cerveza en las manos, que se manipula de distintas maneras y a la que se van dando tragos en los momentos indicados por la profesora. El precio de la clase incluye dos botellas de cerveza. El ambiente es más informal que en una clase de yoga corriente.
Al parecer, la idea no es que siempre se haga yoga con cerveza sino que se tenga la posibilidad de hacerlo de vez en cuando. De hecho, las fundadoras del movimiento solo dan clase de Bier Yoga un día a la semana y reconocen que la asistencia no es regular.
Como era previsible, esta práctica ha suscitado toda clase de críticas por parecer poco seria, insana, antiyóguica e incluso ilegal (ya que incitaría a la bebida). Puedes crearte tu propia opinión viendo alguno de los vídeos que salen en Youtube cuando tecleas «yoga» y «cerveza» (o «Bier», «beer» o «brew»).
Javier Ruiz Calderón (Shankara) es doctor en filosofía especializado en filosofías y religiones de la India. Lleva cuarenta años estudiando y practicando yoga, vedanta y meditación. Es profesor de esas materias, así como de hinduismo, sánscrito y canto védico, y ha publicado cinco libros sobre esos temas.

Próximas actividades: «Estudio de las escrituras del yoga y el vedānta – II. Las upaniṣad». «Pensamiento y espiritualidad de Asia I: India y Tíbet. II: China y Japón». «Introducción al canto védico». En Madrid y por internet a partir de septiembre de 2018. More information in jruizcalderon@yahoo.es