Vegetarian recipes / rye bread
No es difícil hacer pan, pero sí necesitarás un poco de paciencia y pericia para encontrarle el punto.
Escribe, comparte y cocina Gauri, profesora de Cocina Vegetariana del Centro Sivananda de Madrid y del centro afiliado Sivananda Vedanta de Granada.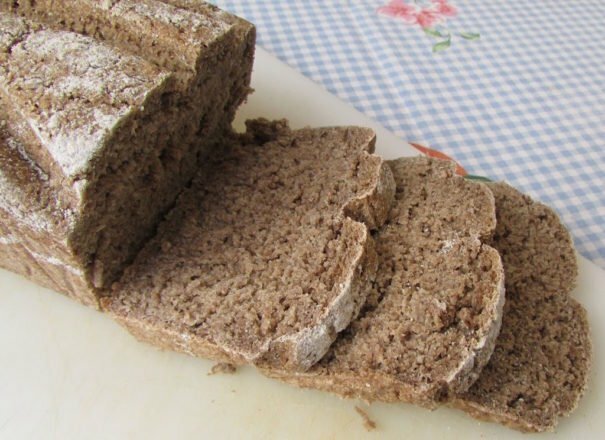 Hace tiempo que quería poner una receta de pan en el blog. Pero se necesita un poco de tiempo para hacer pan. Y hago pan solo en invierno, apetece más hacerlo y también comerlo. No es difícil hacer pan, pero sí necesitarás un poco de paciencia y pericia para encontrarle el punto. Sea como sea que salga, hacer pan en casa es como un milagro y mucho más sano, así es que merece la pena probar.
Ingredientes: (sale un pan de 750 g. aproximadamente)
500 g de harina de centeno integral o semiintegral

1 sobre de levadura seca de panadería de 9 g

½ teaspoon salt

350-400 ml, aproximadamente, de agua templada
Preparation:
En una fuente honda colocar la harina de centeno, hacer un hoyo en el centro y poner la levadura. Distribuir la sal en los alrededor de la harina.

Verter el agua poco a poco en el centro donde está la levadura y primero con ayuda de una espátula o una cuchara ir mezclando la harina con el agua.

Cuando ya se pueda manipular con las manos, empezar a amasar y sacar la masa de la fuente y trabajarla en la mesa. Espolvorear con un poco de harina la mesa y amasar muy bien durante 10 minutos como mínimo. Si ha quedado la masa muy húmeda, te dará un poquito de más trabajo, vas espolvoreando de harina para poder trabajarla.

Espolvorear con un poco de harina la fuente, formar una bola y colocarla de nuevo en la fuente para que suba. Tapar con un papel film y un paño de cocina, colocarla en un lugar cálido, libre de corriente de aire. Tiene que estar mínimo 1 hora y media a dos horas.

Mientras, preparar un molde rectangular forrado con papel de horno. Cuando la masa ha subido ponerla en la mesa y aplanarla dando forma rectangular con la ayuda de un rodillo de madera. Doblarla en tres dobleces, presionando un poco las juntas y colocarla en el molde. Hacer un corte central en la masa con un cuchillo afilado y dos cortes oblicuos de afuera al corte central, en cada una de las dos mitades. Espolvorear un poco de harina por encima. Y dejarlo reposar de nuevo en el molde, en un lugar libre de corriente, cubierto del papel film y del paño, durante 1/2 hora o 45 minutos.

Precalentar el horno a 200º, retirar el papel film y el paño. Meter el pan en el horno durante 45-55 minutos. Los últimos diez minutos puedes desmoldarlo y dejarlo que se termine de hacer sin el molde. El pan está listo, cuando al golpearlo en la base, con cuidado de no quemarte, suena a hueco.

Hay que dejarlo enfriar, fuera del molde y colocar el pan sobre una rejilla que pueda pasar el aire por debajo.
Leles Gauri It is formed in the Yoga Sivananda Vedanta school teacher and teaches at the Center Yoga Sivananda Vedanta Granada-afiliado. T 660-288-571. She is creator of the blog We eat to live.