Removal of Yoga and ethnobotany with Juan Gonzalez Simoneau
Do you imagine a retreat where you can practice yoga and learn to know the wild edible and medicinal plants with an expert such as Juan González Simoneau? It is a very special opportunity, do not run out of space! From the 23rd to the 25th of March in the forests of Gredos.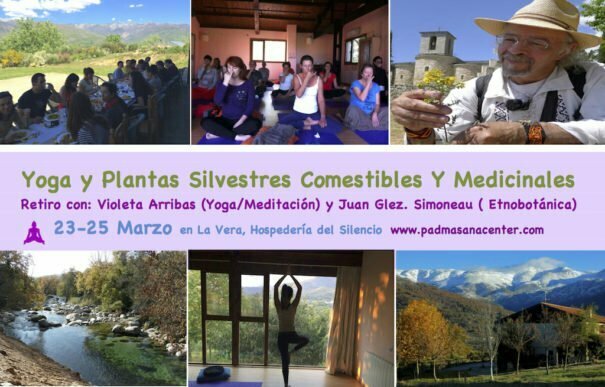 In these days of early spring will address a yoga workshop, with a total of six and a half hours spread over four classes, con práctica de asanas y ajustes anatómicos, pranayama, meditación (vipassana y raja), relajación y Nidra. Nos hospedaremos en The Hospedería del Silencio, Robledillo de la Vera (Cáceres).
We will also have a great intensive course of wild edible and medicinal plants, identification, collection, uses and recipes of almost seven hours.
Also enjoy from two excursions for its native forests and the beautiful gorges of crystal clear waters coming from the summits of Gredos. In one of these gorges you can identify and collect some of the plants of Ethnobotanical workshop and enjoy the environment.
This recall includes, therefore, 13 hours of workshops, excursions, accommodation for two nights in a bungalow in shared room, all ecological and vegetarian meals, exclusive use of a large room work and public areas of the estate.
Ethnobotany workshop: with Juan Gonzalez Simoneau)Juan plants)
Ethnobotanical, psychologist and pedagogue, Juan González Simoneau is considered an expert on the traditional use of medicinal plants in Spain and in the Amazonian cultures. He is the founder of the Aloe Association, created for the protection, study, the correct use and personal development and health through the medicinal plants. He started his way in the knowledge of healing plants more than thirty years ago, when he specialised in natural medicine and ethnobotany. He has participated in travel and scientific expeditions by the Brazilian Amazon, Central America and South America.
Currently heads e She teaches meetings, courses, workshops and seminars on medical Botany, Alchemy and edible plants. He is a regular contributor to Spanish Television in the program "Here the Earth". It coprotagoniza the documentary film Children of the Earth, widely acclaimed by public and critics.
The workshops of Yoga and meditation with violet Arribas
He is teacher of Hatha and Raja Mantra Yoga. Director of Padmasana Center since 2007. Ayurveda therapist, yoga teachers. Author of Yoga and Ayurveda, integral health anxiety, Alliance publishing.
Price of the workshop: €235
Reserve your place in Info@padmasanacenter.com or T 913-822-733
Si tienes alguna duda, sobre el retiro, contacta con Violeta Arribas T 620325071