Mañana jueves 8 hacemos huelga en YogaenRed
Por la dignidad de las mujeres y por un mundo más equitativo, en YogaenRed mañana jueves día 8 nos sumamos a la primera Huelga de Mujeres de la historia de España, que será seguida en 177 países.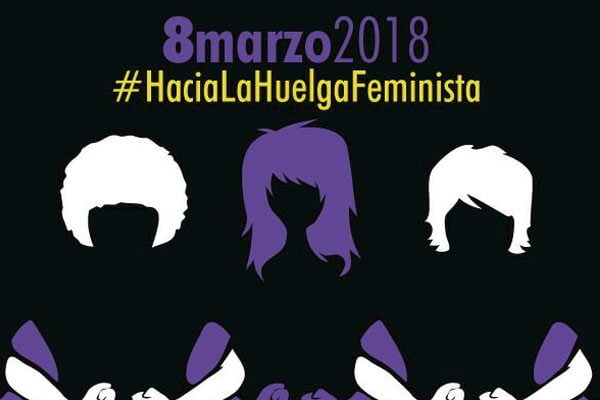 No actualizaremos las noticias ni enviaremos la newsletter que lanzamos cada jueves. Deseamos la comprensión de nuestras lectoras y lectores amantes del Yoga, disciplina que hoy día practican tres veces más mujeres que hombres.
Esperamos que esta jornada del jueves se convierta en una gran demostración de que las mujeres, que somos la mitad de la población de este planeta, queremos y demandamos una sociedad más justa, más igualitaria y más humana para nosotras en particular y para todos los seres humanos en general.
And is that this call "Strike feminist", además de unas reivindicaciones concretas y urgentes —contra la vergonzosa brecha salarial entre hombres y mujeres, la feminización de empleo precario, del paro y de la pobreza, la penalización de la maternidad, el techo de cristal, etc.— tiene un symbolic scope todavía más grande.
It is a "basta ya", un grito en contra de los valores machistas de esta sociedad patriarcal dominante y sus consecuencias: el maltrato y la violencia en todas sus formas; el poder entendido como dominio y opresión; la competencia y el dinero como medidas de éxito; el abuso y la explotación de los más débiles y del medio ambiente; la brecha creciente entre ricos y pobres; el desprecio de la educación, de la cultura, del humanismo….
A different social model
La mayoría de las mujeres queremos que ese modelo imperante se transforme en otro muy diferente y con alma, a promover desde todos los estamentos de la sociedad, desde la educación, la familia, la política, la cultura y el mundo laboral. Pero para ello tenemos que empoderarnos y convertirnos en motores de esa sociedad que anhelamos, la de la equidad y la igualdad de oportunidades, la justicia, la solidaridad, la cooperación, la fraternidad, la conciliación, la honestidad y la dignidad.
O se consigue esa evolución necesaria en todos los terrenos con el empuje, la sensibilidad y los valores que defendemos las mujeres y cada vez más hombres, o no podrá haber lugar para la esperanza en ningún sentido.
La ética del Yoga, en sus Yamas and Niyamas (ver el último y estupendo Article by loyal Zaira), señala el camino a todas y todos muy claramente.
It ended the time of resignation. Ha llegado el momento de pasar a la acción, todas y todos para que, parafraseando a Mahatma Gandhi, seamos el cambio que deseamos en el mundo.
Did you like this article?
Subscribe to our RSS so you don't miss anything