Navigate with the inner star
Todo buen navegante teme adentrarse en alta mar. Su experiencia le ha hecho consciente de la fragilidad del pequeño cascarón del barco ante la inmensidad de las aguas que lo soportan. El mar, como la vida, a veces es calmo pero otras se enfurece, nos sacude con olas gigantescas o nos estrella contra arrecifes camuflados. Y, sin embargo, el navegante ama profundamente el mar.
Escribe Julián Peragón (Arjuna).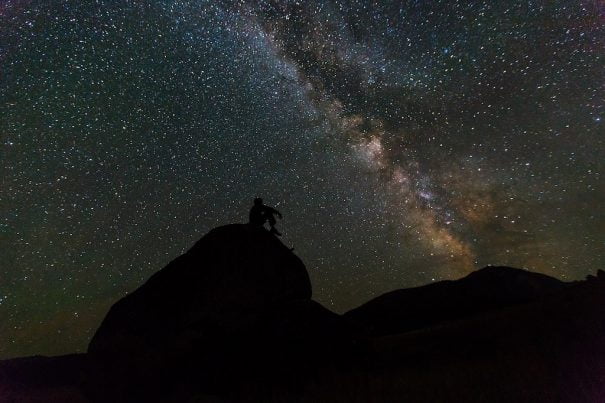 Mientras se eleva el sol, el rumbo del barco sigue la estela de los reflejos marinos hacia un punto trazado del horizonte, pero cuando cae la noche, los antiguos marineros perdían las referencias inmediatas y sólo les quedaba la posibilidad de elevar la cabeza y observar las estrellas. Silenciosamente, las estrellas siguen su camino, pero ese peregrinaje no es caótico, como podría parecerle a la persona mundana que no encuentra el tiempo, dentro de su apretada agenda, para pararse y mirar el cielo estrellado. La bóveda celeste gira en torno de la estrella polar, alineada con el eje del mundo. Si el navegante experto puede atravesar los mares nocturnos es porque allá arriba reina un orden preciso, roto momentáneamente por la estela de una estrella fugaz, que nos abre al asombro de que la esfera celestial de terciopelo negro está viva.
La estrella, cuya luz ha viajado miles o millones de años, trae consigo una invitación a seguirla. Más allá del horizonte mental está la infinidad de lo que somos: constelaciones que nuestra más fina sabiduría hila en una filosofía de vida. Ahora bien, entre todas esas estrellas de nuestro firmamento interno, entre la multiplicidad, hay una que en este preciso momento coincide con nuestra coronilla.
Para los antiguos, las estrellas eran difuntos que nos observaban o ángeles que nos custodiaban; para nosotros, son arquetipos que buscan encarnarse, cualidades del alma que van desde el amor hasta la verdad, desde la libertad hasta la fe, luminarias que nos sirven en la vida para no perder el norte, para luchar a menudo a brazo partido contra la mentira del mundo, la indiferencia ante el sufrimiento, la esclavitud de nuestras necesidades o la confusión de nuestras creencias.
Así, los cielos nos hacen de espejo para recordarnos lo esencial, y de brújula para no perdernos en la búsqueda.
Julian Peragón Arjuna, Trainer of teachers, directs the school Yoga synthesis en Barcelona. Es autor del libro Meditation synthesis (Ed. Acanto).

His latest book is The synthesis of Yoga. The 8 steps of the practice. Acanthus publishing.