Vegetarian recipes / roasted vegetables of nori seaweed
We share great and sanisimas recipes blog 'Eat to live'. Type and kitchen Gauri, Professor of vegetarian cuisine of the Sivananda Centre of Madrid and the affiliated Centre Sivananda Vedanta of Granada.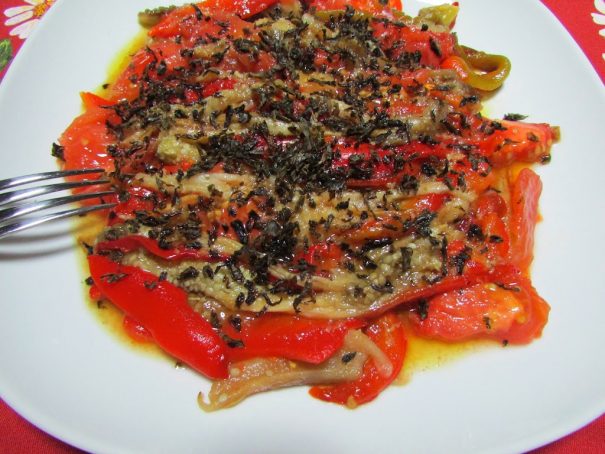 Esta receta es de origen catalán. La puedes tomar sola o acompañada de un plato de cereales como arroz, quinoa, …O incluso acompañada de legumbres. Está deliciosa templada.
Ingredients (serves 4-6)
3 berenjenas

2 pimientos rojos

2 tomates

1 trozo de jengibre fresco,sin piel, de 2 cm., (aproximadamente).

½ teaspoon ground cumin
1 teaspoon salt

4 cucharadas de aceite de oliva virgen extra

2 cucharadas de copos de nori tostados
Preparation:
Lava y seca las verduras. Coloca las berenjenas y el pimiento en una asadora sobre el fuego medio. Tienes que dar la vuelta, de tanto en tanto, para que se hagan por todos lados. Tardan en hacerse unos 40 minutos. Los tomates los pones al final porque tardan menos tiempo unos 15 minutos.

Cuando están hechas se van colocando en una cacerola tapada y las dejas reposar para que se enfríen un poco y poder retirarles la piel. Se quita la piel de las berenjenas y de los tomates. De los pimientos se retira la piel y las semillas. Se cortan en tiras y se colocan en la fuente donde se vayan a servir.

En un mortero majar el trozo de jengibre con la sal, añadir el comino y el aceite y mezclar bien, puedes añadir también un poco del jugo de las verduras. Verter esta mezcla sobre la escalivada.

Tostar en seco en una sartén los copos del alga nori. Son muy delicados y tardan en hacerse un par de minutos. Espolvorear por encima de las verduras.
Yoga Sivananda Vedanta Granada-afiliado. T 660-288-571