Spanish yoga books which shone in 2017
2017 was a surprisingly lavish year in new books on Yoga of Spanish authors. Here we remember some, that are sure are not all but the best. We are grateful to these experts in yoga and Eastern philosophies of our country that they offered us these works, as different as valuable each and every one of them.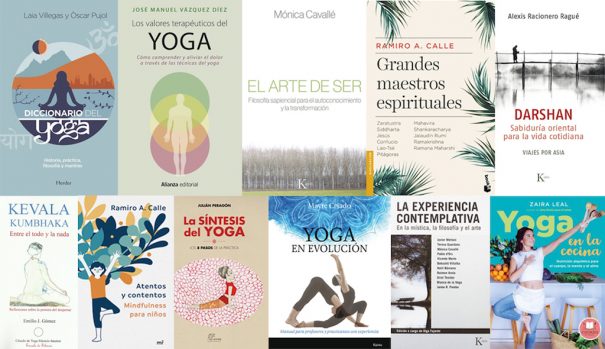 Here we present them you in chronological order of publication. All of these books are on sale in bookstores and on the internet, and of course that may be an unforgettable gift:
A cast of Spanish experts)Mónica Cavallé, Vicente Merlo, Teresa Guardans, Dokushô Villalba, Pablo D'Ors, Javier Melloni, among others) address contemplation from different angles or spiritual traditions. Deals with mysticism, symbolism, philosophy, art, religion and spirituality. All the authors are well-known in the academic world and the general public.
Edit: Kairos. RECOMMENDED RETAIL PRICE: €16
In this work, the author offers an updated overview of the 8 steps of the classical Yoga that Patanjali describes in the Yoga sutras for almost two millennia. Is a holistic view which takes into account the body but also the mind and our spiritual aspiration." "It is time - says Arjuna - update and retrieve the depth of this ancient science to the practice that we need all of us here and now".
-Julian Peragón It is an anthropologist at the Central University of Barcelona. Trainer Yoga teacher for more than twenty years. He currently directs the formative school Yoga Sintesis.articulista and author of the book meditation synthesis (acanthus)
Edit: acanthus. PRICE: €16,50
Every day are more parents who practice meditation and want that their children will also benefit. Children will develop clear perception, strong motivation, increased performance in studies, better knowledge and mastery of themselves, intensification of self-esteem and emotional state more cheerful and calm.
-Ramiro Street It takes more than 50 years teaching yoga classes. Pioneer in the teaching of yoga in Spain, is the master and most renowned Spanish orientalist writer internationally. In 1971 he opened his center of Yoga Shadak, which have already passed more than half a million people. His 250 published works include more than fifty devoted to yoga and related disciplines.
Edit: Martínez Roca. PRICE: €17
An educational, entertaining, practical and transformative, work steeped in the wisdom of tantra-yoga and ayurveda. It includes recipes, yoga sequences and interesting nutrition tips. A full tour of the Alchemy of food, health and awareness, to know and experience what nurtures us really.
-Zaira Leal She is an expert in yoga and training of teachers, as well as writer and coach's health, well-being and the Ayurvedic lifestyle. Professor of technique Bowspring, Anusara® Yoga and Vinyasa Yoga, certified by the Chopra Center for Wellbeing, Zaira has developed yoga and wellness programs for adults, training of teachers, for women, for therapeutic purposes, for children and adolescents. Author of A feast for the soul (Uranus).
Edit: Uranus. RECOMMENDED RETAIL PRICE: €21
This book proposes a journey of personal growth that involves landscapes, people, customs and ideas, combining experience with fragments of classical texts such as Tao Te Kingthe Yoga Sutras Patanjali, The secret of the Golden Flowerthe Bhagavad gita or the Bushido. In essence, this book is an invitation to the inner journey and to the knowledge of some of the most important cultures of humanity.
-Alexis Racionero Rague It takes more than one decade traveling around Asia and studying the philosophies of the East. He holds a PhD in history of art, and Professor of film at the ESCAC (UB). He has filmed documentaries in Cuba, the India or Tibet. Specialist in travel literature, author of several books and a contributor to National Geographic. She teaches yoga classes and retreats by combining yoga, meditation, philosophy, cinema and Gestalt psychology.
Edit: Kairos. PRICE: €15
The great spiritual masters were able to reach the fullness, the first essence of the human being, nirvana, and wisdom. They indoctrinated with patience to his disciples, young apprentices of the teachings of ancient and eager to experience personal enlightenment and conquer the great goal: the real me. Ramiro Calle highlights the sagacity of the great Prophet Zarathushtra; the charity of Jesus, a titan of the spirit; precision and responsibility of Confucius, the Lord of great wisdom; the stillness of Lao-Tse, the old child; and the compassion of Buddha, the enlightened one.
-Ramiro Street It takes more than 50 years teaching yoga classes. Pioneer in the teaching of yoga in Spain, is the master and most renowned Spanish orientalist writer internationally. In 1971 he opened his center of Yoga Shadak, which have already passed more than half a million people. His 250 published works include more than fifty devoted to yoga and related disciplines.
Edit: Booket. RECOMMENDED RETAIL PRICE: €8
This book invites you to initiate, in a practical way, in the voyage of philosophical self-knowledge and the art par excellence: the of to become who we really are. To this end, he revisits and develops Central insights of major sapiential traditions revealing its transformative potential and its ability to illuminate our everyday life.
-Mónica Cavallé es doctora en Filosofía por la Universidad Complutense de Madrid y máster en Ciencias de las Religiones. Durante varios años ha coordinado en la Universidad Complutense de Madrid los seminarios de Introducción Filosófica al Hinduismo y al Budismo. Trabaja como filósofa asesora y presidenta honorífica de la Asociación Española para la Práctica y el Asesoramiento Filosófico (ASE-PRAF). Entre sus obras escritas destacan La sabiduría recobrada and La sabiduría de la no-dualidad (Kairós).
Edita: Kairós. PVP: 19€
Many practitioners of yoga ever have we wondered how translates the name of a stance, how to pronounce correctly, or what we're saying to recite a mantra. Here are our answers. More than a dictionary in the traditional sense, the Yoga dictionary ES un manual manejable, visual y práctico, accurate and reliable, which includes the Sanskrit terms most commonly used in the day to day of the yoga classes.
-Laia Villegas Torras It is a translator and specialist in Indian philosophy. A degree in Humanities from the University Pompeu Fabra in Barcelona, conducted research at the universities of Varanasi and Pune (India). He has published The stanzas of the Sāṃkhya of Ishvarakrishna and collaborated with Òscar Pujol in the drafting of the Diccionari Sanscrit-Català. For more than ten years he collaborated on various yoga teacher training courses.
-Oscar Pujol Riembau He holds a PhD in Sanskrit from Banaras Hindu University. He has taught at several universities in the India, Spain, Mexico and Brazil. He has been director of the Cervantes institutes in New Delhi, Rio de Janeiro and currently of Fez. He has published several books and translations of Sanskrit classics and the Sanscrit-Catalan dictionary. He is currently working on the first Sanscrito-espanol dictionary, forthcoming in Herder Editorial.
Edit: Herder. RECOMMENDED RETAIL PRICE: €24,50
Through the instructions given at the time of meditation, the author reflects on the posture of the awakening and how different Yoga techniques can help the State of meditation to happen. A deep work that provides answers, ever since the tradition and the classical texts of yoga, many doubts and concerns about meditation and its meaning, as many as surely raised the author students over many years giving Hatha and Radja Yoga courses and seminars.
-Emilio j. Gomez es profesor de yoga y meditación. En 1995 comienza a compartir su experiencia en yoga y meditación a través de cursos de meditación, talleres monográficos, encuentros de meditación y retiros de silencio. En la actualidad coordina el Círculo de Yoga Silencio Interior, cuyo objetivo fundamental es la práctica y difusión del yoga y la meditación como instrumentos de autoconocimiento.
Edita: Círculo de Silencio Interior (pedidos en info@silenciointerior.net)
¿Por qué funciona el yoga? ¿Su práctica es adecuada para todo el mundo? ¿Puede ser perjudicial? ¿Podemos aliviar nuestros dolores físicos y anímicos a través del yoga? En este libro el autor nos invita a take responsibility and enable us in the management of pain en sus manifestaciones física, emocional, mental y transpersonal. Estructurado en dos partes diferenciadas, la publicación recorre el concepto del dolor, abordado desde diversas perspectivas (filosófica, social, emocional y física), planteando cuestiones reales y desmontando estereotipos, mediante el conocimiento y la experiencia.
–José Manuel Vázquez preside la Asociación Shiva-Shakti de Yoga Integral. Es profesor y formador de profesores y experto universitario en yoga terapéutico. Fundador y director de la escuela Yoga Orgánico. Es autor de Integral to Western yoga manual (Alianza).
Edita: Alianza. PVP: 16 €
¿Cómo debe transmitirse el yoga para adaptarse a nuestro momento evolutivo? ¿Qué preparación ha de reunir un profesor de yoga del siglo XXI para afrontar su responsabilidad? Es este
a monumental manual
of
yoga pedagogy adapted to our time and place
, with all the
keys and fundamentals of a training program for teachers, teachers and yoga instructors tested, contrasted and consolidated with success over the years.
-Mayte Criado
es directora y fundadora de la Escuela Internacional de Yoga (Madrid) y vicepresidenta de la Federación Española de Entidades Formadoras de Yoga. Imparte clases en diversas escuelas con su propio método, resultado de varias décadas de experiencia y del diálogo entre las tradiciones clásicas del yoga y los modernos enfoques anatómicos, sensoriales y meditativos.
Edita; Kairós. PVP: 36 €