Vegetarian recipes / applesauce raisin
We share great and sanisimas recipes blog 'Eat to live'. Type and kitchen Gauri, Professor of vegetarian cuisine of the Sivananda Centre of Madrid and the affiliated Centre Sivananda Vedanta of Granada.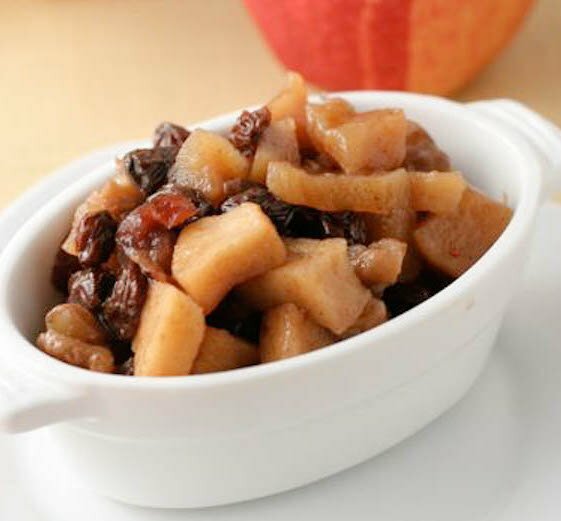 La manzana es una fruta que ha acompañado a la especie humana desde… el Garden of Eden. Era la fruta prohibida del paraíso… ahora no está prohibida, pero en esta época de complejidades hay mucha gente que la considera un poco demasiado "corriente".
Esta receta es sencilla, rápida y sana. Es ideal para el invierno porque todos los ingredientes ayudan a calentar tu organismo. Te puede servir de cena sola, o acompañada con un poco de requesón.
!Así te será fácil levantarte para meditar¡
También la puedes tomar como un tentempié: a media mañana o a media tarde.Y la puedes tomar templada o a temperatura ambiente.
Ingredientes (4-6 personas):
4 manzanas

30 g de uvas pasas

1 trozo de canela en rama

the juice of ½ lemon juice
½ glass of water

1 cucharadita de kuzu (opcional)
Preparation:
Lavar, pelar y cortar las manzanas en media luna. Colocarlas en un recipiente con agua y zumo de limón.

Hervir en muy poco agua, a fuego medio bajo, con las pasas y el palito de canela. Alrededor de 30' o hasta que estén desechas. Mover de vez en cuando y chafar un poco con la cuchara para que quede tipo crema.

Mezclar el kuzu con agua fría y lo añadimos a las manzanas y dejamos que hierva un par de minutos más, hasta que espese.
Ingredients and properties
Manzanas: Están compuestas del 84% de agua, 13% de azúcar y ácidos, 0,5% de minerales y vitaminas, y 2,5% de celulosa y pectina. Las vitaminas contenidas en las manzanas son principalmente del grupo B. También se hallan presentes las vitaminas A y D. El mineral más abundante es el potasio, que actúa junto con el sodio para controlar los fluidos corporales, y ayuda a los riñones en la deposición de las sustancias de desecho. La piel de la manzana aporta fibra.
Uvas pasas: es fruta desecada, imprescindible en la dieta del yoga, sobre todo en invierno. Las pasas contienen azúcares naturales, por eso la utilizamos en lugar de cualquier otro edulcorante. Contiene potasio, hierro, calcio y es rica en fibra.
Canela: Ayuda a tratar los problemas estomacales. Transmite mucho calor y alivia los síntomas del resfriado, la gripe y el dolor de garganta.
Kuzu: Es el almidón de la pueraria, una planta trepadora. Tiene la apariencia de un polvo blanco terroso. Es rico en hidratos de carbono y fibra alimentaria. El kuzu se utiliza tanto en la cocina como en la medicina. Algunas des sus numerosas propiedades son:
Ayuda a bajar la fiebre y a combatir los cuadros gripales.

Normaliza el funcionamiento intestinal.

Es útil para la gastroenteritis o para los casos en los que el estómago no tolera nada.

Es alcalinizante, por lo que es un estimulante natural de nuestro nivel energético.

It is detoxifying
Yoga Sivananda Vedanta Granada-afiliado. T 660-288-571.