Books / immense as the sky, infinite as space, Mooji
Este libro es fruto del deseo de Mooji de llegar a todos aquellos que buscan la felicidad, la paz y el amor duraderos, es decir, eso que se suele llamar autorrealización, pero que no conocen o no están familiarizados con la autoindagación o con el enfoque no-dual propio del advaita. Edita: Sirio. PVP: 14,50 €.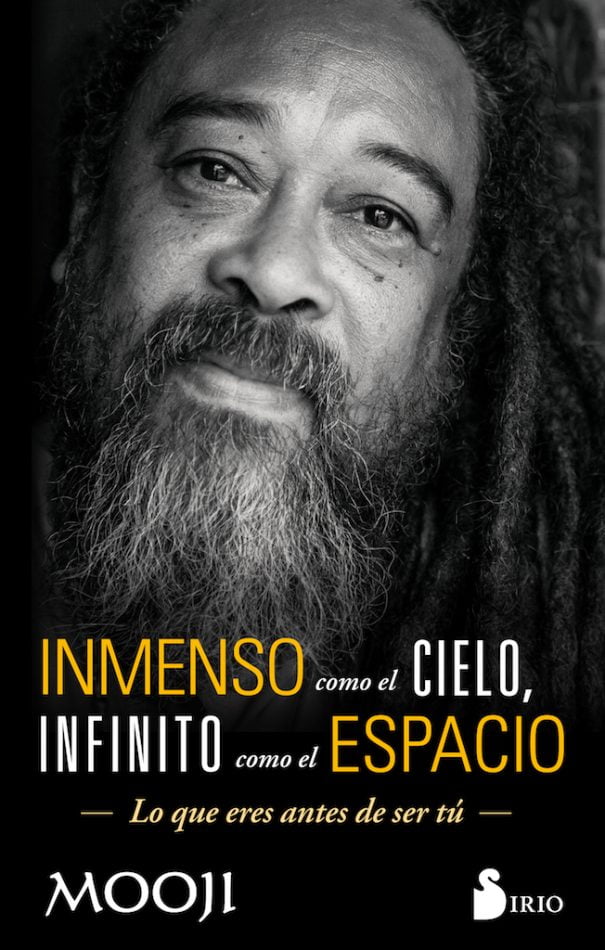 ¿Y si todo lo que crees ser-tu cuerpo, mente, emociones y condicionamiento es en realidad lo que no eres? ¿Y si esto no es más que un autorretrato formado por falsa identificación, hábito y suposiciones?
Inmenso como el cielo, infinito como el espacio is imbued with the wisdom and vision of Mooji, además, refleja la apertura, el amor y el sentido del humor que él siempre desprende. Contiene muchas de las historias y las enseñanzas favoritas de Mooji, así como orientaciones claras para llevar a cabo la autoindagación. La visión y las enseñanzas de Mooji son increíblemente simples, y el lugar al que nos conducen está más allá de las palabras. No es necesario aprender ninguna práctica o técnica especial; la auto­indagación es como mirarnos en el espejo y reconocer nuestro rostro atemporal. Para aquellos que aún no conocen al autor, este libro será una excelente guía hacia un reconocimiento y una experiencia directa de la Verdad. Y, para aquellos que ya están familiarizados con sus enseñanzas, el libro ofrece una gran oportunidad para profundizar en la comprensión final.
The author
Mooji está considerado uno de los líderes espirituales advaitas más influyentes del momento. Mooji (Anthony Paul Moo-Young ) nació en Jamaica en 1954 pero se trasladó a Londres siendo adolescente. En 1987 un encuentro con un místico cristiano cambió su vida. Seis años después viajó a la India, donde conoció a su maestro, Sri H.W. L. Poonja.