Formations of Yoga teachers beginning in 2018
January begin new training courses in yoga, both deepening personal and professional for graduating as a teacher of yoga. We offer a selection of the best that arrive at our office, located in alphabetical order. (This list is updated every day. All organizers of formations may send your information to info@yogaenred.com)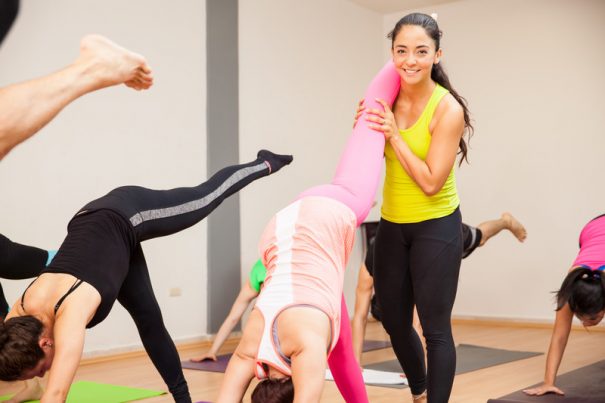 APYM, training in Yoga instruction
Where: Madrid
Start: October 2018
Director educational: Raul Martinez Cuenca
Complete statement of Yoga classroom and professional grade 3; minimum formal education program established by the European Yoga Federation sets a period of 3 years (minimum 500 hours) instruction. APYM-National Association of teachers of Yoga aims to spread yoga of serious, comprehensive and responsible way so that the subjects are revised, adapted and directed by different teachers and professionals.
More information: www.profesoresdeyoga.org
Ashram Sanatana Dharma
Where: Gipuzkoa, Zestoa
Start: January 13-14, 2018
Director: Madhava
They impart training Manuel Paz / Madhavafounder of the Ashram, and highly qualified teachers teacher, transmitting the teaching of classical Yoga tradition the Guru-Kala, of amena, adapted and easily.
Modalities: Residential. Training course of two years, one weekend a month Yoga teachers and intensive twelve days in August.
Levels: Two courses in continuity, having as a goal the forming teachers skilled and inspiring, that are capable of maintaining their own practice and personal discipline and to share its experience of yoga with others in such a way that, at the same time as be advanced in its own growth, they can serve as a stimulus to others.
More information: https://www.sanatana-dharma.eu
Direct contact: 640 525 896
Aushadhi Yoga school
Where: Madrid
Start: January 14, 2018
Course Director: Marta Espeita left
We propose a sadhana, which involves developing a personal daily practice, following the indications during the sessions, which are given all the necessary explanations and clarification of doubts, next to the own guided sessions to they serve as reference.
From January to June, a Sunday of every month from 10.00 to 14.00
More information:
http://www.aushadhiyoga.com/index.php/formacion/cursos-de-profundizacion/cursos-sadhana/meditacion-antar-mouna
Contact and reservations: contacto@aushadhiyoga.com / T 915 391 669
City Yoga
Where: Madrid
Start: January 2018
-Training Personal and professional Yoga dynamic
Dynamic Yoga It is a presentation and experience full of yoga method based on the natural principles of learning and teaching, which enables that yoga can be practiced and taught from the intelligence of the body. Suitable, recommended and adapted for everyone from total beginners to experienced teachers of all styles, all are profound benefits.
Continuous training. Courses of 200, 500, and 750 hours. Open thematic dives. Course and certification internationally endorsed by Independent Yoga.
-Training Yoga and Mindfulness for children Om Shree Om
-Training for pregnant school Omma Prenatal Yoga
-Training Yoga for children with different capabilities Om Shree Om
More information: http://www.city-yoga.com/servicios/formacion
Direct contact: 91 553 4751 - 91 025 9233-685 549 906
Chrysalis Yoga teachers training
Where: Segovia
Start: January 2018
Director educational: Luis Luna
Our formation as teacher in Yoga, is an opportunity to immerse yourself in the ancient science of Yoga, whether you want to spend in a professional manner to his teaching as if not. This course, not only provides the necessary knowledge to be able to teach with professionalism and rigour, but that it is also an authentic process of personal and spiritual growth. We are professional Yoga with over 25 years experience, 14 of which dedicated to the training and retraining of teachers of Yoga.
Duration of training: 250 h with possiblilitat perform at the end of models to extend your training.
More information: http://www.formacionyogacrisalida.es/
Direct contact: 660363261
Chrysalis training Integral of meditation
Where: Segovia
Start: January 2018
Directors: Luis Luna and Lola Gonzalez
In this course of 9 Saturdays we will address both the deepening in the experience, as the development of resources for teaching, from different approaches and techniques of meditation, so that each pupil is comfortable in 'their' way to meditate, give particular relevance to the learning of the chrysalis geometrical meditation (MGC), since we have proven to be a great help in learning and progress in meditation.
More information: https://www.yogasegovia.com/formaci%C3%B3n-integral-en-meditaci%C3%B3n/
Contact direct: 660363261
International School of Yoga
Where: Madrid, Elche, Santiago, Mallorca, Cadiz
Start: from January 2018
Director educational: Mayte Criado
School pioneered Yoga teachers training from a vision integrating and evolutionist. Those programs comply with all the specifications of the certified official of Yoga in Spain.
Modalities: Presence, Online, residential
Levels and programs progressive:
Instructor, Professor and Master
Specialization courses
Program higher for teachers of Yoga graduates
More information:http://www.escueladeyoga.com/
Contact direct: 91 416 68 81 / 648 078 824 / 91 309 36 07
School Naradeva Yoga teachers training course
Where: Ashram Naradeva (Segovia, Torrecaballeros is 7 km.)
Start: January 27-28
Directors: Txomin Uranga-Ananta and Anna Bañuelos-Uma
It is a course in which the student acquires the skills, to become Professor of yoga and once the training is completed, feeling the sufficiently trained to teach their yoga classes in a professional manner, with a method)method Naradeva) and a solid structure, that will make you feel safe and confident with what makes and transmits.
Takes place in an Ashram, a special space dedicated solely to the teaching and practice of yoga and meditation, in which the company and delivered to the yoga people management for many years, will help students, that in addition to acquiring technical , tools and knowledge to their classes, experience a personal evolution, with a global and spiritual vision of life and of the human being, that you can bring to their classes and thus to enrich them.
More information: www.naradeva.com
Direct contact: 629046165
Professional School of Yoga 'Light on Yoga'
Where: Madrid
It begins (pre-training): 2018
Director: July Gallego
Certificate of official professionalism. First school offering vocational training of yoga certified in collaboration with doctors in medicine of the Faculty of Medicine of the Complutense University of Madrid. Taught by yoga teachers certified by B. K. S. Iyengar, with more than 40 years of years of accumulated experience.
More information: http://www.instruccionenyoga.es
Contact direct: 649 671 355
Formation of somatic Yoga
Where: Barcelona, Madrid and Murcia
Start: September 2018
Address: Maria Mineth
It is a unique system of somatic Yoga for health and natural balance of the body, as well as the nucleus of subtle awareness which sustains us in profound encounter with the self and the beauty of silence. It is based on the organic wisdom and the somatic connection of body, mind, perception, and consciousness, from evolutionary practices for vinyasa krama towards the depth of the Hatha Yoga enriched by neurophysiological connections and its study in recent years. Making movements that enable the asana and the stability in the stillness and the body complete.
Training of Yoga somatic pioneer in Spain endorsed by Yoga Alliance.
Information: http://www.educacionorganica.es
Direct contact: 646958171
AND I. T. To International Association of teachers of Yoga in Spain
Where: Barcelona
Start: January 2018
Director educational: Mª Àngels Ruiz Torruella
The IYTA training program complies with the established requirements, in terms of content and teaching hours (500 hours) described in the qualification of "Instruction in Yoga".
Monthly classes: Fridays from 17 h to 21 h and Saturday from 9 am to 19.30 h, extended with tutorials and directed study. Practical lessons in yoga centres. The student can choose the Center to attend. Classes must be taught by qualified teachers. They are required 72 hours of practice per year.
More information: http://www.iyta-es.com/curso-formacion-profesores-yoga
Direct contact: 34 932 370 208
Padmasana Center teacher training
Where: Madrid (Padmasana Center)
Start: February 2017
Director: violet Arribas Alvarez
After deepen with them students in the theory and practice of them different methods of the Yoga classic of Patanjali and of the Hatha Yoga original, the course is focused in transmit with rigor the bases pedagogical for be a good Professor a time integrated the sadhana timely. Be a good Professor only is gets when the practitioner has a vision integral of the yoga from the philosophy to the verification experimental of each an of their technical. Includes study of Ayurveda applied to the Yoga and approach of the different technical meditative.
More information: http://padmasanacenter.com/docs/profesores.pdf
Contact: 91 3822733
Postgraduate Yoga school Dhyana
Where: Murcia
Start: January 2018
Director educational: Juan Ortiz
Only for Yoga teachers trained in any line or yoga school.
A widening and deepening in the tools or techniques of Yoga and its objectives and real address.
More information: http://www.yogadhyana.com/actividades/index.htm
Direct contact: 968277477 / 699582688
Prana Vinyasa Flow Yoga Shiva Rea teacher training
Where: Madrid
Start: February 2018
Trainer: Jorge hair
Prana Vinyasa Flow® is a method of integrated transformation and radiant health, evolutionary created by Shiva Rea. Samudra Global School for Living Yoga is the training school for teachers of Prana Vinyasa Shiva Rea. The school is directed by Shiva Rea and make it a group of trainers who are a great source of inspiration and a fabulous resource for the study on Vinyasa, the art of living and teaching of Yoga.
The Namaskar and sequences that make up the course form the basis of Prana Vinyasa Flow® together with Wave Sequencing™, 3-Part Vinyasa™, Vinyasa Krama™ and energetic alignment™, also included in the program of this course (100 hours).
Transmit the Vinyasa according to Prana Vinyasa Flow® method, is an art that pays special attention to the use of the voice, to how to assist and help students, and helps to develop a good ability of observation and awareness. The program provides support to continue their studies and stay connected with the rest of the Prana Vinyasa Flow® community, also through the Online School of Yoga Alchemy. (They will soon be available content in Spanish).
Information: www.yogaevolutionschool.com/nivel-iii-madrid-prana-vinyasa-flow-yoga,
Direct contact: 658506177
Precious School of Yoga
Where: Madrid (Preciados Street)
Start: January 2017
Pedagogical direction: Lola Irusta and Javier Hernandez
Training of teachers of Hatha Yoga 2018 one weekend per month from January to December of 2018
Contact: T637872747 - 915319929
More information: https://elcaminodelyoga.wordpress.com/
Sanatana Dharma training of trainers and teachers
Start: January 2018
Where: Ashram of Zestoa, Gipuzkoa
The courses are given on weekends, usually, one weekend per month during a calendar year, a more intensive 12-day in the month of August, in the courses: instructors 1st and 2nd faculty level.
Information: https://www.sanatana-dharma.eu/
Direct contact: 640 525 896
Dynamic Yoga Personal and professional training
Where: Barcelona, Bilbao, Madrid, Valencia, Galicia, Argentina
Start: see dates on web
Director educational: José Luis Cabezas
The dynamic Yoga teaching method is a unique worldwide dedicated and methodology based on how you learn genuinely the human mind, honoring life from intelligence and intrinsic integrity of body, mind and consciousness
Dynamic Yoga introductory training is 200 hours (24 days) usually developed over a year.
Basic dynamic Yoga teacher training is 500 hours, usually carried out in two years. Adaptable individually. And are also the possibility of deepening in 750, 1000 and 2000 hours, with dives specific deepening in experience, their cognitive, didactic and practical dynamics of consciousness, with the three Senior trainers internationally.
More information: http://yogadinamico.com/
Direct contact: info@yogadinamico.com
Preciados Hatha Yoga 2018 teacher training Yoga
Where: Madrid
Start: January 2017
Pedagogical direction: Lola Irusta and Javier Hernandez
Structure: one weekend per month from January to December of 2018
More information: www.elcaminodelyoga.wordpress.com
Direct contact: 637872747-915319929
Sivananda Yoga
Where: Madrid, Madrid (Zaragoza), France, India
Start: August 2017, March and June 2017 (course advanced), November 2016 (intensive Sadhana)
Director educational: Swami Sivadasananda
The objective of this training is to prepare qualified and inspired teachers who are able to maintain their own practice and personal discipline and convey this experience to others.
Modalities: Residential
Levels:
Course of training for teachers-Teachers Training Course-(Madrid, Zaragoza)
Course advanced of training of teachers (India and France)
Sadhana intensive (India and France)
More information: http://www.sivananda.es/
Contact: 913 61 51 50
Yoga training ground
Where: Santander
Start: July and September 2018
Whether you want to devote yourself to the teaching of yoga as if you only want to delve into the matter, our Yoga teacher training courses are the first step to begin to transform your life. The time is now.
We realize the course of Yoga teachers in two forms, annual training, which lasts for one year, with a weekend a month and a three-day retreat. start in September 2018 or intensive training lasting a month, with stay at pension complete, diet detox organic and only 10 squares with 4 teachers, beginning in July 2018.
More information: http://formacionyogatierra.com/
To organize a training course?

Send us the data basic and them will be posted in this article. It is a free service.

For direct advertising, outstanding and personalized, we offer a"Training special campaign" with advantages and great discount, from 150 euros (more economical home banner).

This campaign includes the publication of a fixed banner for a month on the cover of our magazine YogaenRed, most other banner sponsorship in the newsletter that we send to 10,000 subscribers, over an article in which is widely reported on the training concerned, more disclosure of that article in our newsletter and on social networks.

If you are interested, we are at your disposal for further information without obligation at publicidad@yogaenred.com and T 629 833 632 and 616 015 933.