Vegetarian recipes / sweets, dates and pine nuts
We share great and sanisimas recipes blog 'Eat to live'. Type and kitchen Gauri, Professor of vegetarian cuisine of the Sivananda Centre of Madrid and the affiliated Centre Sivananda Vedanta of Granada.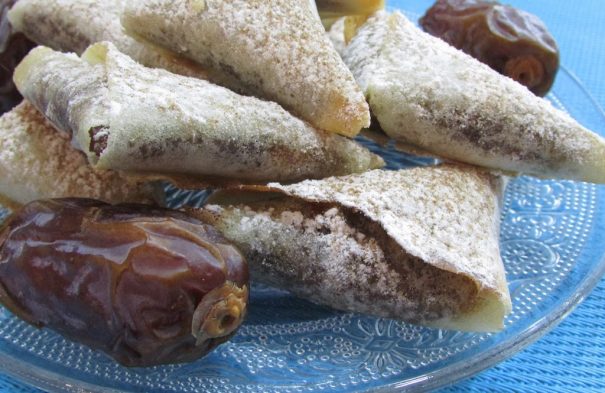 Es una receta, ideal para la navidad, fácil de hacer y rápida, si tienes pericia haciendo los triángulos, y si no la tienes la adquieres seguro cuando lleves 25 triángulos hechos. El único azúcar que lleva es el azúcar glas, que puedes prescindir de ella, quedan un poco más austeros pero ricos. Y avisamos es un dulce caro por los ingredientes: los dátiles y los piñones.
Ingredientes (salen unos 30)
Relleno:
300 g de dátiles naturales con hueso.

50 g de piñones

1 cucharadita de nuez moscada

1 cucharadita de canela

6 a 8 clavos de olor

Agua de rosas

Un paquete en rollo de pasta brick.
Preparación del relleno:
Deshuesar los dátiles y picarlos pequeñitos, Añadir las especias y el agua de rosas y mezclar muy bien chafando lo con un tenedor. Dejar en reposo, al menos 1 hora para que se mezclen los sabores.
Preparación de los triángulos:
Cortar una tira de pasta de 7 cm. Tomar una porción de relleno del tamaño de una nuez y ponerlo en el extremo de la hoja y doblar formando un triángulo de pasta por encima del relleno. Continuar formando el triángulo hasta que ya no se pueda formar otro triángulo. Cerrar, replegando lo que queda de pasta dentro del triángulo.
Formas de cocinarlos:
En el horno: Precalentar el horno a 220º C. Pintar con un pincel untado de aceite los triángulos, por las dos caras. Meterlos en el horno durante 7 minutos.

En la sartén: Poner un poco de aceite en la sartén a fuego medio y cocinar los triángulos unos 2 a 3 minutos por cada cara. Cuando estén fríos, espolvorear con azúcar glas y canela.
Yoga Sivananda Vedanta Granada-afiliado. T 660-288-571.