Swami Sivananda's books: 'divine path'
A book of spiritual essays about the sublime purpose of human life and the means for its achievement. Published by: Editions bookshop Argentina.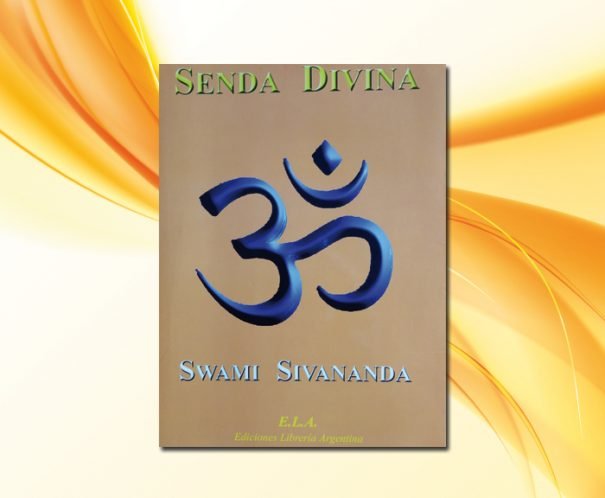 Yoga network wants to offer its readers and readers, the hand of the International Sivananda Yoga Vedanta Center in Madrid, an overview of some of the books written by Swami Sivananda, one of the most important and universal of the India thinkers. On this occasion we present Divine path: a beautiful encyclopedia that compiles, in Eighty-five essays, a very relevant part of his wisdom. Scarce are the complications of texts on yoga in this format, however what about the yoga is written.
A way of learning the concepts related with the pure experience of yoga in a direct and deep format, yet affordable to all levels of practice.
The life of Swami Sivananda It was filled with what he called the true religion, the religion of the heart. And filled his life of continuous and relentless service to mankind, showing us that "the most important duty of the human being is to learn to give, give charity, give with abundance, give with love and without expectation of reward some, because one does not lose anything giving and the bond" Ad of being and doing, is the foundation stone of our life".
We include a part of the introduction to the book in which Swami Sivananda introduces the concept of Atman, the absolute, Moksha, liberation, the intuition and the process of meditation and the index of topics covered in this experiential monument.
The reading of the words of Swami Sivananda expressed in their written work surprises us by its highly topical.
They are the words of those beings that write to all cultures and all times.
Atman, the absolute
Bliss is the essential nature of the person. The central fact of human beings is their inherent divinity.
The essential nature of the person is divine, but has lost the awareness of this, due to their lower tendencies and the veil of ignorance. Human beings, in their ignorance, is identified with the body, mind, Prana and the senses. To transcend this, becomes one with Brahman, or the absolute, which is pure bliss.
Brahman, or the absolute, is fuller reality and more complete awareness. That beyond is nothing, this be inherent in all things, is the Atman or Brahman. The Atman is the consciousness of common to all beings. The thief, prostitute, Sweeper, the King, the thug, the Holy, dog, cat, rat, they all share a common Atman.
Fictional and apparent differences exist only in the bodies and minds. There are differences of colors and opinions, but the Atman is the same in all.
If you're rich, you can have a boat, a train or a plane individuals for your selfish interests. But you can't have a private Atman. The Atman is common to all. It is not the private property of any individual.
The Atman is one amidst diversity. It is constant between the forms that come and go. It is the consciousness of pure, absolute and essential of all conscious beings.
The source of all life and all knowledge is the Atman, your being internal. This Atman, or Alma Suprema is transcendent, inexplicable, indefinable, incomprehensible, indescribable, all peace and all that.
There is no difference between the Atman and bliss. The Atman is the same joy. God, perfection, peace, immortality and happiness are the same thing. The goal of life is to achieve perfection, immortality, or God. The more approaches one truth, greater happiness reaches, as the essential nature of the truth is positive and absolute bliss.
There is no joy in the finite. This is only found in the infinite. The eternal happiness can only be obtained from the eternal being.
Knowing when is enjoy eternal bliss and everlasting peace. The realization of the self gives the eternal existence, absolute knowledge and imperishable bliss.
No one can be saved but through the realization of the self. The search for the absolute should be undertaken even at the expense of sacrificing the most beloved, even life.
Studied many philosophical books to display, lectures more and more during your extensive travels, stays in a cave in the Himalayas for a hundred years, practicing Pranayama for fifty years, but You can not achieve emancipation without achieving the realization of the unity of being.
Moksha, Liberation
The unity of being or existence unit is the reality and the realization of this reality is Moksha (the release). Moksha is to break down the barriers that delimit the separate existence. Moksha is the absolute State of being, in which the unity of consciousness is understood that all encompassing and permeates, as a simple orange that you sostuvieses in your hand.
Moksha does not consist in the attainment of liberation of the present state of slavery, but in the understanding of freedom that exists in fact. It is the release of the erroneous notion of slavery.
The individual soul feel found in slavery, because of the ignorance caused by the power of Avydia or the nesciencia. When wrong, produced by illusion, belief is destroyed by the knowledge of the Atman, at that same moment, and in this same life, check the State of Moksha. It is not something that is going to be done after death.
The cause of the illusion is present in human beings desire. Wishes to generate waves of thoughts, and they hide the true nature of the soul, which is immortal and eternal, blissful. When the desires are annihilated, the knowledge of Brahman dawns in the individual.
El conocimiento de Brahmán no es una acción en sí. No puedes alcanzar a Brahmán, como no puedes alcanzarte a ti mismo, si no es conociéndote. El conocimiento de Brahmán es absoluto y directo. Es la experiencia intuitiva.
Reason and intuition
La intuición se produce como un destello. No se desarrolla poco a poco. El conocimiento inmediato que se logra por medio de la intuición que une al alma individual con el Alma Suprema. La intuición funde al sujeto y al objeto de su conocimiento, junto con el proceso del conocer, con lo Absoluto, donde no existe la dualidad. En la intuición, el tiempo se convierte en eternidad y el espacio en infinito.
El conocimiento intuitivo es el más elevado. Es el conocimiento imperecedero e infinito de la Verdad. El conocimiento sensorial es el conocimiento de la apariencia, pero no de la Verdad.
El conocimiento sensorial es una forma falsa de conocer, mientras que la intuición es la forma correcta de conocer. Única y exclusivamente por medio de la intuición puedes obtener el conocimiento del Ser, o Atma-Njana.
Sin el desarrollo de la intuición, la persona intelectual permanece imperfecta. El intelecto no tiene el poder suficiente para penetrar en las profundidades de la Verdad. El intelecto funciona dentro del reino de la dualidad pero no es efectivo en el reino de la no-dualidad.
The mind and intellect are finite. The reason is finite. It can not penetrate into the infinite. Only intuition can comprehend the infinite.
Attempts to scientists for checking the infinite are futile. The only valid scientific method, in this case, is intuitive.
Meditation leads to intuition. Meditation is the key that allows the expression of divinity or Atman, hidden in all names and forms.
The process of meditation
You can not get to knowledge but through meditation. The applicant has to dig into his own soul, and then the truth is manifested.
Por medio de la meditación regular vas creciendo gradualmente en espiritualidad. La llama divina crece y se vuelve más y más brillante. La meditación te confiere, gradualmente, la luz eterna y la intuición.
Por medio de la práctica constante de la concentración y la meditación, la mente se vuelve tan pura y transparente como un cristal. El estrépito de la lucha por las cosas mundanas se reduce más y más, al irse uno abstrayendo en el interior de sí mismo.
Este nuevo plano tiene sus leyes propias. La música es distinta. Sus notas son muy dulces. Todo aparenta ser mejor.
La pureza del despertar espiritual cambia la perspectiva propia y uno empieza a buscar devotamente sólo aquello que le produzca, a la larga, una felicidad y una paz verdaderas y perennes. La búsqueda de ventajas materiales e inmediatas se vuelve, por tanto, menos urgente.
La meditación te guía cada vez más hacia el interior de ti mismo, de lo burdo a lo sutil, de ello, a lo más sutil y de ahí, a lo más excelso, el Espíritu Supremo.
Al trascender la conciencia del cuerpo meditando en lo Divino, uno logra el dominio universal. Todos sus deseos son entonces satisfechos.
La meditación es el único camino real adecuado para alcanzar la inmortalidad y la dicha eterna. La paz y la dicha no pueden hallarse en los libros, iglesias ni monasterios. Sólo pueden lograrse cuando amanece el conocimiento del Atman.
¿Para qué leer tantos libros? No sirve de nada. El libro más grande se halla en tu propio corazón. Abre las páginas de este libro inagotable que es la fuente de todo conocimiento. Conocerás entonces todo.
Cierra los ojos.
Abstrae tus sentidos.
Aquieta tu mente.
Silencia los pensamientos bulliciosos.
Apacigua tus ondas mentales.
Sumérgete profundamente en el Atman o el Ser, el Alma Suprema, Luz de Luces y Sol de soles.
Todo conocimiento te será entonces revelado.
Todas tus dudas se desvanecerán.
Todas las angustias mentales desaparecerán.
Todo tipo de discusiones acaloradas y debates coléricos tocarán a su fin.
Sólo permanecerán la paz y el conocimiento.
Todos los nombres y todas las formas se desvanecen en la meditación profunda.
En ese estado se experimenta la conciencia de un espacio infinito.
Pero también esto desaparece para dar lugar a un estado de nada.
De pronto, amanece la iluminación, el Nirvikalpa Samadhi.
Divine path: An encyclopedia of the wisdom of Yoga
The latest edition in Castilian language of Divine path It is a new translation of the fourth English edition of Senda Divina, la gran recopilación de la sabiduría de Swami Sivananda. Por primera vez se presenta en un solo volumen, como en la obra original escrita en lengua inglesa. El trabajo de traducción ha sido realizado por el Grupo de traductores de la obra de Sivananda, creado en octubre de 2004.
Thousands of people have come into contact with the nearly three hundred books of Swami Sivananda. His literary work is so vast and deep, but at the same time so full of careful and deliberate simplicity, to reach all kinds of people, regardless of their intellectual condition.
Despite the importance of his work and the effort of many selfless Yogis in recent years, among others, in the centers of Sivananda Yoga in Montevideo in Uruguay and Madrid in Spain, the Work of Sivananda, originally written in English, it is not fully translated to the Spanish.
Muchos somos los que pensamos que vale la pena el esfuerzo de que la obra de Sivananda sea conocida por los castellano hablantes de todo el mundo, que no tienen un conocimiento suficiente de la lengua inglesa.
El grupo de trabajo tiene como objetivo coordinar a las dos orillas del Atlántico en la revisión de textos y en la traducción de todos los que no existen en castellano. Maravillosa e ingente labor que asumimos con paciencia pero con vigorosa ilusión y a la que están invitados todos los traductores voluntarios que quieran colaborar en esta tarea.
A Swami Sivananda le molestaba, especialmente, si los editores y correctores eliminaban de sus textos las palabras en sánscrito que consideraba imprescindibles, incluso para los que no conocen esta lengua. Decía que las palabras sánscritas tienen un poder enorme y un significado poderoso.
Therefore we have maintained all of the Sanskrit words used in the original text of Senda Divina. Los vocablos sánscritos son imprescindibles a la hora de comprender la filosofía Vedanta. Su precisión no es comparable a los términos similares de otras lenguas, por lo que en ocasiones es necesario dar complicadas explicaciones para definir los vocablos sánscritos. Por ello hemos preferido mantener en la presente traducción todos los términos sánscritos aclarando, en su caso, su significado entre paréntesis y evitando su sustitución por palabras castellanas. De esta forma el lector se acostumbrará poco a poco a su uso directo absorbiendo el poder del sonido de la lengua sánscrita al que hace referencia Swami Sivananda.
The work presented on this occasion the sections of the original: notes to the English Edition, a few words of Swami Chidananda on "Divine path", the introduction and ends with the glossary of all Sanskrit terms used in the encyclopedia. You have added a biography of Swami Sivananda and Swami Vishnudevananda anotherfounder of the Sivananda Yoga Vedanta centers around the world, with the same addresses.
A true reference book for students of Yoga.
1 Ahimsa
2 love
3 avatar
4 "Bhagavata Purana"
5 Bhakti
6 Brahmacharya
7 brahman
8 Buddhism
9 charity
10 science
11 civilization
12 concentration
13 Confucianism
14 awareness
15 creating
16 Christianity
17 Devi
18 dios
19 disciple
20 education
21 ethics
22 happiness
23 bargain
24 Gita
25 Guru
26 Hinduism
27 male
28. Idolatría
29. India
30. Ira
31. Islamismo
32. Jainismo
33. Japa
34. Jesús
35. Jivanmukta
36. Judaísmo
37. Karma
38. Krishna
39. Kundalini
40. Libertad
41. Mahabharata
42. Matrimonio
43. Maya
44. Meditación
45. Mente
46. Muerte
47. Música
48. OM
49. Oración
50. Patanjali Yoga
51. Paz
52. Pecado
53. Pensamiento
54. Pranayama
55. Pureza
56. Ramayana
57. Reencarnación
58. Religión
59. Sadhana
60. Salud
61. Samadhi
62. Sannyasa
63. Santos
64. Satsanga
65. Servicio
66. Silencio
67. Sexo
68. Shat-Sampat
69. Shintoismo
70. Sueño
71. Svadhiaya
72. Tantra
73. Taoísmo
74. Temor
75. Tiempo
76. Upanishads
77. Vairaguia
78. Vedanta
79. Vedas
80. Vegetarianismo
81. Verdad
82. Vida
83. Yoga
84. Yogasanas
85. Zoroastrismo
Information provided by the Centre international de Yoga Sivananda Vedanta of Madrid
www.sivananda.es Tel.: 913615150
www.sivanandagranada.es Tel.: 660288571
On Facebook centro.yoga.sivananda.madrid
On Twitter @yoga_sivananda
Instagram sivanandamadrid