Aomm.TV joins with the largest platform of yoga and conscious of the world content: Gaia.com
Starting today November 30th all kinds of yoga, pilates and meditation Aomm.tv online will move permanently to Gaia to form part of a catalogue of more than 8,000 titles, including movies, series and documentaries of travel are also International.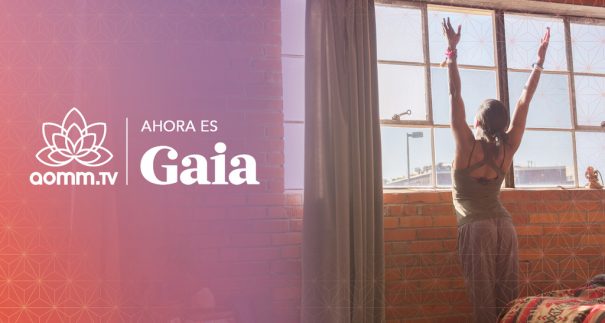 Aomm.TV, the largest platform of yoga, pilates and meditation in Spanish, unite their energies with Gaia, the largest platform of yoga, awareness, discovery and well-being of the world free of ads. "This union with Gaia is a great evolution for our subscribers. It's a great change for the better, that will make us grow at all,"says Mary Cebrian, founder of Aomm.tv
Aomm.TV was born four years ago with the aim of facilitate the practice and learning of yoga, pilates and meditation to all persons wishing to feel good and improve your health where, when and how they want. "Throughout this time have made 170 shootings between Spain, Mexico and United States - says María Cebrian-." We have published more than 680 kinds of yoga, pilates and meditation online, 21 training courses and 500 articles. We have reached more than 16,000 subscribers from 82 different countries! "."
"We started a new phase open to different ways of thinking and seeing life. Feel and live with more analysis and diversity of views. Now, our subscribers will become part of the greatest Yogi of the Spanish-speaking world community. A wonderful energy and connection of conscience".
Gaia.com
Gaia began to translate their content months before this transition to expand its offering in Spanish. It currently offers the largest library contents of yoga without ads online. The platform has the best teachers and experts of yoga and meditation in the world. In addition, unlike the majority of offerings of yoga online that focus exclusively on fitness, Gaia explore yoga as a lifestyle and emphasizing the transformation through the ancient wisdom of the yoga tradition. Yoga in Gaia offers everything; from practices of all styles, levels and durations, to learning content on the philosophy of yoga and meditation.
"We hope that this union will help to expand our offering to the great community of Yogis speaking around the world - said Cebrian-. "Thousands of wonderful people have encouraged us to go this way, move forward and continue to make Aomm.tv a better place for all practitioners of yoga: subscribers, teachers and the media."
"From Aomm.tv we can only thank you for your trust and support, and invite us to continue from Gaia, to grow together in this wonderful adventure that is life".
To support the transition to Gaia.com, all members of Aomm.tv will receive a promotional offer.
More information: https://www.aomm.tv/