Clarifies your doubts: «Can help Me the Sanskrit to deepen my yoga practice?»
In this section Javier Ruíz Calderón offers answers to our questions from a vision of up-to-date yogic tradition and criticism (taking into account what is historical, philological, medical research, etc). Are invited to write to Javier info@yogaenred.com making your doubts or uncertainties.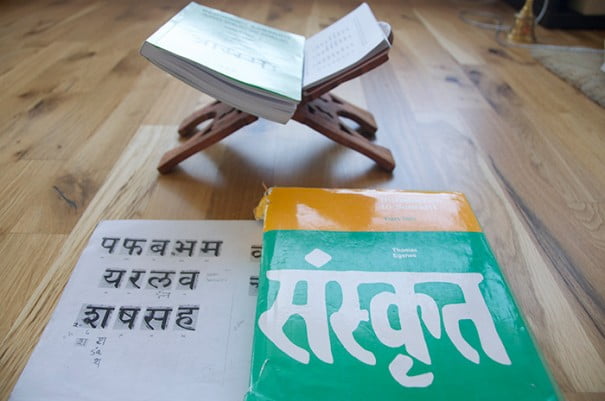 Question: «would you help Me Sanskrit to deepen my yoga practice?»
Answer: Sanskrit is the classical language of Indian civilization. Knowing something of that language is essential for anyone who wants to deepen the knowledge of that civilization. And it is even more necessary for those who practice traditional knowledge born in India, such as ayurveda, mahayana Buddhism, Vedic astrology... or yoga: all text, mantras, and the beautiful terminology of yoga, as well as many bhajans (spiritual songs) they are in Sanskrit.
It can be said that Sanskrit is "the language of yoga". Knowing something of Sanskrit allows you to directly study the Scriptures, which is essential to the Raja yoga and vedanta. It allows you to understand, to pronounce and use well the bhajans and the technical terms of yoga mantras, thing rare even among very expert yoga teachers. It is essential to be able to practice Vedic chant, this powerful technique and as beneficial physically, mentally and spiritually.
The Studio's "the language of the gods" develop discipline, concentration, memory, and intelligence.
In short: anyone for that yoga is not a mere gymnastics can make their practice more conscious, founded and deep learning some Sanskrit.