Godfrey Devereux: The power of Yoga
Cinco días intensos para penetrar en el poder de yoga, de la mano de Godfrey Devereux. Talleres del 6 al 10 de diciembre, en City Yoga de Madrid, y con la traducción de Jose Luis Cabezas, director de la Formación Personal y Profesional Yoga Dinámico.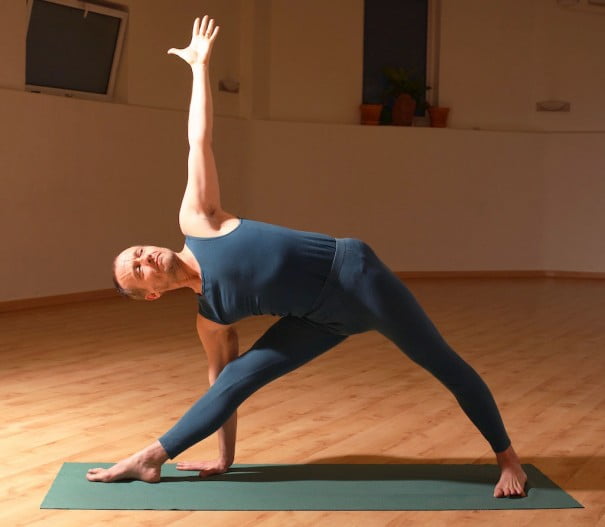 These five workshops of Godfrey Devereux are an important part of the Professional dynamic Yoga and Personal training. Están sin embargo abiertos a cualquier persona. Su gran interés se puede deducir de este programa:
–Miércoles 6 diciembre – 10.00 – 13.00: Abrir el Cuerpo. La naturaleza móvil del cuerpo humano implica que responde, se abre y desarrolla más fácilmente a través del movimiento. La naturaleza del aprendizaje somático implica que el cuerpo sólo aprende a través de repetición consistente. Esta sesión se concentrará en el uso de movimientos rítmicos y repetidos para despertar y abrir el cuerpo como un todo integrado.
–Miércoles 6 diciembre – 15.00 – 18.00: Pranayama en la luz de Consciencia. La respiración es la base de la vida y el núcleo más obvio de la práctica de yoga. Esta sesión presentará Pranayama como un proceso de profundización de intimidad con la consciencia, que inicia naturalmente y sin esfuerzo la mente meditativa.
–Jueves 7 diciembre – 10.00 – 13.00: Los Bandhas en todo el cuerpo. Los bandhas constituyen el núcleo sutil, "esotérico" de la práctica postural de yoga. Esta sesión aclarará la verdadera naturaleza de siete bandhas, su relevancia para la práctica postural de yoga y el modo más fácil de establecerlos sin forcejeo.
–Jueves 7 diciembre – 15.45 – 18.45: Los Bandhas del núcleo. Los bandhas son acciones musculares que expresan la integridad inherente del cuerpo y su funcionamiento. Estas acciones se activan con mayor seguridad y efectividad desde la respiración. Esta sesión aclarará las activaciones musculares que son realmente los bandhas, y su relación con la respiración. También explorará sus impactos anatómicos, fisiológicos, neurológicos, energéticos y espirituales.
–Viernes 8 diciembre – 10.00 – 13.00: Fortalecer el Cuerpo. Integridad física depende de un equilibrio dinámico entre apertura y fuerza. Esta sesión presentará una práctica progresiva para fortalecer y estabilizar el cuerpo.
–Viernes 8 diciembre – 15.00 – 18.00: Respiración Ujjayi. Ujjayi breathing is natural and subtle expression of integrity throughout the body. As essential as it is for the power of the postural yoga practice, it is also a powerful technique of meditation in its own right. This workshop will explore the subtle power of Ujjayi breathing that the dualities of breathing and action transcend through subtle effort.
-Saturday 9 December - 10.00 - 13.00: meditation standard. The postural yoga practice needs to be more than exercise esoterizado to go deeper than the body and provide lasting satisfaction. This workshop will present the postural practice of yoga as a meditation in action, aprovechando la naturaleza del cuerpo, la mente y consciencia a través de sus relaciones más evidentes, de modo que meditación en acción se vuelva una posibilidad real y satisfactoria tanto en la esterilla como fuera de ella.
–Sabado 9 diciembre – 15.00 – 18.00: Meditación Somática. En lugar de luchar por controlar la mente, la meditación somática focaliza en la presencia inteligente del cuerpo por medio de las sensaciones que genera continuamente. La intimidad con estas sensaciones no sólo calma la mente, sino que la permite dejar ir su necesidad de conocer, en su capacidad más profunda para disfrutar la presencia inteligente de consciencia. Esta sesión invitará a tu mente a dejar ir tan profundamente como sea posible en la presencia de consciencia a través de tu cuerpo.
–Domingo 10 diciembre – 10.00 – 13.00: Tantra Yoga. La sensibilización sistemática del cuerpo-mente a través de acción sutil y refinada puede ser usada para acceder, despertar y circular el poder profundo y sanador de la energía sexual. Esta sesión explorará las prácticas somáticas que desbloquean el poder nutritivo de la energía sexual como un proceso de liberación psicosomática y espiritual profunda.
–Domingo 10 diciembre – 15.00 – 18.00: Meditación Tántrica. Usa la presencia de una pareja meditativa para invitar a la mente meditativa a expresarse. Al sentir las sensaciones generadas en tu propio cuerpo por la presencia de tu pareja, la mente se vuelve fácilmente capaz de dejar ir su necesidad de controlar y conocer, en su capacidad más profunda para disfrutar y sentir. No se requiere esfuerzo ni lucha. The mind is brought to a clear calm and nutritious simply to enjoy the presence and rhythms of pleasure in your own body.
Todas las sesiones son adecuadas para cualquier persona.
Prices:
Todas las sesiones – 5 días (30 hrs): 295€

4 días (24 hrs): 270€

3 días (18 hrs): 225€

2 días – Fin de semana (12 hrs): 165€

1 día – (6 hrs): 85€

Sesión suelta (3 hrs): 45€
Presentación gratuita Formación Yoga Dinámico: 7 de diciembre de 14:15 a 15:00

Where: City Yoga. C/ Artistas, 43 Madrid T 91 553 4751 – 91 025 9233 – 685 549 906

Reservations: http://www.city-yoga.com/agenda/item/587-yoga-dinamico-con-godfrey-devereux