Spread this message in the world children's day
Este lunes 20 de noviembre es el Día Mundial de la Infancia. Desde la ONG Semilla para el Cambio nos invitan a participar difundiendo este mensaje en las redes sociales: "
Sus derechos, nuestro compromiso.
Por una educación universal y de calidad para niñas y niños".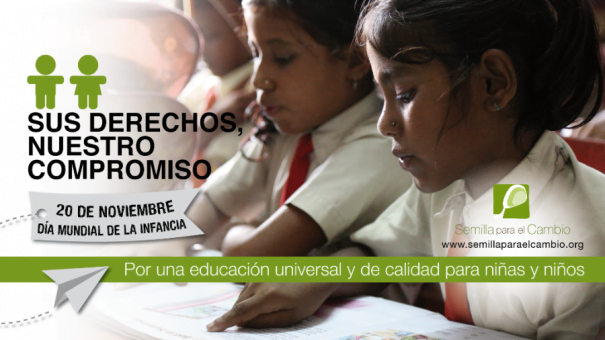 Un año más, desde Seed for change We are encouraged to participate in the commemoration of the Día Mundial de la Infancia, que se celebra el próximo lunes 20 de noviembre and that commemorates the 26 aniversario de la Convención de los Derechos de la Infancia. Nos lo explican desde la propia ONG:
"Nos gustaría contar con tu colaboración nuevamente para reivindicar los derechos de las niñas y los niños de todo el mundo, para que tengan una infancia digna, feliz e igualitaria.
This year we decided take our campaign to the education, que es la llave para el desarrollo de una persona y de una sociedad. Pero, a día de hoy, se estima que todavía 263 millones de niños y niñas menores de 18 años no están escolarizados en todo el mundo y the quality of education in countries such as India es muy deficiente.
Por eso, el 20 de noviembre, desde nuestras redes y plataformas online queremos defender el derecho de los más pequeños a tener una educación universal y de calidad. Con nuestro Comprehensive education program trabajamos a diario para garantizar este derecho a los niños y niñas de los slums and the Ghats de Varanasi (India).
Our slogan this year will be "Sus derechos, nuestro compromiso. Por una educación universal y de calidad para niñas y niños", y desde nuestras redes sociales y nuestros blogs utilizaremos la fecha para difundir información sobre la situación de la infancia en India, dar a conocer a algunos de nuestros beneficiarios y to promote the knowledge and approach to a reality que precisa de nuestro apoyo.
I know our accomplice
Ese día, cambia tu foto de perfil en las redes sociales por el avatar de esta campaña. Help us to visualize the situation of children sharing entries that we will be hanging in our page of Facebook a lo largo del día, by clicking "I like it" and commenting on the posts that will be released… in this way, you will be making a una collective reflection on the subject and its dissemination.
And in Twitter, where you can find us as @semilla_cambio, ayúdanos a difundir la situación de los niños en India retuiteando messages o compartiendo información de interés bajo el hashtag #nuestrocompromiso #porunaeducación.
Entre todos podremos conseguir que la realidad de la infancia se conozca y hacer una llamada de atención para que todos los niños y niñas del mundo tengan derecho a una infancia feliz, digna y saludable.
Además, si quieres ayudar activamente a cambiar la realidad de la Infancia donde más se necesita, y apoyar el derecho a una educación para un futuro mejor, te animamos también a que ese día apadrines a un niño o niña de nuestro programa integral para que pueda ir a la escuela.
Gracias por tu apoyo,
Sus derechos, nuestro compromiso.
By a universal education and quality for children
26 aniversario de la Convención de los Derechos de la Infancia