Books / Kevala Kumbhaka, Emilio J. Gomez
A través de las instrucciones impartidas a la hora de meditar, el autor reflexiona sobre la postura del despertar y de qué manera las diferentes técnicas del Yoga pueden ayudar a que el estado de meditación suceda. Edita: Círculo de Silencio Interior.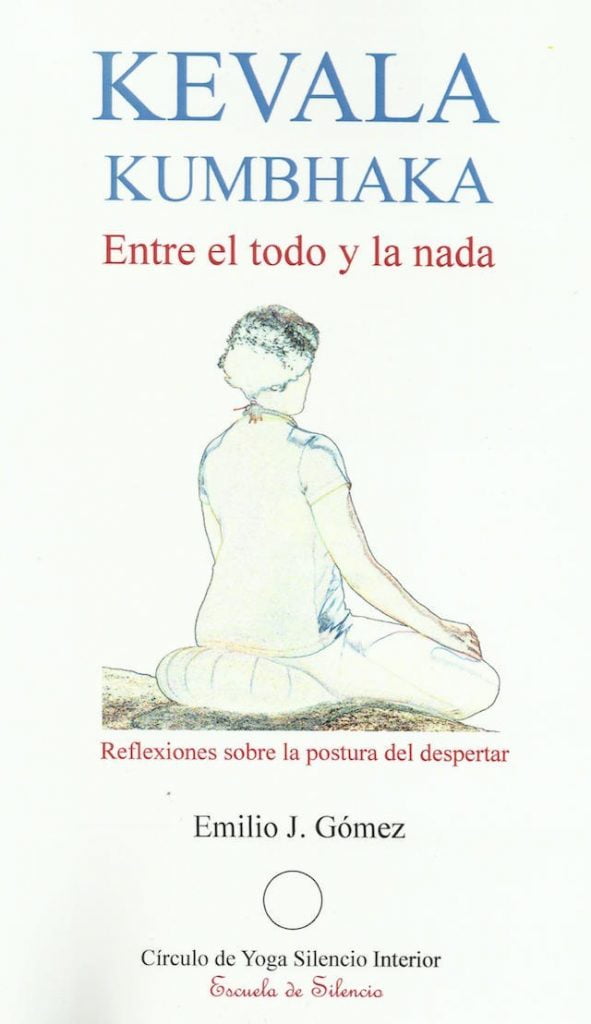 El libro, como el propio Emilio J. Gomez confiesa en su prólogo, obedece a su deseo de dejarse llevar por el impulso de profundizar en la amplia fisura que se abre en la mente cuando la respiración queda suspendida de un modo natural. "Poco a poco, notas y experiencias fueron tomando forma, dando lugar a reflexiones sobre la práctica del Yoga. Por este motivo, y aunque la traducción literal de Kevala Kumbhaka es 'retención natural', al incluir temas paralelos al proceso de la meditación decidí agregar el subtítulo: 'Reflections on the position of the awakening '".
En realidad, el libro, en cuya elaboración el autor ha empleado cinco años de estudio y dedicación, es el legado de su experiencia como profesor de yoga y meditación en el Circle of inner silence (antes Escuela de Yoga Silencio Interior) que él mismo fundó.
En esta obra profunda, Emilio J. Gómez ofrece sus respuestas, siempre conocedoras de la tradición y los textos clásicos del yoga, a una gran cantidad de cuestiones, dudas e inquietudes en torno a la meditación y su sentido, tantas como seguramente le han planteado alumnos y estudiantes a lo largo de sus muchos años impartiendo seminarios y cursos de Hatha y Radja Yoga.
En casi 400 páginas encontraremos reflexiones en torno a la postura, el anhelo de perfección, los mudras, los obstáculos de la meditación, la alineación como búsqueda del equilibrio, la respiración, la relajación imprescindible, lo que sucede en el cerebro, los estados de consciencia, la consciencia corporal en relación con la inmovilidad, la atención… Por fin se llega a Kevala Kumbhaka, el punto de inflexión, sus técnicas, el despertar… para llegar al capítulo dedicado a la Presence of be and the Inner silence.
Un libro, en suma, que todo meditador con anhelo de búsqueda profunda y honesta debería leer.
Puedes pedir el libro en info@silenciointerior.net o bien llamando al T 616 66 09 29.
The author

Emilio J. Gomez es profesor de yoga y meditación. Practica yoga desde 1989 como fruto de su propio trabajo interior de búsqueda espiritual. Búsqueda que le llevó en 1992 a la India, donde profundizó en la práctica en diversos ashrams y centros de meditación.

En 1995 comienza a compartir su experiencia en yoga y meditación a través de cursos de meditación, talleres monográficos, encuentros de meditación y retiros de silencio. Actividades que forman parte de su trabajo interior, en el que continúa profundizando.

Today, he coordinates the silence inside Yoga circle, whose main objective is the practice and diffusion of yoga and meditation as tools of self-knowledge.