Consuelo Serrano: "yoga has a lot of benefits in menopause"
November 24, Consuelo Serrano lead a workshop of "Yoga in menopause" at the Gong in Madrid, next to the Marta Celada nutritionist. We spoke to solace from how yoga can help women during these years of intense hormonal changes.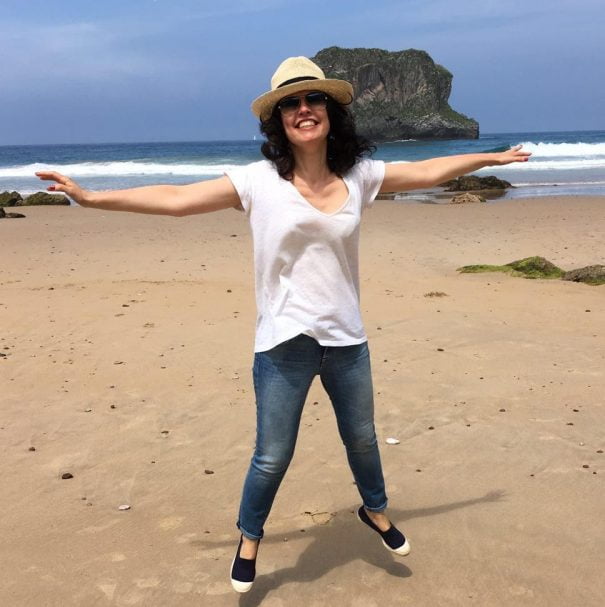 Consuelo She graduated in geography and history from the Universidad Complutense de Madrid, in the direction of public affairs graduate from the Universidad Pontificia Comillas. For twenty years he has worked in the field of corporate communication, specializing in scientific communication and society science outreach programmes. "When about seven years ago I started to practice Hatha Yoga, I never imagined that it would become a fundamental part of my life. Then I trained as a teacher in Yoga Center Madrid, Center recognized by Yoga Alliance USA and UK. I have no words to thank you for all you have taught me and I'm still learning from them. In addition, to expand my vision of yoga I attend regularly workshops with teachers like Liz Lark, John Claxton, Narayani, Marta Mahou or Leslie Kaminoff, among others".
What are the physical, emotional and mental and spiritual benefits of yoga for women approaching menopause?
A practice of yoga during the years of menopause offers plenty of benefits. Postures impinge directly on the breath, favouring harmony between the body and the mind. This connection helps to balance the emotional part that during these years can be altered, providing an extra dose of serenity. A regular practice decreases the levels of stress and anxiety, contributes to the good night's rest, keep attentive, focused mind and agile, while increasing the energy, the dynamism, freshness and good humor. Deep inhalations rise the mood, and the long, slow exhalations, soothed and filled with calm.
From the physical point of view, it slows down the loss of bone and muscle mass and helps to maintain good posture, favoring a spine flexible and long, sustained by strong muscles. This is especially important because from a certain age the column tends to SAG due to osteoporosis who suffer vertebrae. As it also increases balance, the practice of yoga helps to reduce the risk of falls and fractures. In short, it promotes greater mobility and a better quality of life.
The practice of asana strengthens legs, abdomen and arms having to hold the body with the advantage that, not to add extra weight, injuries are avoided. And move all the joints, helping to keep them flexible and delaying their deterioration to the extent possible.
In addition, it promotes circulation and tissue, and cell oxygenation at the same time helping to maintain the balance of reproductive, digestive, pulmonary, cardiovascular and endocrine system.
Combined with a healthy diet, It helps to prevent weight gain and sagging Since, as we have pointed out before, the practitioners support its own weight in the majority of positions and, in many schools of yoga, aerobic dynamic sequences as the greeting to the Sun are made.
What attracted you to specialize in yoga for menopause?
Women have menopause between 48 and 54 years old, and for a long time this event was the announcement of the arrival of old age. According to data from the National Institute of statistics (INE) the average life expectancy of women in Spain of is 85,9 years but, obviously, not we can feel elderly women for thirty years. We want to feel full, influential and energetic for as long as possible. Despite the years, we still have challenges and goals, just as we had them to 1930s.
It is important to assume that menopause causes disorders cumbersome as irregular cycles, hot flashes, changes in the figure, alterations in sexual life or fluctuations of the mind, not to mention the adverse effects that occur years later as osteoporosis, the loss of muscle mass or the cardiovascular risk. To attenuate them must flee from preconceived ideas, seek the advice of good specialists and adopting healthy lifestyle habits como la práctica de ejercicio y una alimentación acorde con las necesidades de esta etapa. Y es aquí donde el yoga puede jugar un papel esencial, haciendo que conservemos una buena salud física y emocional y ayudándonos a sentirnos mejor con nosotras mismas.
¿Podemos revertir una crisis "de edad" y transformarla en una oportunidad de renovación?
Eso depende de las circunstancias personales de cada una. Lo que deberíamos intentar es que la edad no se convirtiera en una crisis, si entendemos este término como algo negativo. Si, además, lo vemos como una renovación y nos permite sentir que empezamos algo nuevo, mejor aún.
What is the main thing that you want to contribute to the women who attend your classes and workshops of Yoga for menopause?
I try to explain how informative and entertaining workshops what is menopause, their stages, the role played by hormones and symptoms and adverse effects. In addition, I speak of osteoporosis and cardiovascular health in the menopause and, of course, of the importance of exercise in general and yoga in particular to maintain good health.
Workshops are usually in the afternoon and end up with a yoga class whose main objective is to provide calm and promote sleep and rest as the insomnia and anxiety are among the main adverse effects of menopause. Both beginner students as advanced can follow this kind.
El próximo 24 de noviembre, la nutricionista Marta Celada y yo, organizamos un taller sobre nutrición y yoga en la menopausia en El Gong, un club de yoga y bienestar recién inaugurado, con un calendario de clases de yoga y Pilates amplísimo, bar con comida sana y tratamientos para la salud. Desde aquí quiero darles las gracias por haberme dado todas las facilidades para incluirlo en su programación.
In addition to the workshops, give class to people of any age from women who are going through menopause which left her behind years ago, young people and adolescents. In my classes I offer wide variety of sequences, adapting the postures to each student and paying special attention to breathing and proper body alignment.
Instagram: @consueloserrano_yoga | Facebook: Consuelo Serrano - Yoga
The workshop ' Yoga, nutrition and menopause'

When: 24 November 18.00 at 20:30 hours

Where: The Gong, Yoga club. Paseo General Martinez Campos 24. Madrid

They offer: Consuelo Serrano and Marta Celada

Reservations: T. 911992954 | recepcion@elgong.es

More information: https://elgong.es/taller/yoga-nutricion-menopausia-24-noviembre/