Interview with Manuel José Vázquez: "We are all responsible for the evolution of yoga"
His second book, The therapeutic values of Yoga. How to understand and alleviate the pain through yoga techniques, It is presented on Tuesday, November 14 at 19:00, in the House of the book of calle Fuencarral 119 of Madrid. In the José Manuel Vázquez invites us to take responsibility and to enable us in the management of pain in their physical, emotional, mental, and transpersonal manifestations. It is an interview YogaenRed.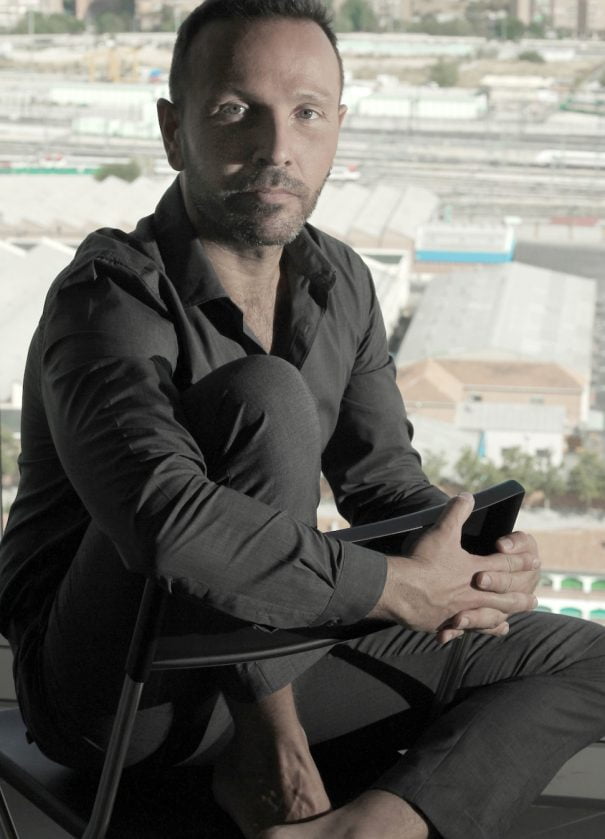 Jose Manuel Vazquez He chairs the Shiva-Shakti Association of Integral Yoga. He is Professor and Formator of teachers certified by Yoga Alliance. University expert in yoga therapy by CEU and European Yoga Alliance. Member of the International Association of Yoga Therapists, of the Spanish Association of practitioners of Yoga and the Professional Association of Yoga teachers in Madrid.
It carries more than 25 years in various media in their profession. He has participated as a technical specialist in the development of the professional qualification of yoga for the national catalogue of professional qualifications adopted by the Council of Ministers in July 2011. Since 2001 he has directed its own school of yoga where investigating organic comprehensive teaching of yoga and since 2010 is a teacher training based on these principles.
What you try to bring your book The therapeutic values of Yoga?
I have written this book with the intention of better understanding of the nature of the pain and the way in which yoga techniques can contribute to the understanding and to the alleviation of pain. It is the result of conscious of personal and professional exploration over five years on the reality of the practitioner and yoga professional. I wanted to explain why yoga techniques can be of great help in difficult situations; that I remember that yoga cannot be explained as a sporting activity, a fad or an exotic spiritual transcript. The reality of the practice yogic is complex and close at the same time, and possibly, in its more subtle understanding, although we wish to sell as well, nothing having to do with making impossible positions.
I needed to tell that the Centre in lathe which gravitates to the practice of yoga are students and not the teachers; What the requirement is harmful and that the roots of therapeutic yoga plunge deeply in the tradition of the Indian yoga to Westerners and that we need to reassess this line of work more European.
This book is an invitation to reflect individually and collectively on what do not question because it seems "normal", although it causes us pain. Also I wanted to explain that responsibility for the evolution of yoga we have all, practitioners and teachers, and that we can not silence the effects of a harmful practice. If we can avoid some pain to future generations, it would be wonderful. The truth sometimes hurts, but the lie causes havoc in our lives.
It is a practical book that might be of interest both to neophytes as accomplished Yogis. Explains how to stretch safely, how much our respiratory patterns say about us and how meditation can be a great ally to rebuild our reality in a healthy way.
If we can stop suffering unnecessarily, why not do it? If we can stop sowing pain in the world, why not start right now? If the pain is a choice, why choose it? And if it isn't, why not learn from it?
There are those who believe that therapeutic Yoga is a modern "invention" somewhat distorted on Transcendentalists weekends of traditional yoga. What do you think when you hear this criticism?
If I am sincere, this criticism about the hijacking of the modern yoga I most get by the side of "fitness yoga" that by of the therapeutic, empirical and scientific development of yoga. It is weird to think that those who dedicate themselves to the study and teaching of therapeutic yoga want to distort his teaching just being at the service of research and application of one of its core values: relief of pain, inherent in any condition human.
On the other hand, the techniques of yoga (asanas, kriyas, pranayama, etc.), along with the manual treatments, natural Pharmacopoeia, rest and read traditional texts, have been part of the treatments proposed by medicine Ayurvedic to keep the overall health of the individual. The intimate development of the transcendent is implicit in this healing process.
The transcendent dimension of life that talks about yoga is universal and each access it when and how you want, can or knows. Otherwise would be to convert yoga a religion or a dogma of faith, when it is a science and an art that welcomes in its bosom all kinds of personal realities.
Tirumalai Khrisnamacharya (1888-1989), recognized as the father of modern yoga and which derive the main yogas extended in the West, in their last stage of life develops the call in the tradition of yoga Vini yoga or yoga adapted to the individual. Among others, his son T.K.V. Desikachar (1938-2016) collects the witness of This therapeutic yoga which puts the yoga techniques in the service of the people with the ultimate aim of improving the quality of life of its practitioners.
Mention in conclusion that the first scientific studies preserved regarding the effects of yoga on the human body are from the year 1851 and we owe them not a Western but a bengali doctor N. C. Paul (Navina Chandra Pal). Then, thanks to the collaboration of East and West studies that have been developed since then have significantly mitigated our ignorance on the matter and have amply demonstrated the therapeutic value of yoga.
What would you say that it is the key or keys to make yoga "work" in its work to free us from pain?
We could summarize that the efficacy of yoga in the pain relief can be based, on the one hand, the systematic exploration of the yamas and niyamas and subtle listening culture; and, on the other hand, in the training and preparation of teachers.
The ethics of yoga is a hidden treasure that no one seems to see and is in front of our eyes. The ten precepts of the classical yoga develop different aspects of the first of these, which is "ahimsa" or principle of "non-violence". Not to damage, not to fight, not confront, not to cause harm, but rather the opposite, understanding, respect, cooperate and coexist. All conditions without which listening to subtle and profound communication cannot develop. ESte principle can be applied to listening to the body, emotions, mental activity and of course our relations with the world.
Our laws are primarily built to ensure this principle. It is also a maxim of the Hippocratic tradition and Arabic medicine. Why not we respect it in our most intimate and private environments? Why we submit to the body as if it does not feel or suffer our worries? Why not learn from our emotions? Do not reflect on the scope of our actions? Why before giving answers we do not learn to listen? Why silence, before understanding?
Why choose therapeutic yoga instead of physiotherapy or any other alternative therapy to treat, for example, low back pain?
On the one hand, we can not put on the same comparative level to physical therapy, alternative therapies and yoga. On the other hand, the treatment of low back pain can have very different origins and therefore may require very different treatments regardless of which are our personal preferences.
Yoga is not a physiotherapy or alternative therapy. It is a discipline Psychophysics with a large body of philosophical teorico-empirico back that holds it from several thousands of years ago. Its activity begins to be sheepishly regulated professionally (by the Ministry of labour and not the education) within the framework of physical activities and sport. However, in Spain already exists any college major therapeutic yoga in health education environment. Let's not forget that, being one of the oldest techniques of knowledge, being considered a common good of all mankind and as such his demand in the West, it is not easy to find a place for it in our society.
Having said all this and answering your question, if your back hurts, you first have to go to the doctor and then after collating the reports and opinions of health professionals, get you what you want at your own risk. Yoga teachers are not "quitadores of back pain", if it is true that a good yoga practice may partly alleviate the pernicious effects of back pain.
Remember that many doctors and psychologists, among the recommendations that make their patients, is to do yoga two days in a week to learn how to relax, stretch, breathe and take awareness of the unconscious mechanisms that may be contributing its unease. Yoga's therapeutic orientation provides us with tools to understand the complex processes of pain, its origins and its consequences in a manner inclusive.
Yoga not delegated the responsibility for our health problems in others. Yoga "therapeutic" invites us to take responsibility and to enable us in the management of pain. It helps us to explore expressions of pain in their physical, emotional, mental, and transpersonal manifestation. Everyone can be benefited from it.
Yoga never does not substitute medical treatment designated for this purpose, but Yes, you can contribute to a greater awareness of the processes involved in the development of health and contribute positively to them.
In short, yoga is a cross-discipline that can be used in different professional environments (educational, artistic, business, and of course also medical), in order to support and sustain the processes of learning and knowledge of the fields where are applied.
Do substantial qualities must have a yogaterapeuta?
A professional therapeutic yoga is primarily an educator. Imparts values and natural ways to interact with the body, the emotions and the transpersonal and mental activity.
The natural thing is that carried out the "yogaterapeuta" and continue to undertake their own therapeutic process of self-exploration and discovery and aspire to share their experience with generosity, normalcy and respect. In this profession learning does not stop and requires a commitment to honesty, constant study and acceptance of the own limits and those of the other.
A professional therapeutic yoga is recommended that over time it specializes and deepen in applications and the necessary knowledge to develop their professional activity in a particular sector.
At the present time of development of yoga, in addition It has the responsibility to provide its expertise to the community so that others can continue and enrich its work.
The book Therapeutic Yoga values

Why does yoga? Is his practice suited for everybody? Can it be harmful? Can we relieve our physical and mental pain through yoga? They are just some of the many questions to which answers this book. Structured in two distinct parts, the publication covers the concept of pain, approached from different perspectives (philosophical, social, emotional, and physical), posing real issues and dismantling stereotypes, through the knowledge and the experience.

Neat and attractive Edition, Therapeutic yoga values It is published by Alianza Editorial. It is the second book by the author in the same editorial, after Integral to Western Yoga manual (2012); January will be published in a revised second edition of the same). RECOMMENDED RETAIL PRICE: €16.

Information and contact: Jose Manuel Vazquez ten. T + 34 91 310 51 81 | 627 007 121 | info@yogaorganico.org

https://www.alianzaeditorial.es/autores.php?id=100044748&tipo=autor/a | https://www.yogaorganico.org/jose-manuel-vazquez/