Vegetarian recipes / Granola with amaranth
We share great and sanisimas recipes blog 'Eat to live'. Type and kitchen Gauri, Professor of vegetarian cuisine of the Sivananda Centre of Madrid and the affiliated Centre Sivananda Vedanta of Granada.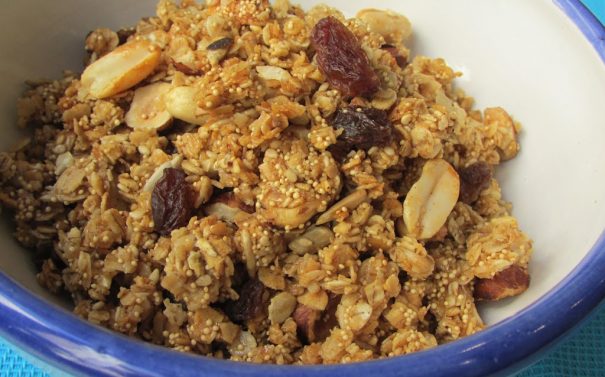 Probamos esta granola en el desayuno durante el fin de semana de Yoga y Dieta que hicimos en octubre en Granada. La del retiro llevaba almendras y esta lleva cacahuetes, puedes combinarlos según dispongas en tu despensa.
Ingredientes (6 personas):
100 g de avena

25 g de salvado de trigo

25 g de amaranto

50 g de almendras o cacahuetes

25 g de pipas de girasol

50 g de semillas de sésamo

1 cucharada de aceite de girasol

2 cucharadas de melaza de arroz

½ teaspoon cinnamon
¼ teaspoon nutmeg

1 pizquitina de sal

50 g raisins

25 g de coco rallado
Preparation:
Mezclar en un cuenco todos los ingredientes secos: la avena, el salvado, el amaranto, las almendras, las pipas de girasol y las semillas de sésamo. Añadir la canela, la nuez moscada y la pizca de sal, mezclar muy bien.

Añadir el aceite y la melaza y mezclar todo junto. Colocar la mezcla en una bandeja de horno.

Precalentar el horno entre 180º-200º , colocar la bandeja con los cereales y dorar por espacio de 30 minutos o tal vez menos dependiendo del horno. Remover de vez en cuando para que se dore por igual y vigilar al final para que no se queme o dore demasiado.

Pasar a un bol y añadir las pasas y el coco rallado cuando aún está caliente. Esperar que se enfríe y guardar en botes de cristal bien cerrados. Se puede conservar durarante un par de semanas, si es que consigues no devorarla antes.
Yoga Sivananda Vedanta Granada-afiliado. T 660-288-571