Learn to meditate as a mountain
A symbol is a shortcut for memory. If we are sensitive enough, it is a key to open an archetypal world where our soul unfolds his heroic battles. Write this series of "Meditation on symbols" Julián Peragón (Arjuna).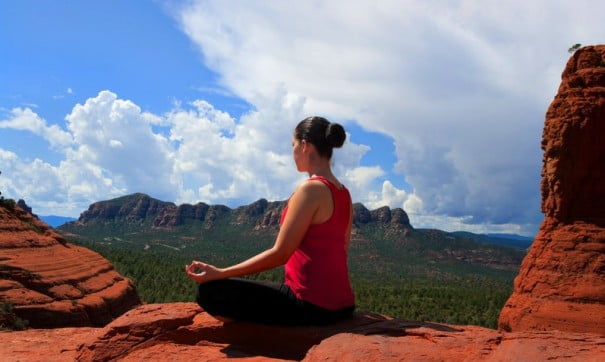 Quienes han subido cumbres saben que el mismo cielo parece estar al alcance de la mano. El aire puro, el horizonte inmenso, el silencio profundo, la cercanía de las nubes… nos transportan a una quietud del ánimo, más allá de la vorágine de la vida de allá abajo. Las montañas son puntos de encuentro entre el cielo y la tierra; de ahí que muchas de ellas se consideren montañas sagradas, cuyo peregrinaje asegura un lugar en el cielo prometido.
Cuando meditamos, estamos imitando el silencio y la tranquilidad de las cumbres. Estamos recuperando de nuevo el peso, la estabilidad y la permanencia de la montaña.
Meditar como una montaña es hacer sin hacer nada, permitiendo que florezca la primavera y se marchite el otoño, sin oponernos al calor del verano ni al intenso frío del invierno; sin apostar por la cara norte o por la cara sur. La montaña simplemente permanece allí, anclada en la eternidad, tolerante, aceptando todo lo que existe, sin juzgar a la frágil florecilla ni a la espinosa zarza. Meditar como una montaña es sentir en profundidad que no somos nosotros quienes meditamos desde el orgullo, sino que es el universo mismo el que ha rellenado todos nuestros huecos, y germina, crece, se marchita y muere, para volver a renacer. Podríamos decir que no somos nosotros los que empujamos la vida sino ésta la que nos sacude desde dentro y nos enviste o acoge desde fuera.
Julian Peragón Arjuna, formador de profesores, dirige la escuela Yoga Síntesis en Barcelona. Es autor del libro Meditación Síntesis (Ed. Acanto).

Su último libro es La Síntesis del Yoga. Los 8 pasos de la práctica. Editorial Acanto.